The Most Extreme Points of Brazil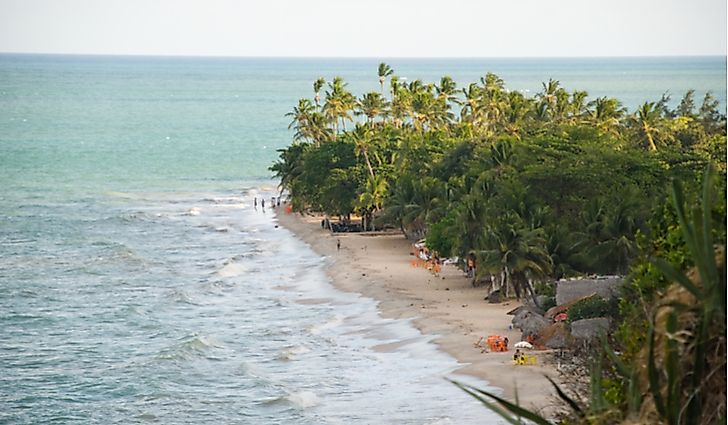 6. Northernmost Point in Brazil
The Northernmost point in Brazil is Monte Caburai which is located in Roraima. It is positioned at the coordinates 5.25139°N and 60.20917°W. Monte Caburai is at the border of Guyana and Brazil. It stands at 1,465 meters above sea level. The mountain is situated within Mount Roraima National Park. It has a magnificent landscape which is marked by tropical forests, canyons, peaks, and countless waterfalls. Besides, there are hundreds of varied species of birds at Monte Caburai. Botanists may also discover some endemic species such as the Clusiagrandiflora. Monte Caburai was found by an explorer called Marechal Cândido Randon in 1930.
One of the famous waterfalls at Monte Caburai is the Garã-Garã. This waterfall has existed for millions of years and gushes volumes of water at a height of 96 meters. It is a breathtaking sight to behold. Although not an impossible task, climbing the mountain is strenuous because of the dense tropical forest, marshland, harsh weather conditions, and crossing of rivers among other challenges. The source of the Ailã River is the northernmost point of the nation of Brazil.
5. Southernmost Point in Brazil
The southernmost point in Brazil is Barra do Chui in Rio Grande do Sul. Its coordinates are 33.75250°S and 53.36861°N. Its location is at the border of Brazil and Uruguay. The Barra do Chui beach is lovely and attracts many tourists. It is found within the municipality of Santa Vitória do Palmar.
4. Westernmost Point in Brazil
The westernmost point in Brazil is Serra do Divisor National Park. It is found in the state of Acre. The park is located on the coordinates 7.54417°S and 73.98444°W. Serra do Divisor Park is apportioned between several Brazilian municipalities namely Marechal Thaumaturgo, Rodrigues Alves, Cruzeiro do Sul, Porto Walter, and Mãncio Lima. The park covers an area of 846,633 hectares and is bound to the west by the Peru border. It is part of the Southwest Amazon moist forests. In order to access the Serra do Divisor Park, one uses a boat from the city of Cruzeiro do Sul.
Serra do Divisor National Park was formed by a June 16, 1989 decree targeting the preservation of ecosystems and natural resources. The park's climate is hot and humid tropical with an average annual temperature of 24°C. Besides, it receives an annual rainfall of between 1750-2000 mm. there are diverse flora and fauna in the park such as 100 amphibian species, 485 bird species, 29 spider families, and 43 large mammal species. People who live around the park have been depending on collecting rubber for many generations. However, due to low rubber prices, they have been forced to begin engaging in activities such as timber cutting, cow ranching, and commercial hunting and fishing in order to survive.
3. Easternmost Point in Brazil
The easternmost point in Brazil is Ponta do Seixas in Paraiba which is located on coordinates 7.15778°S and 34.79389°N. Also known as Cape Branco, Ponta do Seixas is surrounded by several white beaches that attract many tourists. The beaches are bordered by sedimentary strata known as tabuleiros. The tabuleiros can rise up to 500 feet. Cape Branco lies along the coastal highway that runs from Port Cabedelo in the north to João Pessoa.
2. Highest Point in Brazil
The highest point in Brazil is Mount Pico da Neblina. It is 3,014 meters above sea level and is located in the Amazonas. The mountain's parent range is Serra da Neblina. Pico da Neblina is found near the Venezuelan border. It was discovered during a survey expedition that took place in 1962. The name Pico da Neblina is Portuguese meaning Mist Peak.
The mountain received that name because it is often covered in dense clouds. Pico da Neblina is situated within a protected complex that includes an area of 80,000 square kilometers. The complex is made up of three parks namely Pico de Neblina National Park (Brazil), Serranía de la Neblina National Park (Venezuela), and Parima Tapirapecó National Park (Venezuela). Access to the Pico da Neblina is restricted since it is located within a national park. Therefore, one must get a special permit from the Chico Mendes Institute for Biodiversity Conservation to be allowed to visit the mountain.
1. Lowest Point in Brazil
The lowest point in Brazil is the Atlantic Ocean which is at the sea level. The Atlantic coastline of Brazil is 7,391 kilometers long. Consequently, it is the 16th longest national coastline in the world. There are several geographical features on the Atlantic Ocean adjacent to Brazil including 2,095 beaches, islands, bays, and reefs. The country receives many tourists annually. The southernmost point in Brazil, Barra do Chui, is located near the Atlantic Ocean.