Society
The Most Expensive Burgers Around The World
Although burgers are a common inexpensive food option, some burgers cost thousands of dollars.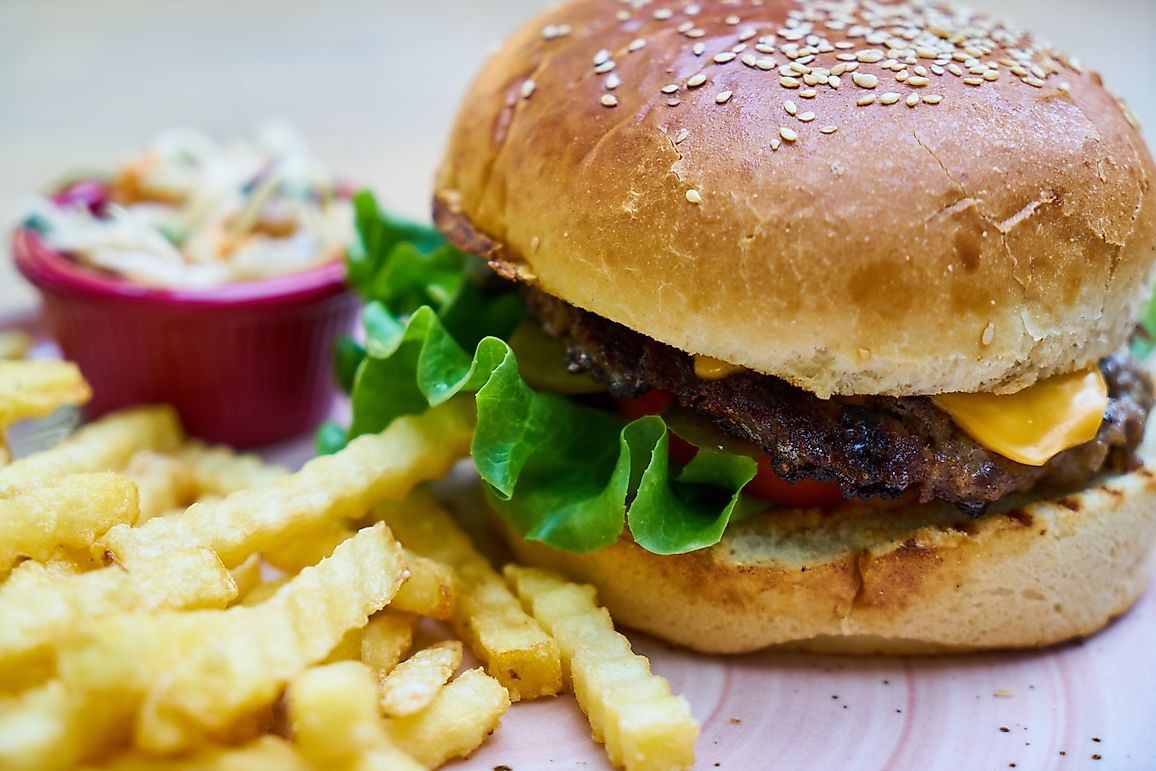 Over the years, the burger has become an icon of America's cuisine. Currently, there are many burger outlets, all-night eateries, and takeaway food outlets serving burgers to millions. Every year, Americans consume about 50 billion burgers. If these burgers were arranged side by side, they would go around the world about 32 times. The distance is about 800,000 miles long enough to go to the moon, back to earth, and to the moon again. Below are the most expensive burgers in the world. 
10. 777 Burger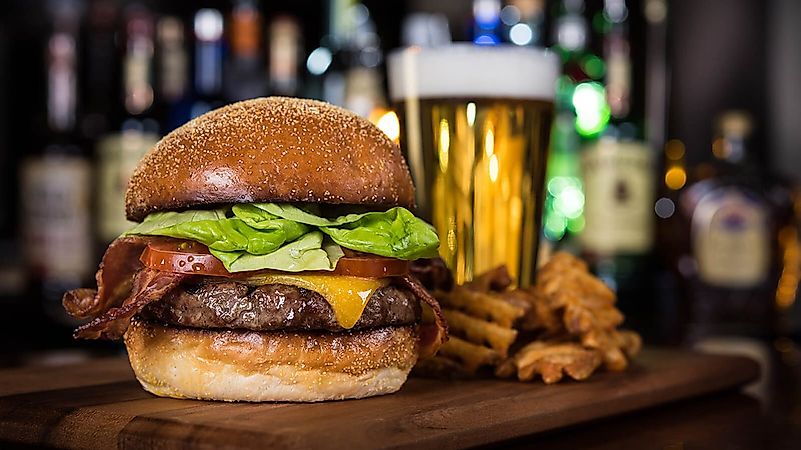 One of the costliest burgers is the 777 Burger. It is sold at an exorbitant price of $777. The burger is sold in Le Burger Brasseries in Las Vegas Casino and is sandwiched with Maine lobster and Kobe beef. It is also served with crispy pancetta, caramelized onions, imported cheese, and Dom Perignon champagne, and a 100-year balsamic vinegar.
9. Original Glamburger
Another one of the most expensive burgers is the Original Glam Burger sold in London for about $1,800. It also has high-end ingredients such as New Zealand venison, Kobe Wagyu beef, Canadian lobster, hickory-smoked duck egg, beluga caviar, black truffle brie, and maple syrup-coated bacon. 
8. Le Burger Extravagant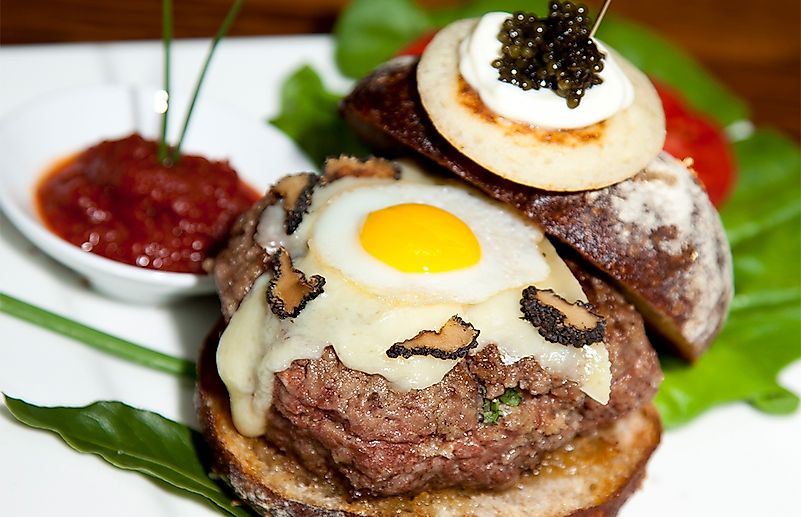 Le Burger Extravagant is one of the world's most expensive burgers. It was first introduced in 2012 at the Serendipity 3 restaurant in New York City. At the time, it was the world's most expensive burger selling at $295. The burger is served on the gold dust of Campagna roll. 
7. FleurBurger 5000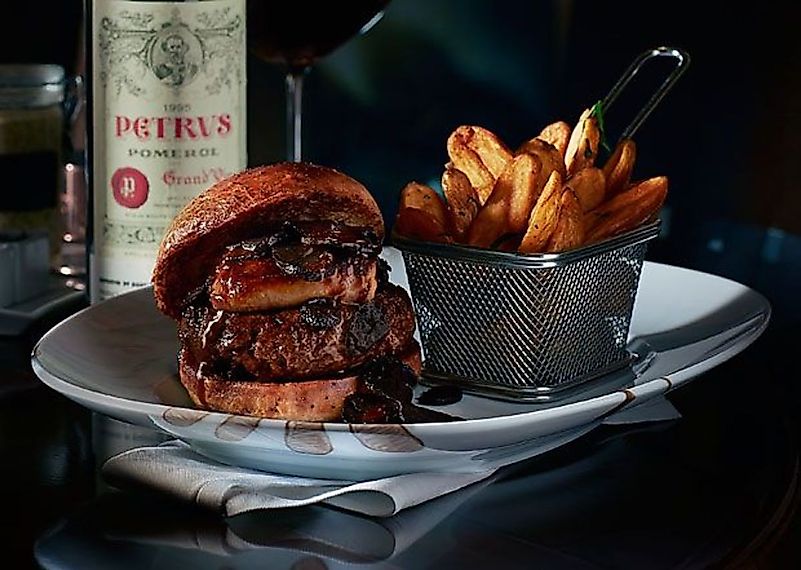 FleurBurger 5000 is one of the most expensive burgers in the world today. It is prepared in Mandalay Bay Hotel & Casino in Las Vegas. It is sold for $5,000. It comes with Château Pétrus wine valued at $2,500, among other expensive accessories. 
6. DB Royale Double Truffle Burger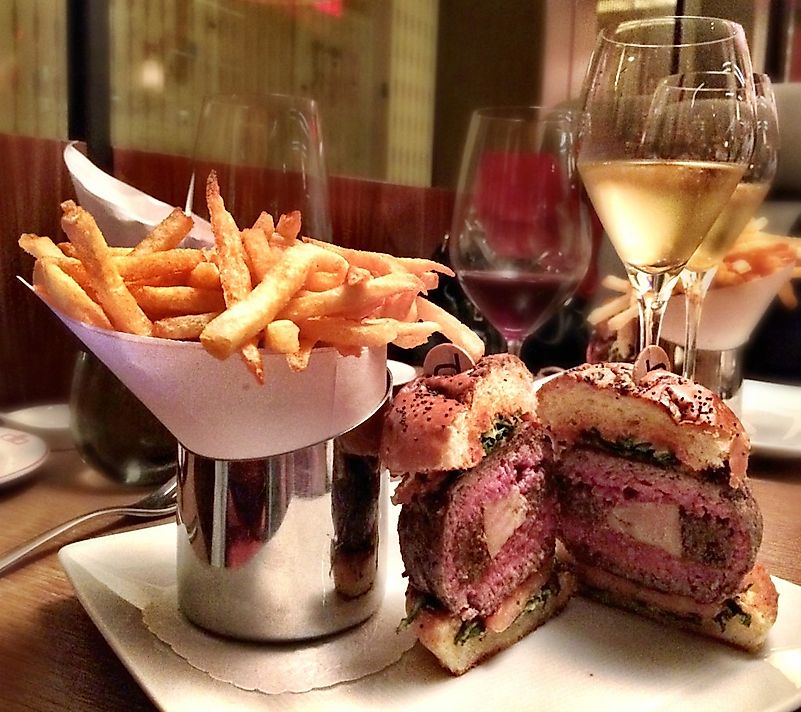 The burger was first made at DB Bistro Moderne in New York in 2007. Chef Daniel Boulud prepared the burger, and it contains several root vegetables, red wine, braised short ribs, among many other ingredients.
5. The Richard Nouveau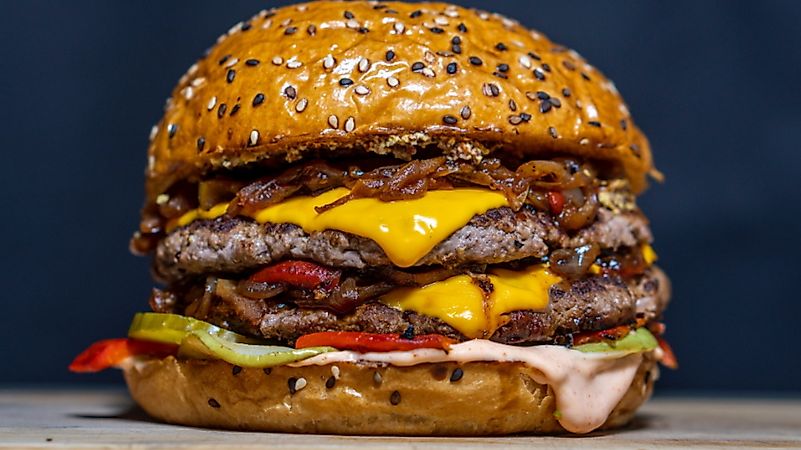 In 2008, Richard Nouveau entered the burger hall of fame as one of the world's most expensive burgers. The burger derived its name from a fictional online writer who wrote about the costliest offerings in New York in 2000. The burger was available in New York at Wall Street Burger Shoppe. The restaurant closed in 2011 when it filed for bankruptcy.
4. The Douche Burger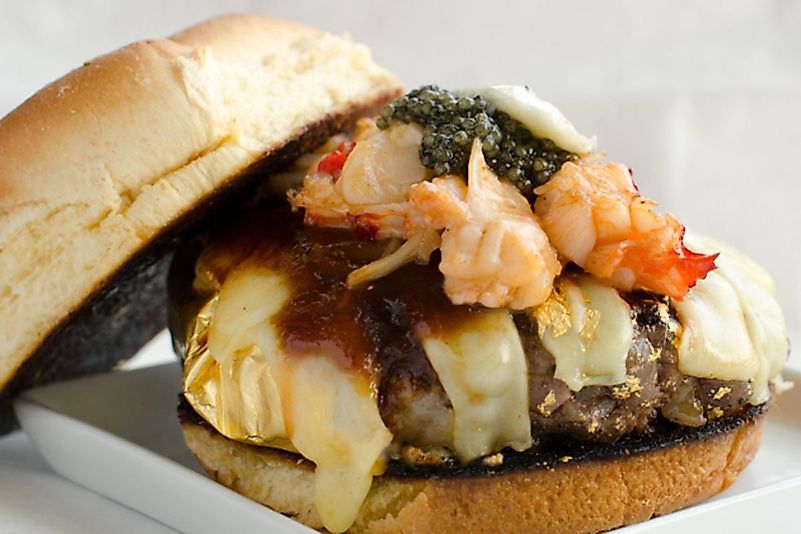 In 2012, the New York City food truck 666 burger introduced the Douche Burger. At the time, it was sold for $666, making it one of the world's most expensive burgers. Ingredients include gold leaf Kobe patty, lobster, caviar, truffles, and gruyere melted using the steam of champagne.
3. The Absolutely Ridiculous Burger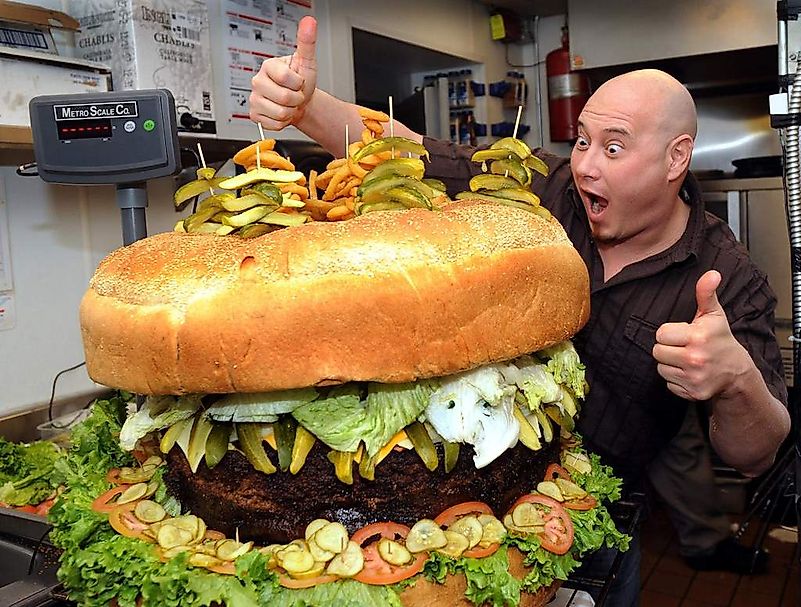 The Absolutely Ridiculous Burger was introduced in 2011 by a restaurant in the state of Michigan. The burger weighs 338 pounds and sold for $2,000. It was prepared at Mallie's Sports Grill & Bar. It took 22 hours to prepare the burger.
2. Seven Emirates Burgerstack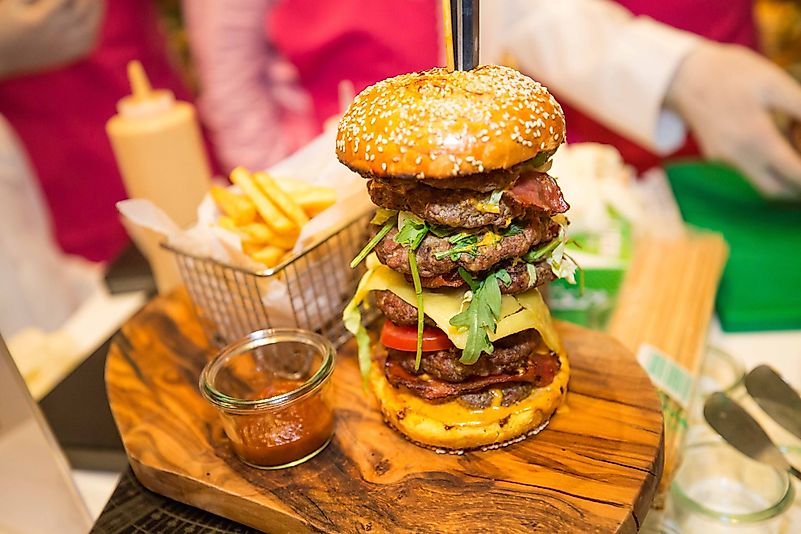 In 2017, one burger in Dubai was sold for AED36,700, which is equivalent to $10,000. It was an auction to raise money for breast cancer research. The event raised a total of AED105,755 or about $29,000.
1. The Indulgence Burger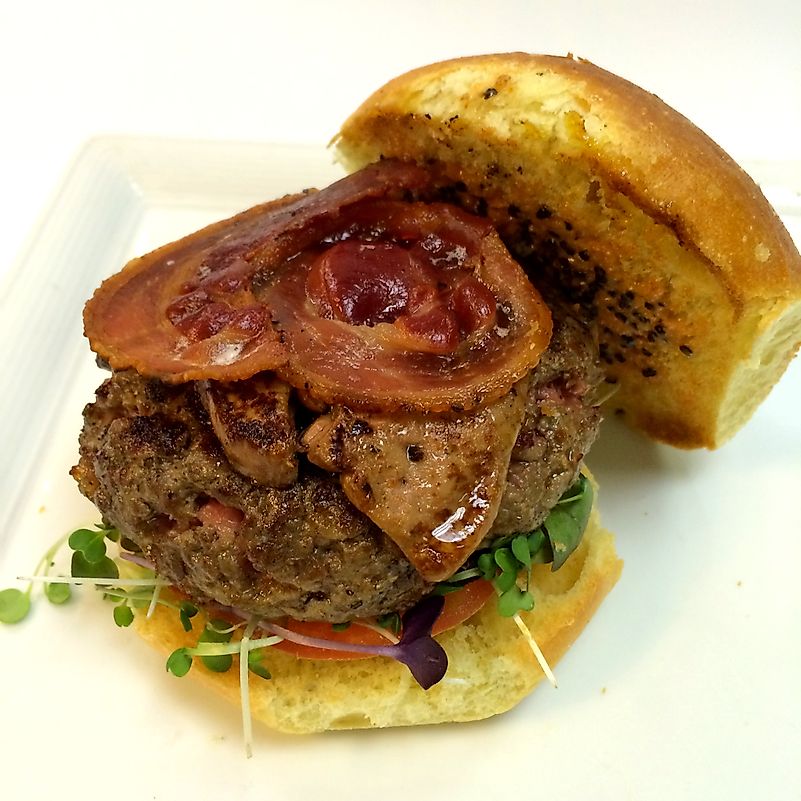 The Indulgence Burger was made by Beer & Buns in St. Giles Court Hotel in New York. The burger comes with ingredients such as Kobe beef, pancetta, foie gras, white truffles, and caviar. It was produced for the first time in 2014, and it was selling for $250.
About the Author
Benjamin Elisha Sawe holds a Bachelor of Arts in Economics and Statistics and an MBA in Strategic Management. He is a frequent World Atlas contributor. 
This page was last updated on February 24, 2020.
Citations
Your MLA Citation
Your APA Citation
Your Chicago Citation
Your Harvard Citation
Remember to italicize the title of this article in your Harvard citation.