The Least Corrupt Countries in the World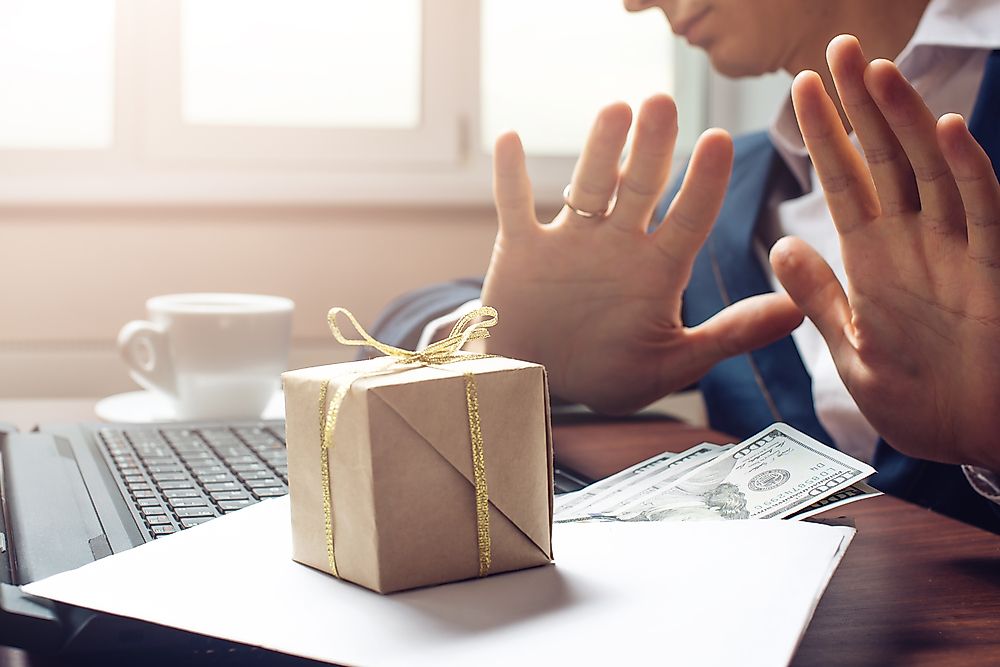 Over the years, Transparency International has been ranking corruption in countries based on the perception of people and institutions in different countries. This ranking is known as Corruption Perceptions Index (CPI) and is limited to capturing corruption in public and institutions. In 2016, 176 countries were ranked with scores ranging from 0 (most corrupt country) to 100 (countries with no corruption). Although no country can claim to have no corruption cases at all, some have had a high degree of success tackling the vice. The difference between the most corrupt and least corrupt countries is that the institutions in the least corrupt countries are well equipped to handle and recover corruption related resources.
The Least Corrupt Countries in the World
Methodology
Transparency International undertook both qualitative and quantitative research on corruption through its regional and national offices that partner with institutions and professionals in the governance watchdog sector. These institutions and professionals give their perception on public corruption in different countries citing evidence. The indexing ranked 176 countries with data from the remaining countries being inconclusive and therefore unable to be ranked.
Perception is used because of the indirect and hidden nature of corruption. Corruption does not only manifest itself through hearings, scandals or prosecutions. Most corrupt actions go unnoticed or unreported, and therefore there may not be readily available and factual corruption data to research on. Looking at reported incidences of corruption may not give conclusive data but only show how effective institutions are fighting corruption. Therefore, capturing perceptions of reliable sources is a much more effective method of ranking corruption. Countries perceived to be the most corrupt are ranked lowest, and countries perceived to be least corrupt are ranked highest. Some countries may still rank high despite cases of corruption because of the success of the investigation and prosecution systems. There are two levels of ranking involved. First is global where all countries are ranked first to last (100 to 0) and regional where countries are ranked within their respective regions.
Findings
In 2016, Denmark and New Zealand were ranked as the least corrupt nations with a tied score of 90 followed by Finland, Sweden, and Switzerland. In the top 30 least corrupt countries, it is important to note that almost all belong to the most developed countries with exceptions of a few like Chile. Europe and North America dominate the list that does not have a single country from Africa. All the countries in the top 30 position scored between 62 and 90 index points. In these countries, corruption in public and places of business is very low, and those who are suspected of corruption are thoroughly investigated and prosecuted if they are guilty. Business owners run their businesses with no government official asking for kickbacks or threatening them. The countries also have strong media industry assuring press freedom to highlight corruption incidences and do independent investigations. The public is well informed with access to information, public institutions and can hold their governments to account. The institutions have also ensured oversight, equal distribution of state wealth, employment and power putting an end to the patron-client type of political relationships witnessed in most corrupt nations.
Deductions
The composite CPI survey shows there is no country which scored an absolute 100 index points and therefore no country is immune to corruption as the vice exists the world over. The least corrupt countries have many characteristics in common despite being economically developed. These countries have developed robust and independent institutions over time with a public that has its way of accessing information and demanding for action.
The Least Corrupt Countries in the World
| Rank | Country Name | Index Score (/100) |
| --- | --- | --- |
| 1 | Denmark | 90 |
| 2 | New Zealand | 90 |
| 3 | Finland | 89 |
| 4 | Sweden | 88 |
| 5 | Switzerland | 86 |
| 6 | Norway | 85 |
| 7 | Singapore | 84 |
| 8 | Netherlands | 83 |
| 9 | Canada | 82 |
| 10 | Germany | 81 |
| 11 | Luxembourg | 81 |
| 12 | United Kingdom | 81 |
| 13 | Australia | 79 |
| 14 | Iceland | 78 |
| 15 | Belgium | 77 |
| 16 | Hong Kong | 77 |
| 17 | Austria | 75 |
| 18 | United States | 74 |
| 19 | Ireland | 73 |
| 20 | Japan | 72 |
| 21 | Uruguay | 71 |
| 22 | Estonia | 70 |
| 23 | France | 69 |
| 24 | Bahamas | 66 |
| 25 | Chile | 66 |
| 26 | United Arab Emirates | 66 |
| 27 | Bhutan | 65 |
| 28 | Israel | 64 |
| 29 | Poland | 62 |
| 30 | Portugal | 62 |