The Largest Islands in the Baltic Sea by Size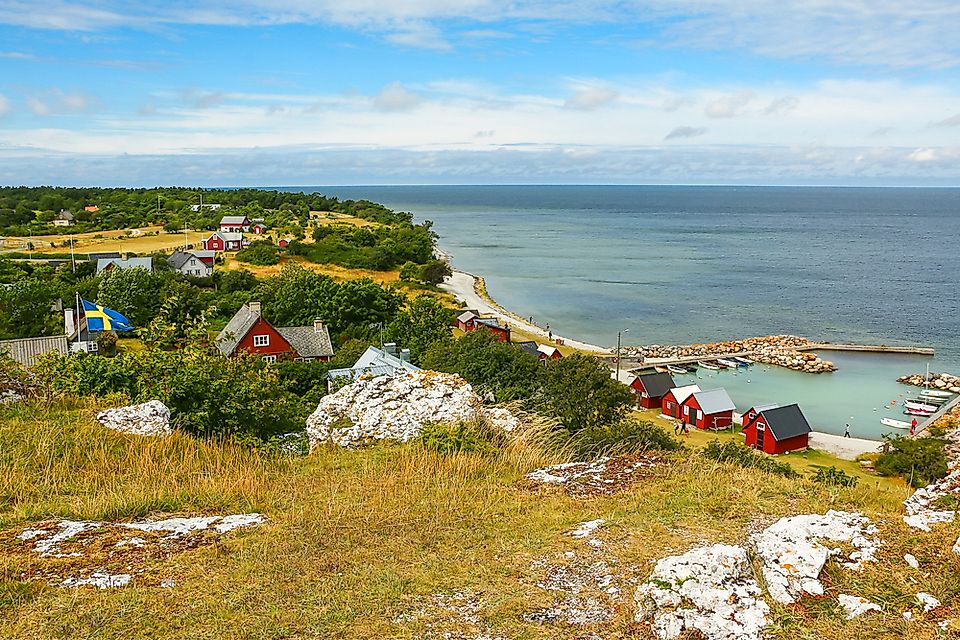 Where Is the Baltic Sea?
The Baltic Sea covers a surface area of approximately 146,000 square miles and measures 1,506 feet at its deepest point. This body of water is located in the Atlantic Ocean and is surrounded by several countries, including Latvia, Lithuania, Estonia, Finland, Sweden, Denmark, Norway, Poland, and Germany. Additionally, the Baltic Sea encompasses a number of inlets, including the Gulf of Riga, Gulf of Finland, Bay of Gdansk, and the Bay of Bothnia. It is also connected to the North and White Seas by way of man-made canals. The Baltic Sea is home to 17 different islands. This article takes a closer look at the largest island in terms of total land area.
The Largest Islands in the Baltic Sea
1. Gotland
Gotland covers a total area of 1,156 square miles, making it the largest island in the Baltic Sea. It is located off the coast of Sweden and is considered one of its provinces. Its political territory includes several other smaller islands, which increases its total land area by approximately 70 square miles. The island has a population size of just over 58,000, of which approximately 10% are employed by the municipal government. The economy of the island revolves around agriculture, food processing, and tourism. Additionally, limestone mining and concrete manufacturing provide a large number of jobs.
2. Saaremaa
Saaremaa covers a total area of 1,032 square miles and is considered the second largest island in the Baltic Sea. This island belongs to Estonia and is part of Saare County. It has a population of over 30,000, half of which lives in the capital city of Kuressaare. Archaeologists believe this island has been inhabited since at least 5000 BC, as evidenced by the findings of pre-Viking era ships. Saaremaa has a mild maritime climate, which supports a large variety of plant and animal species. In fact, this island is home to 80% of the flora native to Estonia.
3. Öland
The third largest island in the Baltic Sea is Öland, which covers a total area of 518 square miles. This area makes it only half the size of the previously mentioned islands. Öland is located off the coast of mainland Sweden, although the two are connected by a 3.7-mile long bridge. It is the smallest province of Sweden and home to a population of around 25,000. This island is characterized by the Stora Alvaret, a large limestone plain, which is made up of a thin layer of highly acidic soil, and is home to a number of rare plants. Stora Alvaret has been declared as a UNESCO World Heritage Site.
4. Lolland
Lolland is the fourth largest island in the Baltic sea and covers a total land area of only 480 square miles. This island is part of the territory of Denmark, and is divided into two municipalities: Lolland and Guldborgsund. It has a population size of around 62,578, 20% of which reside in the city of Nakskov. This island's economy has developed over time due to the sugar beet industry, which continues to thrive. Lolland is considered a low-lying island, with its highest elevation recorded at 82 feet above sea level.
The Largest Islands in the Baltic Sea by Size
| Rank | Baltic Island | Area |
| --- | --- | --- |
| 1 | Gotland, Sweden | 2,994 km² |
| 2 | Saaremaa, Estonia | 2,673 km² |
| 3 | Öland, Sweden | 1,342 km² |
| 4 | Lolland, Denmark | 1,243 km² |
| 5 | Hiiumaa, Estonia | 989 km² |
| 6 | Rügen, Germany | 935 km² |
| 7 | Åland main island, Finland | 685 km² |
| 8 | Bornholm, Denmark | 588 km² |
| 9 | Kimitoön, Finland | 560 km² |
| 10 | Falster, Denmark | 514 km² |