World Facts
The Largest Indoor Arenas In Australia By Seating Capacity
The Sydney SuperDome located in the Sydney Olympic Park, is a large multipurpose indoor arena, the largest of its kind by capacity in the country.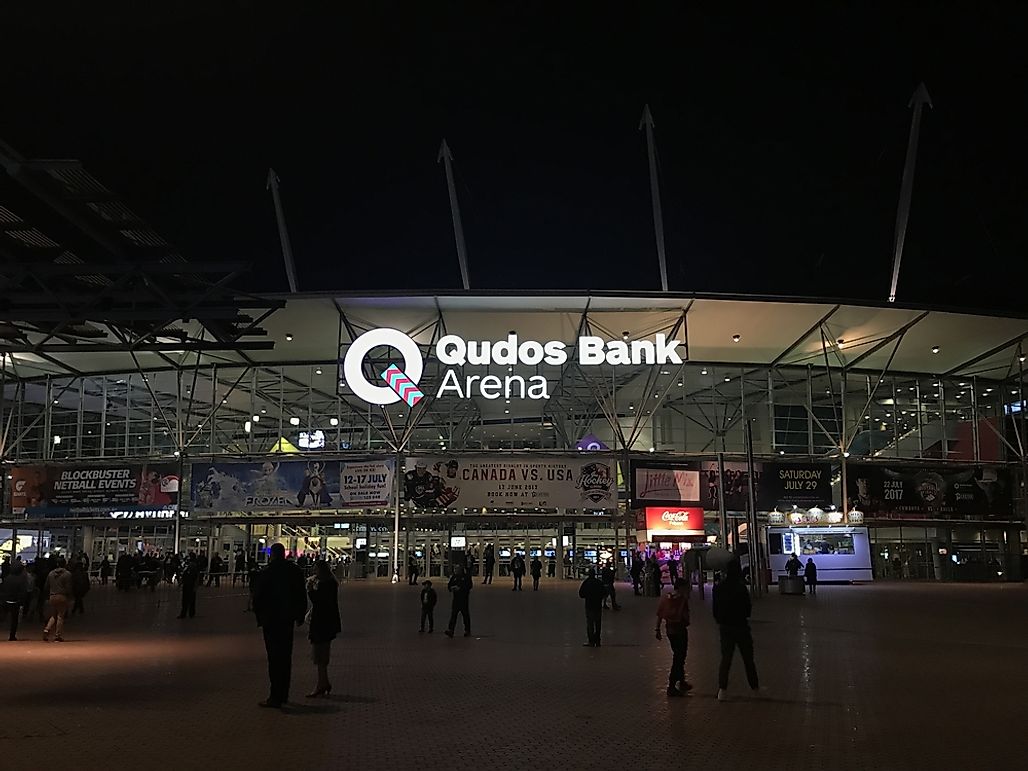 An arena is an enclosed area designed for a musical theater performance or an indoor sporting event. It is made up of a large open space where the performance is staged and surrounded by tiered seating for the spectators. The event space is always at the lowest point to allow for maximum visibility. Some arena resembles or is larger than stadiums while some stadiums like the Rose Bowl have been mistakenly referred to as arena. Arenas have a roof as opposed to most of the stadiums. Some of the largest indoor arenas in Australia by seating capacity include:
1. Qudos Bank Arena
Qudos Bank Arena, formally known as the Sydney SuperDome is a multipurpose arena situated in Sydney Olympic Park. The arena was built in 1999 as part of the 2000 Summer Olympics. Its development was part of three subsites which also include a car park and a plaza. The roof's mast of The Q 138 feet above the ground level while the arena occupies an area of 220,000 square feet. Qudos Bank Arena is ranked among the top 10 in the world and has been included in the final list for the Billboard Touring Award. It has a seating capacity of 18,200 and an additional standing space for 2,832 people. The current name "Qudos Bank Arena" was adopted in April 2016 having changed its name from Sydney SuperDome to Acer Arena in 2006, then to Allphones Arena in September 2011.
2. Rod Laver Arena
Rod Laver Arena is within the Melbourne Park in Victoria. It has been the main venue for the Australia Open since 1988. The building of the arena began in 1985 to replace the aging Kooyong Stadium, and it was completed in 1987. Rod Laver Arena has a capacity of 16,200 when extra seats are added, but the standard seating capacity is 14,820. It attracts over 1.5 million visitors annually. The arena has officially changed its name twice. It was formally called National Tennis Center at Flinders Park, but its name was changed to Center Court in 1996 and in 2000 it was renamed in honor of Rod Laver, one of the greatest tennis player.
3. Perth Arena
Perth Arena is located near the former Perth Entertainment Center in the city center of Perth and used mainly for entertainment and sporting activities. The Arena was officially opened in November 2012 and is the first stage of the Perth City Link. The design of the Perth Arena is based on the Eternity Puzzle with the venue capable of hosting up to 14,846 people. However, it can accommodate up to 15,000 people for music concerts. The arena has a retractable roof, luxury corporate suites, and an underground car park. The venue hosts three main sporting events including basketball, tennis, and netball.
4. Brisbane Entertainment Centre
Brisbane Entertainment Centre is in Boondall, Queensland and has an array of seating plans that ensures comfort for the users. The seating plans depend on the performance and the size of the audience. The center also has a sporting area and rooms which can be hired for personal functions. Brisbane Entertainment Centre has a maximum concert capacity of 14,500 and 11,000 tiered seats. Its large audience size makes it suitable for staging musical concerts and theater shows. It has also been the filming arena for Gladiators.
5. Adelaide Entertainment Centre
Adelaide Entertainment Centre is in Adelaide, South Australia and hosts sporting events and concerts. The center is characterized by modern architecture and acoustic rooms and provides lives entertainment for thousands of people annually. It is capable of operating in different modes including end stage, intimate, and 360-degree mode. The arena has a maximum capacity of 12,000 and offers complete in-house catering services for the audience. It has a car parking capacity for almost 1,500 cars
What is the Largest Indoor Arena in Australia?
The largest indoor arena in Australia is the Qudos Bank Arena, which is found in Sydney, New South Wales. It has a capacity of 21,032.
The Largest Indoor Arenas In Australia By Seating Capacity
| Rank | Arena | Location | Capacity |
| --- | --- | --- | --- |
| 1 | Qudos Bank Arena | Sydney, New South Wales | 21,032 |
| 2 | Rod Laver Arena | Melbourne, Victoria | 16,200 |
| 3 | Perth Arena | Perth, Western Australia | 14,846 |
| 4 | Brisbane Entertainment Centre | Brisbane, Queensland | 14,500 |
| 5 | Adelaide Entertainment Centre | Adelaide, South Australia | 12,000 |
| 6 | Hisense Arena | Melbourne, Victoria | 11,000 |
| 7 | Titanium Security Arena | Adelaide, South Australia | 8,000 |
| 8 | Newcastle Entertainment Centre | Newcastle, New South Wales | 7,528 |
| 9 | Derwent Entertainment Centre | Hobart, Tasmania | 7,500 |
| 10 | Margaret Court Arena | Melbourne, Victoria | 7,500 |
| 11 | Queensland Tennis Centre | Brisbane, Queensland | 7,000 |
| 12 | Icehouse | Melbourne, Victoria | 6,500 |
| 13 | WIN Entertainment Centre | Wollongong, New South Wales | 6,000 |
| 14 | Gold Coast Convention and Exhibition Centre | Gold Coast, Queensland | 6,000 |
| 15 | Cairns Convention Centre | Cairns, Queensland | 5,300 |
| 16 | Townsville Entertainment and Convention Centre | Townsville, Queensland | 5,257 |
| 17 | AIS Arena | Canberra, Australian Capital Territory | 5,200 |
| 18 | State Sports Centre | Sydney, New South Wales | 5,006 |
| 19 | HBF Stadium | Perth, Western Australia | 4,500 |
| 20 | Brisbane Convention & Exhibition Centre | Brisbane, Queensland | 4,000 |
About the Author
John Misachi is a seasoned writer with 5+ years of experience. His favorite topics include finance, history, geography, agriculture, legal, and sports. 
This page was last updated on April 25, 2017.
Citations
Your MLA Citation
Your APA Citation
Your Chicago Citation
Your Harvard Citation
Remember to italicize the title of this article in your Harvard citation.