World Facts
The Largest Concert Halls in Canada
Place des Arts, in Montreal, is the largest concert venue in Canada.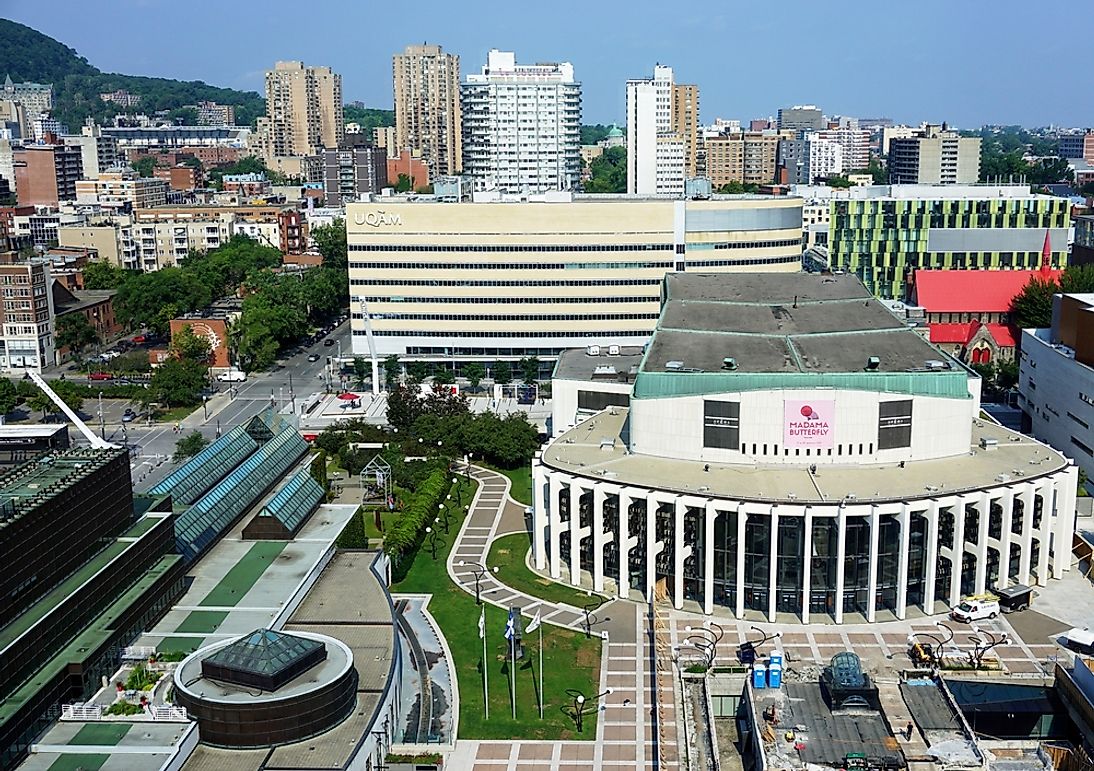 A concert hall is a building with a stage and an auditorium that is used for performances. The performance can range from plays, musicals, orchestras, ballet, to operas. Concert halls may at times be used for other activities other than performances. The largest concert hall in the United States is the LDS Conference Center in Salt Lake City, Utah. The following are the largest concert halls in Canada.
The Largest Concert Halls in Canada
Place des Arts - Montreal, Quebec
Place des Arts has a seating capacity of 2,900 people. The theatre is located in Montreal and is the biggest cultural and artistic complex in Canada. The first part of the complex was opened on September 21, 1963, and the other theatres were added with time. In 1992, the Musee d'art Contemporain de Montreal, a Museum featuring contemporary art, was added to the complex. The complex consists of six halls which include Montreal Symphony House which has 1,900 seats, theatre Maisonneuve-with 1,453 seats, theatre Jean-Duceppe, Cinquieme Salle, studio-theatre, and Salle Wilfrid-Pelletier which has 2,982 seats. The Salle Wilfrid-Pelletier hall is the largest in seating capacity and is used for various large-scale presentations and gatherings. The facility also has shops, rehearsal halls, an esplanade with fountains and water cascades, and is connected to an underground mall. The Festival International de Jazz de Montreal is usually held at the esplanade during the summer.
The Orpheum - Vancouver, British Columbia
The Orpheum along with the Vancouver Playhouse and the Queen Elizabeth theatre make up the Vancouver civic group of live performance venues. The Orpheum is situated along Smithe Street and has a seating capacity of 2,790. The hall was formerly a movie palace but is presently used as a music venue and a theatre. The theatre was first opened on November 8, 1927, and was owned by Famous players until 1974 when they sold it to the city of Vancouver due to financial reasons. The theatre was closed in November 1975 for renovations and was re-opened on April 2, 1977. The Orpheum was, in 1979, named a National Historic Site of Canada.
Massey Hall - Toronto, Ontario
Massey Hall is located in the Garden District, Toronto and has a seating capacity of 2,752. Massey Hall was designated a Heritage Property by Toronto City council in 1973 under the Ontario Heritage Act, and in 1981 it was declared Canada's National Historic site. The hall is owned jointly by Massey Hall and Roy Thomson Hall, and it was officially opened on July 14, 1894. The hall's idea was Hart Massey's; he wanted to build a hall in memory of his son, which could be used for secular music by the people of Toronto and its surrounding areas. The hall's basement underwent renovations in 1994 to include a bar; this was to celebrate the hall's 100 years. Alcohol was prohibited in the hall before the bar's inclusion.
Statistics of Performance Arts Attendance
According to statistics from the Canadian Arts Presenting Association, in 2011, approximately 75% of Canadians went to a live performance under the performing arts, 44% attended a theatrical performance, 42% a secular music performance, 20% a classical music performance, and 15% a dance performance. 86% of the population also stated that they are accessing performance art presentations electronically. Performance art seems to be popular in Canada with several individuals preferring to attend a live performance.
The Largest Concert Halls in Canada
| Rank | Concert Hall | Location | Capacity |
| --- | --- | --- | --- |
| 1 | Place des Arts | Montreal, Quebec | 2,900 |
| 2 | The Oprheum | Vancouver, British Columbia | 2,790 |
| 3 | Massey Hall | Toronto, Ontario | 2,752 |
| 4 | Roy Thomson Hall | Toronto, Ontario | 2,630 |
| 5 | National Arts Centre | Ottawa, Ontario | 2,323 |
| 6 | Centennial Concert Hall | Winnipeg, Manitoba | 2,305 |
| 7 | Center in the Square | Kitchener, Ontario | 2,047 |
| 8 | Conexus Arts Centre | Regina, Saskatchewan | 2,031 |
| 9 | TCU Place | Saskatoon, Saskatchewan | 2,003 |
| 10 | Grand Theatre de Quebec | Quebec City, Quebec | 1,875 |
This page was last updated on June 11, 2019.
Citations
Your MLA Citation
Your APA Citation
Your Chicago Citation
Your Harvard Citation
Remember to italicize the title of this article in your Harvard citation.