The Highest Cities In North America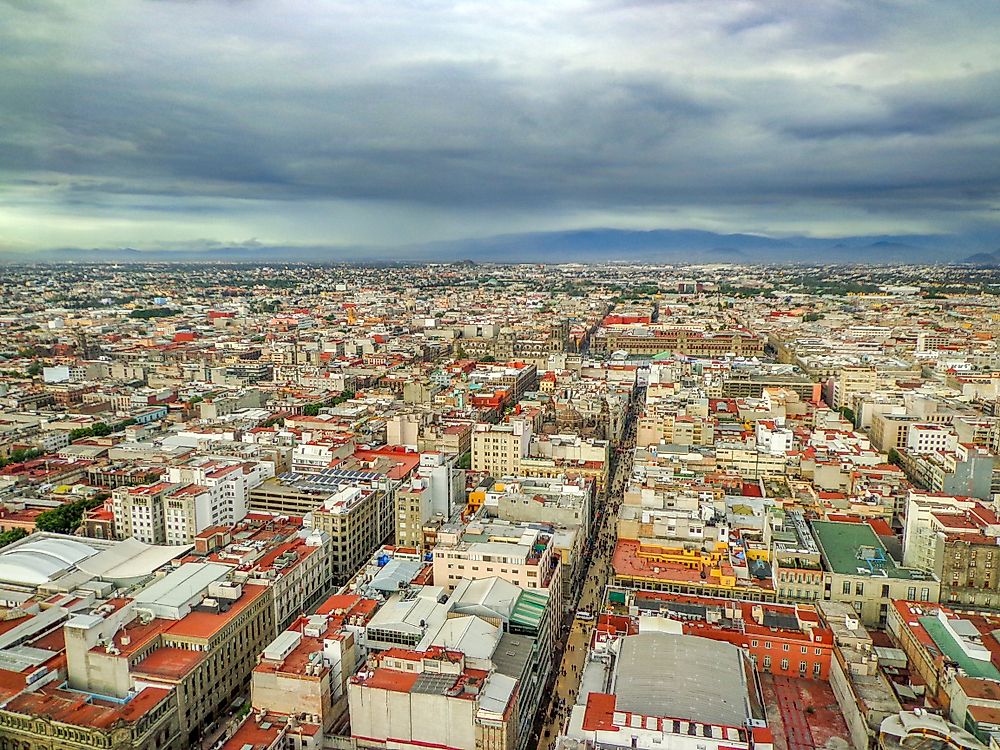 Located entirely in the Northern Hemisphere, North America is the third largest continent in the world following Asia and Africa with an approximate area of 24,709,000 square kilometers. It is also the fourth most populated continent after Asia, Africa, and Europe with a population of 565 million as of 2013. The following are the five highest cities in North America;
Major Cities Of North America By Elevation
Mexico City, Mexico
Sitting at an elevation of 2,216 meters above sea level, Mexico City, which is the capital city of Mexico, is the most elevated city in North America. The city of Mexico is additionally the most populated in North America with a population of 8.84 million people as of 2013. Mexico City is situated in the Basin of Mexico, found in the Trans volcanic belt of central southern Mexico. The city is encompassed by volcanoes and mountains of up to elevations of 5,000 meters. Due to its high elevation in a tropical zone, Mexico experiences a subtropical climate with the temperatures ranging from 12 to 16°C throughout the year.
Denver, United States
Labeled as the Mile High City, owing to its elevation of exactly a mile above sea level (1,610 meters), Denver is the second highest city in North America. Located just east of the front range of the Rocky Mountains in the South Platte River Valley, Denver's population of 693,063 as of 2016, makes it the most populous municipality of Colorado. The climate data for Denver exhibit four distinct seasons despite its location in the semi-arid, continental climate zone.
Guadalajara, Mexico
Guadalajara is Mexico's 4th most populous municipality with a population of 1,460,148 and about 5 million inhabitants in its metropolitan area. It is the capital as well as the largest city of Jalisco. Sitting at an elevation of 1,566 meters above sea level, Guadalajara has a humid subtropical climate with hot wet summers and dry warm winters.
Guatemala City, Guatemala
Also known as Guate, Guatemala, the capital city of the republic of Guatemala sits at 1,529 meters above sea level. The city is located in the Hermitage Valley, a mountain valley in the south central part Guatemala republic. It is also the most populous city in Central America with about 2 million inhabitants as of 2012.
Other Highest North American Cities
Two Utah cities, Salt Lake City and Provo, make the list of the highest cities in North America. Also included on the list are the cities of Calgary and Edmonton, which lie at an elevation of 1,046 and 643 meters, respectively. Both are found in Canada. Tegucigalpa in Honduras sits at an elevation of 980 meters above sea level.
The Highest Cities in North America
| Rank | City | Country | Elevation (Meters) |
| --- | --- | --- | --- |
| 1 | Mexico City | Mexico | 2216 |
| 2 | Denver | United States | 1610 |
| 3 | Guadalajara | Mexico | 1566 |
| 4 | Guatemala City | Guatemala | 1529 |
| 5 | Provo | United States | 1,387 |
| 6 | Salt Lake City | United States | 1,288 |
| 7 | San Jose | Costa Rica | 1146 |
| 8 | Calgary | Canada | 1046 |
| 9 | Tegucigalpa | Honduras | 980 |
| 10 | Tucson | United States | 728 |