25 Countries With Limited Access To Health Care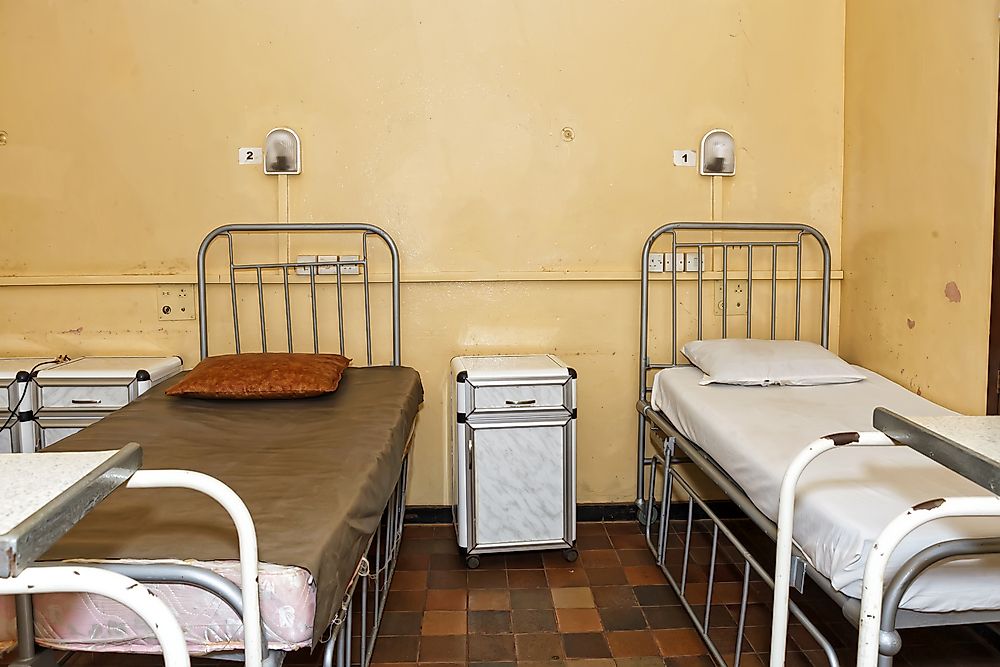 In Liberia, the worst case presented on this list, there are essentially ten doctors for every million people. As you move down the list, Guinea fares little better, at 100 physicians per million people. In contrast, high income OECD countries, like the United States, Canada, and the United Kingdom, boast figures closer to 3,000 doctors per million people.
Why Such an Absence of Doctors?
As often stated by Dr. Gary Parker, Chief Medical Officer for the global medical charity Mercy Ships, "there are lots of reasons for the lack of health care in the developing world, just no good ones." What this means is that, no matter where a person lives, they should be proffered some level of access to the medical services they need to thrive throughout life. Still, studies completed by research authorities such as the World Health Organization point to a number of factors that result in a lack of medical professionals, and subsequently entire populations without access to the healthcare they need.
Lack of Resources
First and foremost, the nations with the fewest physicians are among the poorest in the world. They are poor because they are encumbered by epidemics like HIV/AIDS, natural disasters like drought and famine, and human-imposed catastrophes such as civil conflict and governmental corruption. Uneven economic development results in few financial resources being available to be allocated in the support of an adequate health care system and the workforce required to run it. Further, without money, medical education is hard to obtain. Lack of access to training undermines the availability of medical professionals, especially doctors. Further, even when training is available "brain drain" can become an issue, as prospective doctors in slowly developing countries move to other countries offering better promise for medical professionals' careers. According to the British Medical Journal, "African countries have lost about $2.6 billion dollars training doctors who are now living in western countries. A staggering 25 to 50 percent of African-born doctors are working overseas."
Service Disparity
An inequitable distribution of service is endemic within these countries. When millions of people are served by a mere handful of available physicians, it often means that well-paid foreigners, wealthy government officials, and successful business people receive what little medical support is available. On the other hand, local farmers, taxi drivers, or even school teachers will find it much more difficult to affording a doctor's appointment, given they are even able to obtain one.
The Consequences
Many negative things can happen when people do not have access to a doctor to diagnose what is ailing them. First, treatment becomes a shot in the dark. In desperation, people try any and all manners of reliefs or cures. Great sums of money are borrowed to purchase medicines or hospital stays, where treatment often involves nothing more than compression, bandaging, and poultices. Families whose loved ones die from their illness never know the cause of death. Another possible consequence, still worse than dying for some, is continuing to live in a state of physical infirmity for an indefinite period of time, which often runs the length of life. For example, in some parts of Africa women facing birth complications rarely have access to trained doctors who can perform Caesarean sections. After days of obstructed labor, the mother may suffer the loss of her child, and her birth canal can be seriously damaged by the prolonged pressure and stress. She then becomes permanently incontinent. Access to doctors who can repair obstructed birth injuries is also extremely rare, so such women go on to suffer a lifetime of social isolation and difficulty keeping their bodies sanitary. Other times, unqualified doctors may perform Caesarean sections and other major procedures improperly, often resulting in debilitating injuries or death.
Moving Towards Healthier Futures
Populating the world's poorest nations with doctors may be achieved through a number of strategies. Organizations like the Medical Education Partnership Initiative support in-country training of doctors. Medical charities, like Mercy Ships, invite local doctors to work alongside volunteer surgical teams to learn and grow their skills. Perhaps the most powerful development tool overall, however, is the growing number of doctors from these countries studying in the developed world, who remain firm in their resolve to return to their homelands and serve those in great need, even at the expense of their own bottom lines.
The Countries With The Fewest Doctors In The World
| Rank | Country | Physicians per Million People |
| --- | --- | --- |
| 1 | Liberia | 14 |
| 2 | Malawi | 19 |
| 3 | Niger | 19 |
| 4 | Ethiopia | 22 |
| 5 | Sierra Leone | 22 |
| 6 | Tanzania | 30 |
| 7 | Somalia | 35 |
| 8 | Chad | 37 |
| 9 | Gambia, The | 38 |
| 10 | Mozambique | 40 |
| 11 | Guinea-Bissau | 45 |
| 12 | Burkina Faso | 47 |
| 13 | Central African Republic | 50 |
| 14 | Togo | 53 |
| 15 | Rwanda | 56 |
| 16 | Papua New Guinea | 58 |
| 17 | Benin | 59 |
| 18 | Senegal | 59 |
| 19 | Timor-Leste | 73 |
| 20 | Cameroon | 80 |
| 21 | Mali | 83 |
| 22 | Zimbabwe | 83 |
| 23 | Congo, Rep. | 95 |
| 24 | Ghana | 96 |
| 25 | Guinea | 100 |