The Busiest Ports In The United States By Cargo Volume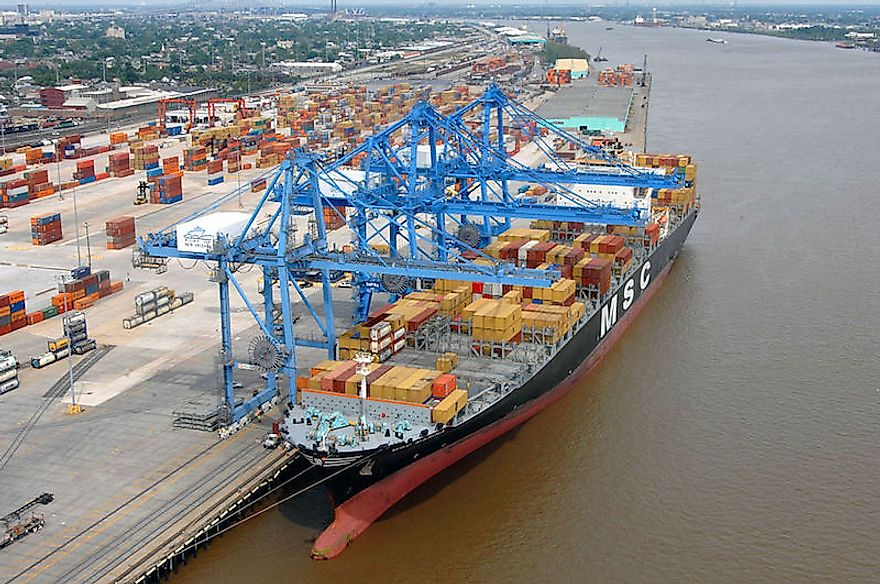 Efficiently functioning ports are vital to a country's economic development. Two thirds of the world's global trade cargo is transported by the ocean liner shipping industry, amounting to over four trillion USD in shipped goods. Ports increase and expand consumer markets for both national and international firms. This in turn increases competition, which leads to lower prices for consumers. Ports create jobs for over 38 million Americans employed in many sectors, including manufacturing, heavy industry, resource extraction and retail. They also act as a catalyst for development in specific economic sectors and locations near ports or along shipping corridors. Ports are important to inland economies because they provide a crucial connection between air, sea and land transport systems.
Although the United States has over 260 inland and coastal ports, roughly 76% of goods by value move through eighteen major port locations. Of the top ten, there are three in Louisiana, three in Texas, two in California and two on the eastern seaboard.
America's Busiest Ports
Port of South Louisiana
As America's largest port district by tonnage, the Port of South Louisiana moves over 238,585,604 short tons of goods each year. Stretching 54 miles along the Mississippi River, the port has 108 miles of deepwater frontage and over 50 piers and docks. The inland barge system stretches 19,262 miles up the Mississippi River to markets in the Midwest and Northeast.
Port of Houston, Texas
The busiest US port in terms of foreign tonnage, this port ranks second overall, with 229,246,833 short tons moved each year. The Port of Houston is a cooperative entity between the port authority, which operates terminals along the Houston Shipping Channel, and more than 150 private companies in the area. Many oil companies have built refineries along the protected channel, making the Port of Houston petrochemical complex the second largest in the world.
Port of New York and New Jersey Port Newark
This port district of the New York-Newark metropolitan area is comprised of the 25-mile radius around the Statue of Liberty National Monument, as well as the system of navigable waterways along 650 miles of shoreline in New York City and northeastern New Jersey. One of the largest natural harbors in the world, the port is the busiest on the East Coast, handling 123,322,644 short tons of goods annually.
Port of Beaumont, Texas
Near the mouth of the Neches River, the Port of Beaumont, Texas moves 94,403,631 short tons of cargo each year. It processes more military equipment than any other US port.
Port of Long Beach, CA
The Port of Long Beach ships 84,492,739 short tons annually. A major gateway for trading between Asia and the US, the port generates over seventy billion dollars in trade each year and employs more than 316,000 Southern Californians.
Port of Hampton Roads, VA
Hampton Roads is comprised of the combined ports of Norfolk, Newport News, and Portsmouth along the banks of the James and Elizabeth Rivers near the mouth of Chesapeake Bay, more than eighteen miles inland on one of the world's largest natural harbors. 78,664,496 short tons of goods are moved each year.
Port of New Orleans, LA
The Port of New Orleans ships 77,159,081 short tons of cargo yearly. Its wharf is the longest in the world at just over two miles, and it can accommodate 15 vessels at once. A major cruise port, the Port of New Orleans handles over a million cruise passengers each year.
Port of Corpus Christi, TX
Located on Corpus Christi Bay in the western Gulf of Mexico, this port sees more than 6,000 vessels and moves 76,157,693 short tons of cargo annually. Since 2004, the Port of Corpus Christi has been consistently winning awards for its environmental management system (EMS) program.
Port of Greater Baton Rouge, LA
The Port of Baton Rouge ships 63,875,439 short tons each year and is the farthest upstream Mississippi River port capable of handling Panamax cargo ships. It is the ninth largest port in the US and the third largest in Louisiana.
Port of Los Angeles, CA
Occupying 7,500 acres of land and water along 43 miles of shoreline, the Port of Los Angeles adjoins the Port of Long Beach. Around $1.2 billion worth of cargo comes in and out each day, amounting to 57,928,594 short tons of cargo per year. The port employs nearly 896,000 LA county residents and 3.6 million people worldwide.
Benefits of International Trade
As the world's largest exporter of goods and services, foreign trade is vitally important to the US economy. American ports are an integral part of the international transportation of trade goods and materials, and access to efficient and highly-developed port infrastructures will allow the US to remain competitive in the global market.
The Busiest Ports In The United States By Cargo Volume
| Rank | Port name | Cargo volume at US ports, 2013, short tons |
| --- | --- | --- |
| 1 | Port of South Louisiana | 238,585,604 |
| 2 | Port of Houston, Texas | 229,246,833 |
| 3 | Port of New York and New Jersey Port Newark | 123,322,644 |
| 4 | Port of Beaumont, Texas | 94,403,631 |
| 5 | Port of Long Beach, California | 84,492,739 |
| 6 | Port of Hampton Roads, Virginia | 78,664,496 |
| 7 | Port of New Orleans, Louisiana | 77,159,081 |
| 8 | Port of Corpus Christi, Texas | 76,157,693 |
| 9 | Port of Greater Baton Rouge, Louisiana | 63,875,439 |
| 10 | Port of Los Angeles, California | 57,928,594 |