Busiest Airports In The US By Cargo Handling Traffic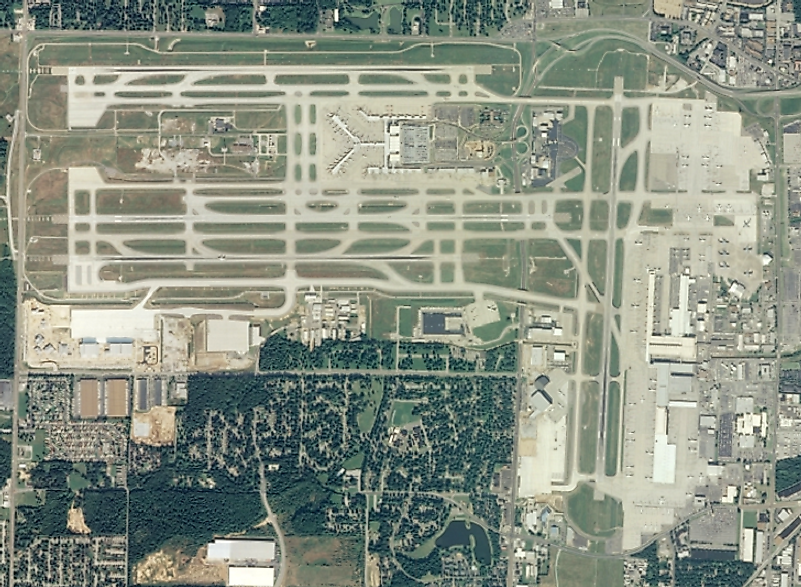 The US economy has grown by 24.9% over the last 15 years, and along with it so has both its domestic and international trade. This makes efficient and fast movement of goods essential. Cargo airlines are planes that are involved completely in freight of cargo or are divisions of larger passenger airlines.
Freight Handling Capacity of Major U.S. Airports
Memphis International Airport in Tennessee is the second busiest airport in the world, and handles 21.8 million pounds of cargo every year, and was once the busiest airport in the world for seven years until 2000. Now, it is instead the Hong Kong International Airport in China that ranks as the busiest cargo airport in the world.
Ted Stevens Anchorage International Airport in Alaska, the second busiest airport in US, and fourth in the world, handles 15.9 million pounds every year,
Louisville International Airport in Kentucky is the third and seventh busiest airport in US and the world, respectively. It owes its prominence to the fact that it is the global freight headquarter for UPS, and handles over 400,000 packages per hour totaling to 11.2 million pounds in a year.
O'Hare International Airport in Chicago, Illinois transports 6.86 million pounds of cargo per year, and is the fourth largest in the US and 11th largest in the world.
Miami International Airport in Miami, Florida transports 6.84 million pounds of cargo in a year, and ranks 11th in the world.
Land Areas and Facilities
Memphis is a civil and military port that is 3,900 acres in size, with three terminals and four runways. Besides FedEx, International package company (UPS) and many passenger flights also uses this international airport.
Anchorage International handles more cargo than passenger flights, mainly FedEx and UPS, and has two terminals in its 4,608-acre large premises.
Louisville airport is a public and military airport that is situated in the center of the city, and is 1,500 acres in area with three runways.
O' Hare is more important for passenger flights, being the fourth busiest in the world since 2015 in this category. It has also been voted the best airport in US, and has four passenger terminals and eight runways on 45 acres.
Miami airport has 96 cargo carriers operations in it and has been expanding for many decades. It is important for passenger airlines as well, being close to tourist destinations that attract visitors from Europe.
Cargo Destinations
FedEx, through Memphis, handles cargo to all parts of the US, as well as to Europe, the Middle East, Asia, and South America. Anchorage's cargo flights are mainly to and from Asia. Cargo freight through Louisville International Airport is mostly for domestic destinations. O'Hare has 210 destinations, including 153 domestic and 57 international, and is one of only ten international airports that are connected to more than 200 airports. Miami International is important for cargo freight to Latin and Central America, and Europe, and is the US airport that handles the most international cargo.
Other Important Cargo Handling U.S. Airports
The other five airports that are part of the rankings in the sixth to tenth positions of the busiest in US for cargo handling are Indianapolis International Airport in Indiana, Los Angeles International Airport in California, Cincinnati/Northern Kentucky International Airport in Ohio, John F. Kennedy International Airport in New York, and Dallas/Fort Worth International Airport in Texas. These airports transport 5.2 million pounds, 4.1 million pounds, 3.4 million pounds, 3.4 million pounds, and 3.06 millions pounds every year, respectively, in cargo.
The Busiest Airports In The US By Total Cargo Throughput
| Rank | Airport Name | Location | Cargo (in lbs) |
| --- | --- | --- | --- |
| 1 | Memphis International Airport | Memphis, Tennessee | 21,891,425,638 |
| 2 | Ted Stevens Anchorage International Airport | Anchorage, Alaska | 15,982,410,652 |
| 3 | Louisville International Airport | Louisville, Kentucky | 11,264,596,650 |
| 4 | O'Hare International Airport | Chicago, Illinois | 6,864,249,348 |
| 5 | Miami International Airport | Miami, Florida | 6,847,177,300 |
| 6 | Indianapolis International Airport | Indianapolis, Indiana | 5,268,916,355 |
| 7 | Los Angeles International Airport | Los Angeles, California | 4,199,375,809 |
| 8 | Cincinnati/Northern Kentucky International Airport | Cincinnati, Ohio | 3,422,731,214 |
| 9 | John F. Kennedy International Airport | New York, New York | 3,372,770,377 |
| 10 | Dallas/Fort Worth International Airport | Fort Worth, Texas | 3,062,528,160 |