Economics
The Busiest Ports In The United States
Extending for 54 miles (87 km) along the Mississippi River in Louisiana, the Port of South Louisiana is the busiest port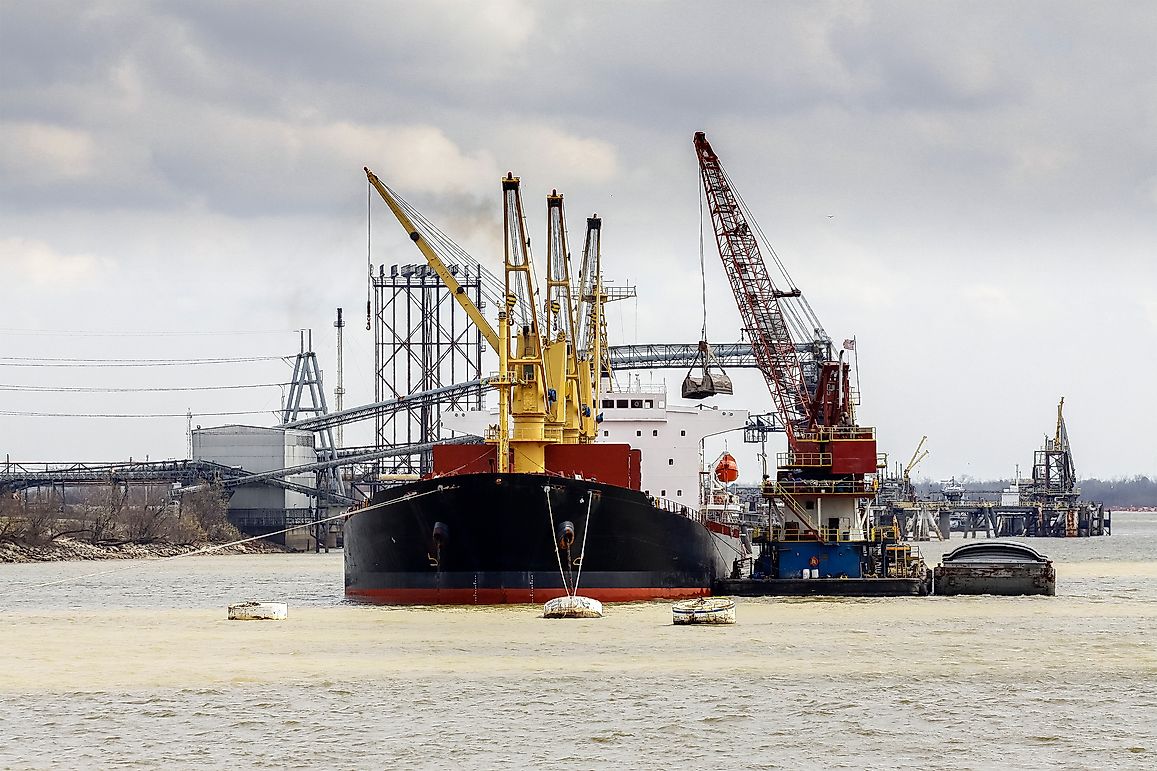 About 90% of global trade is conducted via the sea. Marine transportation has been an ideal way to transport large amounts of cargo across the world for thousands of years. Massive ships enable thousands of containers to be transported through various ports in the United States. With the expansion of existing trade routes, improved international relations and building of bigger ships, marine transport have seen tremendous growth in the recent past. There are numerous ports throughout the US coastline that have grown tremendously and that facilitate the import and export of many commodities.
The Three Busiest Ports Of The US
1. Port of Louisiana, Louisiana
The Port of Louisiana is a river port located along the Mississippi River on a 54-mile stretch which cuts through three Louisiana parishes of St. John the Baptist, St. James, and St. Charles. The port is the busiest and the largest port in the United States in cargo volume with a trading volume of 238,585,604 short tons in 2013. The port is primarily involved in the export of grain accounting for almost 70% of all grain exported from the US and the import of crude oil and refined petroleum products. The Port of South Louisiana is also serviced by a network of rail and roads which make the handling of cargo highly efficient. The port handles cargo from over 70 countries all over the world with Russia and Brazil being the top importers while China, Japan, and Egypt being the top exporters.
2. Port of Houston, Texas
The Port of Houston is among the busiest ports in the world which is located in Houston, Texas. It has one of the largest petrochemical facilities in the world and the majority of the cargo handled is associated with oil drilling, production and refined oil products. The Port of Houston Authority (PHA) operates and owns the public facilities in the port. The major trading countries which use the Port of Houston as either a source of their imports or a destination for their exports include China, Mexico, Brazil and Germany with a total trade volume of $113.08 billion in 2016. In 2013 the port handled trade cargo volume of 229,246,833 short tons
3. Port of New York and New Jersey, New York
The Port of New York and New Jersey is the busiest port in the East Coast and includes waterways, rail and road networks and several airports in an area that covers 17 local counties making it the most complex port in the United States. The port has around 240 miles of shipping channels and port facilities which enables the port to handle more than 3.2 million twenty-foot equivalent units or TEUs annually. The port has one of the deepest natural harbors with an average depth of 17 feet but has been subsequently dredged to reach an average depth of 50 feet to accommodate mega ships which use the Panama Canal in Latin America. In 2013 the port handled 123,322,644 short tons of cargo volume.
Problems Associated With Busy Ports
With the growth of ports in the United States, scientists, environmentalists and critics have been quick to point out their impact to the environment with air and water pollution being cited along with noise pollution. However, ports have created many job opportunities to the local population in their respective areas while providing for a sustainable mode of bulk cargo transportation.
What is the Busiest Port in the United States?
The Port of Louisiana is the largest port in the United States by total trade cargo volume, followed by the Port of Houston and the Port of New York and New Jersey.
The Busiest Ports In The United States
| Rank | Port name | Total trade (Cargo volume 2013, short tons) |
| --- | --- | --- |
| 1 | Port of South Louisiana | 238,585,604 |
| 2 | Port of Houston, Texas | 229,246,833 |
| 3 | Port of New York and New Jersey Port Newark | 123,322,644 |
| 4 | Port of Beaumont, Texas | 94,403,631 |
| 5 | Port of Long Beach, California | 84,492,739 |
| 6 | Port of Hampton Roads, Virginia | 78,664,496 |
| 7 | Port of New Orleans, Louisiana | 77,159,081 |
| 8 | Port of Corpus Christi, Texas | 76,157,693 |
| 9 | Port of Greater Baton Rouge, Louisiana | 63,875,439 |
| 10 | Plaquemines Parish, Louisiana | 58,280,348 |
| 11 | Port of Los Angeles, California | 57,928,594 |
| 12 | Port of Lake Charles, Louisiana | 56,577,328 |
| 13 | Port of Mobile, Alabama | 53,992,615 |
| 14 | Port of Texas City, Texas | 49,674,036 |
| 15 | Port of Huntington-Tristate, West Virginia | 46,831,097 |
| 16 | Helen Delich Bentley Port of Baltimore, Maryland | 36,578,828 |
| 17 | Twin Ports of Duluth, Minnesota and Superior, Wisconsin | 36,477,257 |
| 18 | Port of Port Arthur, Texas | 34,699,150 |
| 19 | St. Louis, Missouri and East St. Louis, Illinois | 33,574,650 |
| 20 | Port of Pittsburgh, Pennsylvania | 32,746,315 |
About the Author
Benjamin Elisha Sawe holds a Bachelor of Arts in Economics and Statistics and an MBA in Strategic Management. He is a frequent World Atlas contributor. 
This page was last updated on April 25, 2017.
Citations
Your MLA Citation
Your APA Citation
Your Chicago Citation
Your Harvard Citation
Remember to italicize the title of this article in your Harvard citation.