The 10 Most Visited Pacific Island Countries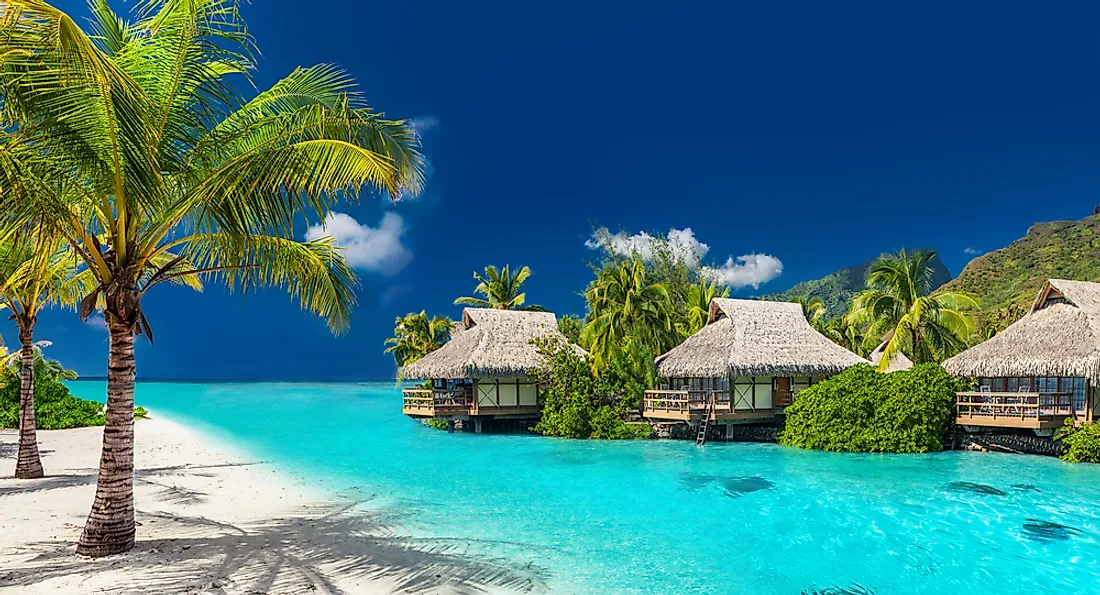 Some of the world's most picture-perfect islands destinations are located in the island countries in the South Pacific Ocean. These countries together recorded 2,137,538 tourist arrivals in 2017, a 3.1% gain over 2016. Increased connectivity, promotional campaigns, and improvements in tourism infrastructure added to the growth of tourism in the region. As per data provided by the South Pacific Tourism Organisation, Fiji, French Polynesia, and the Cook Islands were the most visited Pacific Island countries in 2017.
6. Palau
The Republic of Palau, a blessing of nature, is also located in the South Pacific Ocean to the southeast of the Philippines. It has natural wonders that can overwhelm anyone who visits the country. Palau has over 200 pristine volcanic and limestone islands that are covered by dense, green rainforests and host shimmering turquoise lagoons. The country offers some of the top diving spots in the world. Kayaking, snorkeling, and other adventure options are also available to visitors in Palau.
5. Papua New Guinea
Although tourism in Papua New Guinea is only a fledgling industry, the country already captured 6.7% of all tourists visiting the South Pacific Island countries in 2017. PNG has several attractions for the potential visitor including the unique culture of its tribes, an abundance of flora and fauna, outdoor activities, and more. Public festivals like the National Mask Festival, Goroka Show, Kundu & Canoe Festival, Coffee Festivalin, etc., are held in PNG at different times of the year. PNG is also considered to be one of the world's best diving destinations. Surfing can also be enjoyed here all-year-round. The Kokoda Track and other walking tracks are also popular in PNG.
4. Samoa
The island nation of Samoa, the heart of Polynesia, located between New Zealand and Hawaii, is a tropical paradise. Narrow coastal plains, volcanic mountains, and lush green rainforests characterize the landscape of this country. Samoa offers accessible adventures to tourists. The country has several national parks, waterfalls, blowholes, caves, lava fields, and beaches that will captivate every nature lover. It is also known to have one of the Pacific region's most well-preserved traditional societies. 145,176 tourists visited Samoa in 2017 making it the fourth most visited of the Pacific Island nations.
3. Cook Islands
An archipelago of 15 picture-perfect islands in the South Pacific between French Polynesia and Tonga, the Cook Islands are one of the most remote but still accessible tourist destinations in the world. These islands offer tourists a flavor of both modern and traditional cultures. The Aitutaki lagoon is one of the most picturesque destinations in the archipelago. The underground cave pools here are also alluring. It is no wonder that the Cook Islands attract thousands of tourists every year. In 2017, tourist arrivals to the Cook Islands accounted for 7.5% of all tourist arrivals to the Pacific ACP and SPTO member countries.
2. French Polynesia
An overseas island country attached to France, French Polynesia captures a 9.3% share of all tourist arrivals in the Pacific ACP and SPTO member country. The French Polynesian islands are located midway between Australia and California in the South Pacific Ocean. There are about 118 islands in this country grouped into 4 volcanic and 1 coral archipelago. French Polynesia is also known for its astounding natural scenery comprising of moss-green mountain peaks, turquoise lagoons, white sandy beaches, and laid-back island culture. The country's Bora Bora island is famous for luxurious resort escapes which are many a honeymooner's dream. Tahiti is another destination in the country where tourists visit in large numbers. The beaches in French Polynesia are also a spectacle to admire and come in pink, white, and even black colors. Intense aqua colored lagoons of the region are a major tourist draw. Surrounded by fringing reefs, these lagoons are like protected swimming pools where tourists can enjoy a variety of aquatic activities like snorkeling, swimming, canoeing, etc.
1. Fiji
Located in the South Pacific Ocean, Fiji is an archipelagic country with over 330 picture-perfect, sun-kissed islands. It is a perfect holiday destination for people of all ages. Visitors from all corners of the globe are attracted to Fiji's world-class beaches, spas, and spectacular sceneries. The country also offers numerous thrilling adventure activities like trekking, sky diving, dirt biking, river rafting, scuba diving, and more. The tropical rainforests, volcanic mountains, coral reefs, and coconut plantations of Fiji enamor all nature lovers. This tropical paradise is also free of many evils that plague other parts of the world like terrorism, landmines, malaria, etc. Although the country's tourism industry experienced a setback in 2006 due to political instability, it recovered soon after. It responded by increasing promotion of resorts in parts of the country which were free of unnecessary political influences and also reduced the prices. Thus, no wonder that Fiji is now the most visited Pacific Island country with 842,884 tourist arrivals in 2017.
The 10 Most Visited Pacific Island Countries
| Rank | Pacific Island Country (Pacific ACP and SPTO Member Countries) | Tourist Arrivals (2017) | 2017 % share in tourist arrivals (Pacific ACP and SPTO Member Countries) |
| --- | --- | --- | --- |
| 1 | Fiji | 842884 | 39.4 |
| 2 | French Polynesia | 198956 | 9.3 |
| 3 | Cook Islands | 161362 | 7.5 |
| 4 | Samoa | 155098 | 7.3 |
| 5 | Papua New Guinea | 142943 | 6.7 |
| 6 | Palau | 122726 | 5.7 |
| 7 | New Caledonia | 120697 | 5.6 |
| 8 | Timor Leste | 118586 | 5.1 |
| 9 | Tonga | 62434 | 2.9 |
| 10 | Federated States of Micronesia | 30060 | 1.4 |