Travel
The Most Visited Water Parks In The Asia-Pacific Region
The Chimelong Water Park in China is Asia's most visited water park.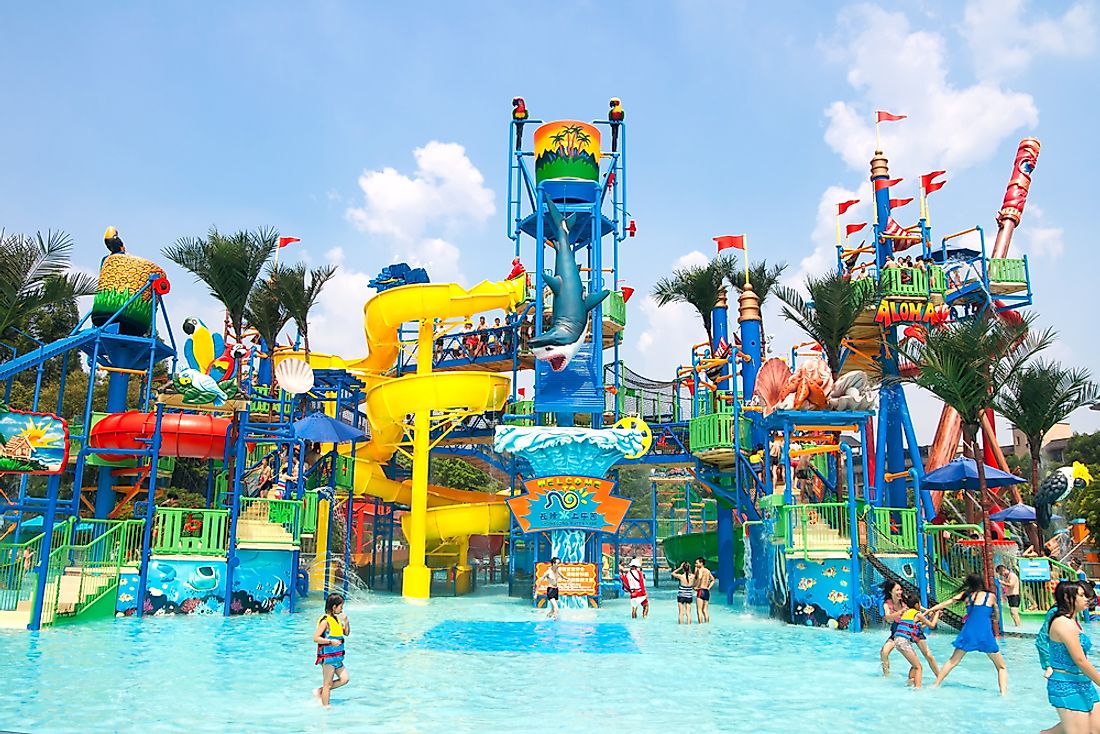 Water parks are excellent recreational venues for people of all ages. A visit to a water park is often the best form of outdoor entertainment during the warm summer months. Water parks offer a number of rides and attractions like wave pools, lazy rivers, water slides, etc., to the visitors. Here is a list of some of the most popular water parks in the Asia-Pacific region:
1. Chimelong Water Park
The 450-acre Chimelong Water Park is the most visited water park in the Asia-Pacific region. The park was visited by 2,538,000 guests in 2016. It was designed by two reputed Canadian companies and is located in Guangzhou, China. The park boasts of numerous attractions like the "Extreme Rivers" that is located in the Aloha Village themed area of the park. It is the largest artificial torrent in the world. The attraction can accommodate as many as 3000 visitors at a point in time and offer them a nearly realistic experience of the impact of flood waves. The wave pool, and water rides like the "Behemoth Bowl" and the "Tornado" are also highly popular among the visitors of the park. There are several family-friendly facilities and 1,000 water sprinkles in the park, as well numerous as other attractions.
2. Caribbean Bay
Asia-Pacific's second most popular water park is located in Yongin, South Korea. It is regarded to be the world's biggest indoor/outdoor waterpark. The Caribbean Bay was opened in 1996 and encompasses an area of 202.6 square km. Although it is a part of the Everland Resort, a separate admission ticket needs to be purchased to gain entry into this park. The world's longest Lazy River, a wave pool, a Wading Pool, a Sandy Pool, Salt Sauna, and various other water attractions and rides render the Caribbean Bay as a major crowd puller.
3. Ocean World
Another water park in South Korea, the Ocean World, features in the list of Asia-Pacific's most popular water parks. The recreational venue is located in the Gangwon Province's Hongcheon County. It is a part of the Vivaldi Resort. In 2016, the Ocean World was visited by 1,473,000 people. The park was inaugurated in 2009. Its design has been inspired by ancient Egyptian culture. Ocean World features a massive sphinx, pyramids, and other Egyptian symbols. There is both indoor and outdoor area in the water park. A number of pools of various sizes and shapes are found here. The 'Extreme River', 'Monster Blaster', 'Super Boomerango', etc., are some of the popular rides at this park.
4. Sunway Lagoon
The fourth most popular water park in the Asia-Pacific is located in Selangor, Malaysia. It is the Sunway Lagoon and is owned by the Sunway Group. This water park was opened in 1992. It hosts numerous attractions and rides that are the firsts of their kinds in Malaysia. These include the first 5D Waterplexx and the first surf simulator. There are currently about 90 attractions in the Sunway Lagoon that are spread across an area of 88 acres.
5. Wet'n'Wild Gold Coast
The fifth most visited water park in the Asia-Pacific is the Wet'n'Wild Gold Coast located in Gold Coast, Queensland of Australia. The park is located on the Gold Coast of Australia's Queensland. The park that was opened in 1984 remains open all-year-round.
The Most Visited Water Parks In The Asia-Pacific Region
| Rank | Water park | Location | Number of visitors (2016) |
| --- | --- | --- | --- |
| 1 | Chimelong Water Park | Guangzhou, China | 25,38,000 |
| 2 | Caribbean Bay at Everland Resort | Gyeonggi-do, South Korea | 15,50,000 |
| 3 | Ocean World | Yongin, South Korea | 14,73,000 |
| 4 | Sunway Lagoon | Kuala Lumpur, Malaysia | 12,70,000 |
| 5 | Wet'n'Wild Gold Coast | Gold Coast, Queensland, Australia | 12,42,000 |
| 6 | Shenyang Royal Ocean Park - Water World | Fushun, China | 11,70,000 |
| 7 | Atlantis Water Adventure | Jakarta, Indonesia | 11,10,000 |
| 8 | Wuhu Fantawild Water Park | Wuhu, China | 10,24,000 |
| 9 | Sunway Lost World of Tambun | Perak, Malaysia | 10,00,000 |
| 10 | Woongjin Playdoci Waterdoci | Gyeonggi-Do, South Korea | 9,00,000 |
About the Author
Oishimaya is an Indian native, currently residing in Kolkata. She has earned her Ph.D. degree and is presently engaged in full-time freelance writing and editing. She is an avid reader and travel enthusiast and is sensitively aware of her surroundings, both locally and globally. She loves mingling with people of eclectic cultures and also participates in activities concerning wildlife conservation.
This page was last updated on May 7, 2018.
Citations
Your MLA Citation
Your APA Citation
Your Chicago Citation
Your Harvard Citation
Remember to italicize the title of this article in your Harvard citation.