World Facts
The 10 Longest Rivers in Delaware
The Delaware is the longest river in the state of Delaware.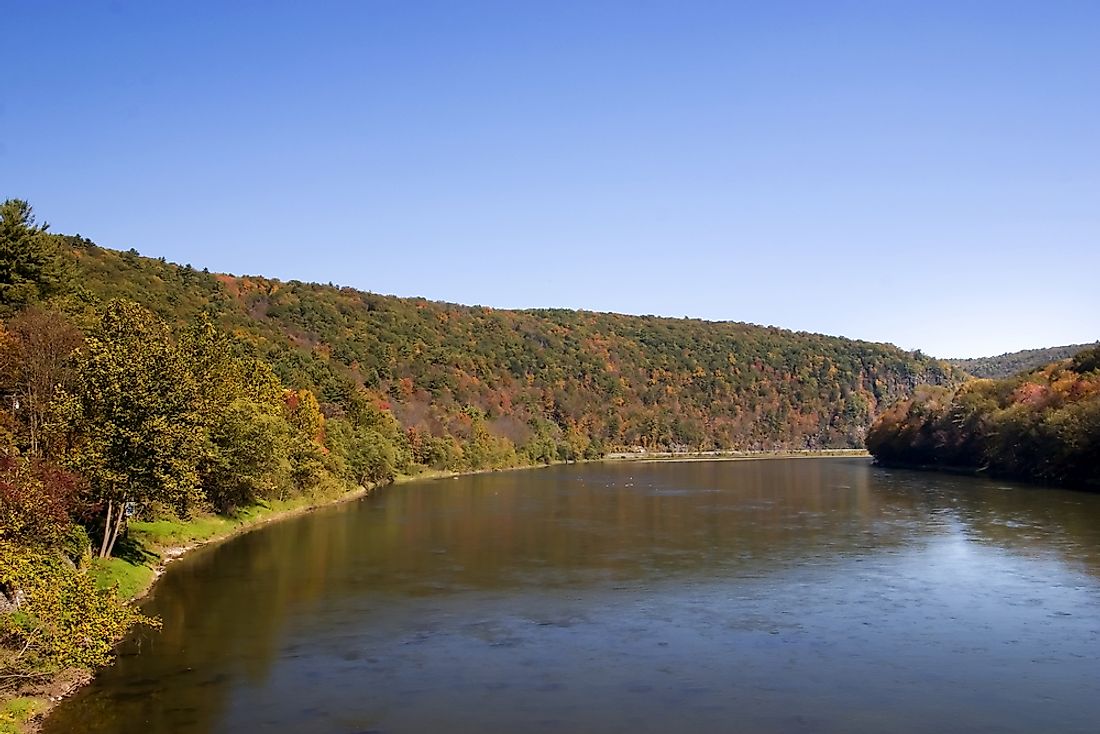 Delaware is the 6th most densely populated and the second smallest state in the United States. It was among the thirteen colonies which participated in the American Revolution. Delaware was the first state to ratify the American constitution on December 7, 1787, and is known as "The First State." It is divided into 3 counties with Sussex County and Kent County being predominantly agricultural with numerous rivers flowing through them.
Longest Rivers In Delaware
1) Delaware River
River Delaware is one of the main rivers in the Atlantic coast which drains an area of about 14,119 square miles in 5 American states (New Jersey, Maryland, Pennsylvania, New York, and Delaware). The river rises from Catskill Mountain (New York) and then flows for about 419 miles into Delaware Bay where it joins the Atlantic Ocean near Cape Henlopen (Delaware) and Cape May (New Jersey).
2) Choptank River
Choptank is the longest river in the Delmarva Peninsula and a principal tributary of Chesapeake Bay. The 71 miles long river rises from Kent County and flows through Caroline County. It forms the boundary between Dorchester and Caroline County to the south and east, and Talbot County, Maryland on the northern side. River Choptank's watershed area in Maryland is 1,004 sq miles, and only 224 sq miles is open water.
3) Pocomoke River
Pocomoke River flows for about 66 miles from southern Delaware through the Southeastern parts of Maryland. River Pocomoke's mouth is Chesapeake Bay's arm, and the upper parts of the river flow through the Great Cypress Swamp which is populated by Red Maple and Loblolly Pine. The river rises from the Great Cypress Swamp and then flows into Maryland where it forms a border between Worcester and Wicomico counties.
4) Nanticoke River
River Nanticoke is one of the tributaries of the Delmarva Peninsula and the Chesapeake Bay. It starts from South Kent and flows through Sussex County creating a border between Wicomico and Dorchester counties. Some of the tributaries feeding Nanticoke River include Broad Creek, Gravelly Fork, Marshyhope Creek, Jack Creek, and Cow Creek.
5) Marshyhope Creek
The 37 miles long river is a tributary of River Nanticoke at Delaware Peninsula. Marshyhope Creek rises from Kent County and flows through Dorchester and Caroline counties, Maryland. Some of the smaller creeks of the eastern shores of Marshyhope Creek include Quarter, Double Fork, Jones Mill, Houston, and Tanyard Branches. The creeks on the western shores include Horsepen, Capital, Sullivan, and Faulkner branches.
6) Christina River
The 35 miles Christina River is one of the tributaries of River Delaware which flows through the smaller regions of Northeastern Maryland and southeastern Pennsylvania. It rises in the southern parts of Chester County (Franklin Township) and flows into Cecil County and then turns northeastwardly and passes through Newport. River Christina drains an area of about 565 sq miles.
7) Sassafras River
River Sassafras is a 22 miles long river which begins from Middletown, New Castle County, and empties into the Chesapeake Bay. It is one of the Chesapeake Bay tributaries. The river is within the coastal plain, and its watershed area is approximately 97 sq miles.
8) Murderkill River
The 21.7 miles long Murderkill River flows through Kent County. The river rises from Felton and flows through Coursey and Killen ponds to Bowers where it joins Delaware Bay. About 2% of the river's watershed is water, 9% is a wetland, 14% is urban, 17% is forested, and 55% is agricultural land.
9) Brandywine Creek
Brandywine River is River Christina's tributary in North Delaware and southeast Pennsylvania. The main stem of Brandywine is 20.4 miles long, and it has numerous tributary streams. The western and eastern branches of the creek originate from the slopes of Welsh mountain.
10) White Clay Creek
The 18.5 miles long White Clay Creek is famous for its scenic character. It is one of river Christina's tributaries with a 107 sq miles watershed area which includes parts of New Castle County and Chester County. It empties into River Christina at Churchman's Marsh.
Topography of Delaware
Delaware State is located on a leveled plain, and it has the lowest mean elevation of all the states in the country. The northern parts of Delaware are parts of Piedmont Plateau while the highest elevation is at Ebright Azimuth which is 450 ft below the sea level. An 80 ft ridge which separates the watershed feeding the Chesapeake Bay and Delaware River stretches on the state's western border.
The 10 Longest Rivers in Delaware
| Rank | River | Length (miles) | Length (km) |
| --- | --- | --- | --- |
| 1 | Delaware River | 301 | 484 |
| 2 | Choptank River | 71 | 114 |
| 3 | Pocomoke River | 66 | 106 |
| 4 | Nanticoke River | 64 | 103 |
| 5 | Marshyhope Creek | 37 | 60 |
| 6 | Christina River | 35 | 56 |
| 7 | Sassafras River | 22 | 35 |
| 8 | Murderkill River | 22 | 35 |
| 9 | Brandywine Creek | 20 | 32 |
| 10 | White Clay Creek | 19 | 31 |
This page was last updated on July 27, 2018.
Citations
Your MLA Citation
Your APA Citation
Your Chicago Citation
Your Harvard Citation
Remember to italicize the title of this article in your Harvard citation.