World Facts
The 10 Largest Islands In Chile
Isla Grande de Tierra del Fuego is the biggest island in Chile.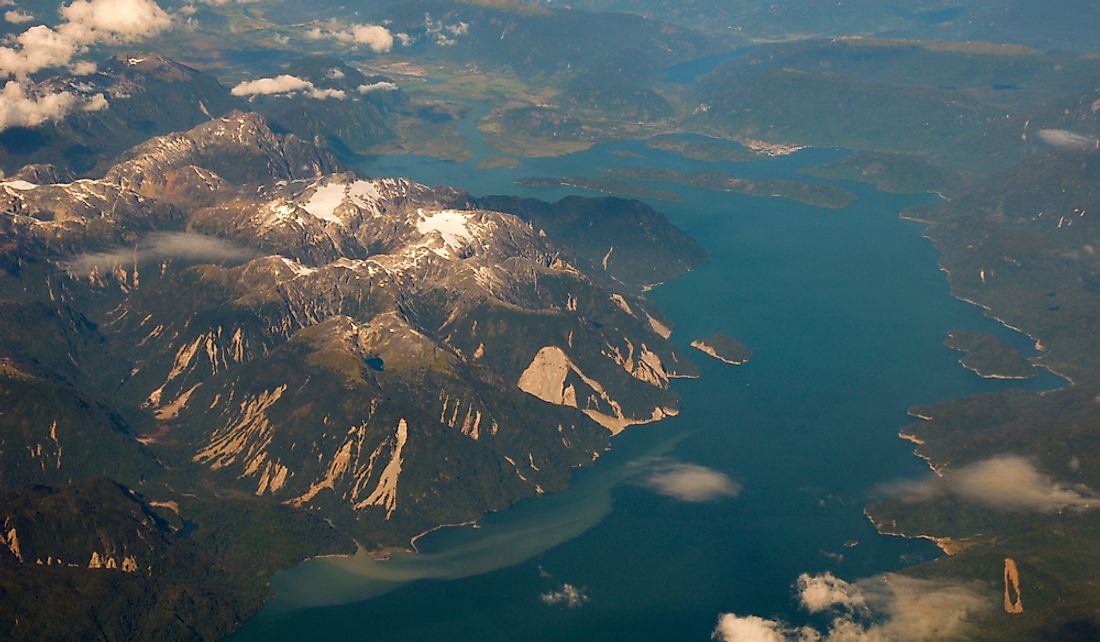 Chile is a country in South America, situated between the Andes mountain range and the Pacific Ocean. The country occupies an area of 756,096.3 square kilometers and has an estimated population of 17,574,003. Chile's territory also includes numerous islands, many of which are located in the Pacific Ocean, south of continental Chile. Parts of the country's long coastline are considered dangerous for boats, as there are at least 5,000 rocky islands that pose a serious risk to vessels navigating these waters. About 14% of Chile's total area is made up of islands. Isla Grande de Tierra del Fuego is Chile's biggest island. The largest islands in Chile are highlighted below.
The Five Largest Islands in Chile
1. Isla Grande de Tierra del Fuego
Isla Grande de Tierra del Fuego, which translates to "Big Island of Land of Fire" in English, is located near the southern tip of South America and is shared politically by Chile and Argentina. Chile owns 61.4% of the island, which covers an area of 29,484.7 km2, while Argentina's portion of the island has an area of 18,507.3 km2. Separated from the mainland by the Strait of Magellan, the Chilean portion of the island has a population of 6,656. The highest point on the island, Monte Darwin, has an elevation of 2,438 m.
2. Chiloé Island
Chiloé Island is Chile's second largest island, with an area of 8,394 km2, and ranks as the fifth largest island in South America. The island is part of the Chiloé Archipelago, which is located in the Pacific Ocean, off the coast of southern Chile. Chiloé National Park covers the northwestern part of the island, and its offshore waters are home to numerous species of marine fauna, including the blue whale, sei whale, marine otter, Chilean dolphin, and Humboldt penguin. The Alfaguara project was launched on the island to protect marine fauna of the region against threats of habitat loss, pollution, and urban development.
3. Wellington Island
Wellington Island is Chile's third biggest island, occupying an area of 5,556 km2. It is located off the shores of mainland Chile, west of the Southern Patagonian Ice Field. The village of Puerto Edén, which has a small indigenous population of approximately 340 people, is the only inhabited part of the large island. Most of the island is protected as part of Bernardo O'Higgins National Park, which is the country's largest protected area. The highest point on Wellington Island, which has not been named, has an elevation of 1,463 m above sea level.
4. Riesco Island
Located west of Chile's Brunswick Peninsula, Riesco Island is the country's fourth largest island, covering an area of 5,110 km2. The highest point on the island is Mount Atalaya, which has an elevation of 1,830 m. The island has large coal reserves and mining is a key part of Riesco Island's economy. Several mountain glaciers are also present on Riesco Island.
5. Hoste Island
Hoste Island is one of Chile's southernmost islands and is noted for having the southernmost trees on Earth, a species named Nothofagus antarctica. The island is located across the Beagle Channel and has an area of 4,117 km2. Hoste Island contains five peninsulas and is the second largest island in the Tierra del Fuego archipelago.
List of the 10 Largest Islands in Chile by Area
| Rank | Island | Area (km2) |
| --- | --- | --- |
| 1 | Isla Grande de Tierra del Fuego | 29,484.7 (Chilean portion) |
| 2 | Chiloé Island | 8,394 |
| 3 | Wellington Island | 5,556 |
| 4 | Riesco Island | 5,110 |
| 5 | Hoste Island | 4,117 |
| 6 | Santa Inés Island | 3,688 |
| 7 | Magdalena Island | 2,025 |
| 8 | Desolación Island | 1,352 |
| 9 | Dawson Island | 1,290 |
| 10 | Campana Island | 1,187.8 |
About the Author
Oishimaya is an Indian native, currently residing in Kolkata. She has earned her Ph.D. degree and is presently engaged in full-time freelance writing and editing. She is an avid reader and travel enthusiast and is sensitively aware of her surroundings, both locally and globally. She loves mingling with people of eclectic cultures and also participates in activities concerning wildlife conservation.
This page was last updated on April 15, 2019.
Citations
Your MLA Citation
Your APA Citation
Your Chicago Citation
Your Harvard Citation
Remember to italicize the title of this article in your Harvard citation.