World Facts
The 10 Biggest Cities In Mississippi
Jackson is the most populated city in Mississippi.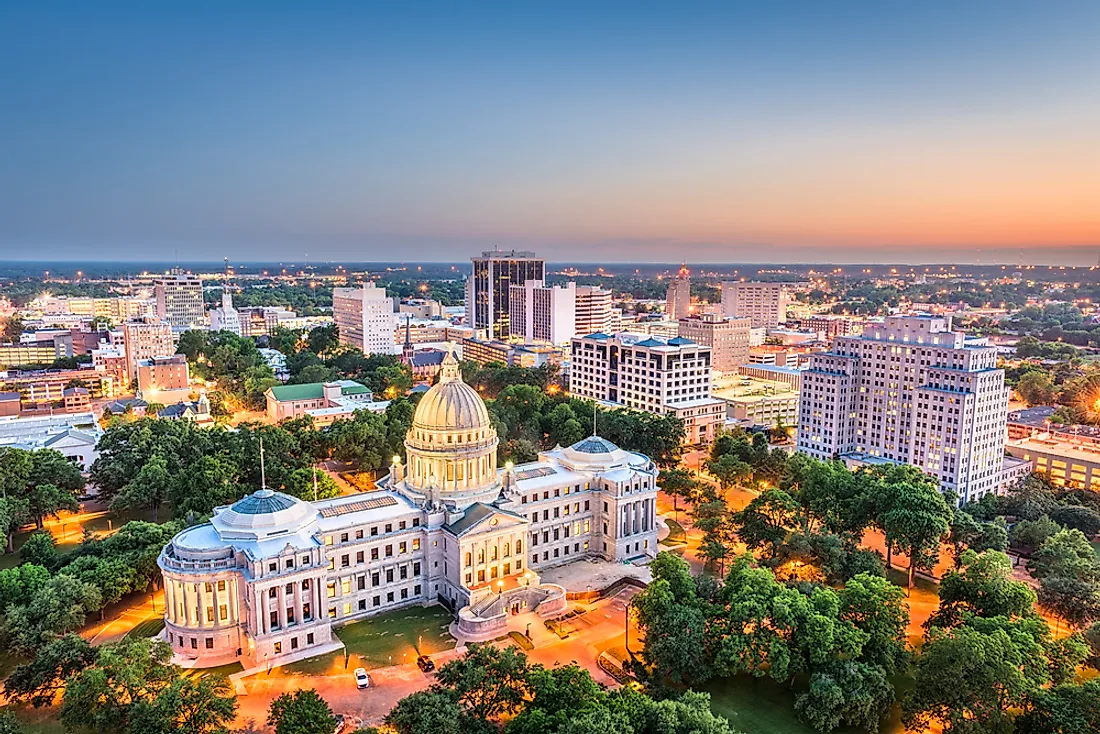 The US state of Mississippi is located in the Southern region of the country. With a population of 2,968,103 inhabitants (2010 census), it is the 32nd most populous state in the country. It is the 31st largest US state with an area of 121,530.7 square km. Mississippi has 82 counties and 229 incorporated municipalities which can be classified into cities, towns, and villages. Although the state's municipalities account for only 4.3% of its total area, they serve as a home to 50.5% of the total population.
The Five Biggest Cities In Mississippi
1. Jackson
With a population of 173,514 individuals, Jackson is Mississippi's biggest city. Located on the Pearl River, it is one of the county seats of Hinds County, the other being Raymond. The city also extends into Madison and Rankin counties. Jackson was founded in 1821 as the capital of Mississippi and continues to serve that role to this date. It is named after General Andrew Jackson who played a vital role in the Battle of New Orleans and later became the country's president. Jackson is home to several major industries like food processing, electrical machinery, and equipment, etc.
2. Gulfport
Mississippi's second biggest city, Gulfport, had a population of 67,793 in 2010. It is one of the county seats of Harrison County along with Biloxi. Gulfport is located on the coast of the Gulf of Mexico and is subjected to extreme weather events including hurricanes. The port city is also a top tourist destination in the state by virtue of its sandy beaches, coast casinos, and vibrant cultural events.
3. Southaven
The Mississippi city of Southaven is the state's third largest city. It had a population of 48,982 individuals in 2010. Southaven is located in the DeSoto County. The I-55/I-69 freeway traverses the city from north to south. Southaven is one of the suburbs of Memphis, a city in Tennessee. It is the principal city in the Greater Memphis.
4. Hattiesburg
With a population of 45,989 individuals, Hattiesburg is the fourth most populous city in Mississippi. It serves as the county seat of the Forrest County. It also extends into Lamar County. The city was established in 1882 and incorporated in 1884. In the initial years of its founding, Hattiesburg was a center of the railroad and lumber industry. Today, it has a much-diversified economy. The University of Southern Mississippi is located in the city.
5. Biloxi
Biloxi is Mississippi's fifth most populous city. It had a population of 44,054 as per the 2010 Census. Biloxi is one of the county seats of Harrison County. Biloxi's position on the Mississippi Sound makes it highly vulnerable to natural disasters. In the past, it was the state's third most populous city. However, widespread flooding and destruction forced many of its residents to leave the city. The population decrease was especially noticeable after the havoc created by Hurricane Katrina.
The Smallest Municipality In Mississippi
With a population of only 55 residents (2010 Census), Satartia is the smallest municipality in the state. It is a village located on the Yazoo River's east bank in Yazoo County.
The Largest And Smallest Municipalities By Area
Jackson is not only the most populous city of Mississippi but also its largest by area. It spans 287.6 square km. Sidon is the smallest city in the state areawise. It occupies only 0.31 square km.
The Oldest Municipality In Mississippi
Natchez is the state's oldest municipality. It was incorporated on March 10, 1803.
The 10 Biggest Cities In Mississippi
| Rank | Name | County | Population (2010) | Land area (2010) in square km |
| --- | --- | --- | --- | --- |
| 1 | Jackson | Hinds, Madison, Rankin | 1,73,514 | 287.6 |
| 2 | Gulfport | Harrison | 67,793 | 144.0 |
| 3 | Southaven | DeSoto | 48,982 | 106.8 |
| 4 | Hattiesburg | Forrest, Lamar | 45,989 | 138.3 |
| 5 | Biloxi | Harrison | 44,054 | 99.0 |
| 6 | Meridian | Lauderdale | 41,148 | 139.2 |
| 7 | Tupelo | Lee | 34,546 | 132.5 |
| 8 | Greenville | Washington | 34,400 | 69.6 |
| 9 | Olive Branch | DeSoto | 33,484 | 95.1 |
| 10 | Horn Lake | DeSoto | 26,066 | 41.5 |
About the Author
Oishimaya is an Indian native, currently residing in Kolkata. She has earned her Ph.D. degree and is presently engaged in full-time freelance writing and editing. She is an avid reader and travel enthusiast and is sensitively aware of her surroundings, both locally and globally. She loves mingling with people of eclectic cultures and also participates in activities concerning wildlife conservation.
This page was last updated on January 28, 2019.
Citations
Your MLA Citation
Your APA Citation
Your Chicago Citation
Your Harvard Citation
Remember to italicize the title of this article in your Harvard citation.