US States with the Largest Populations of Armenian Americans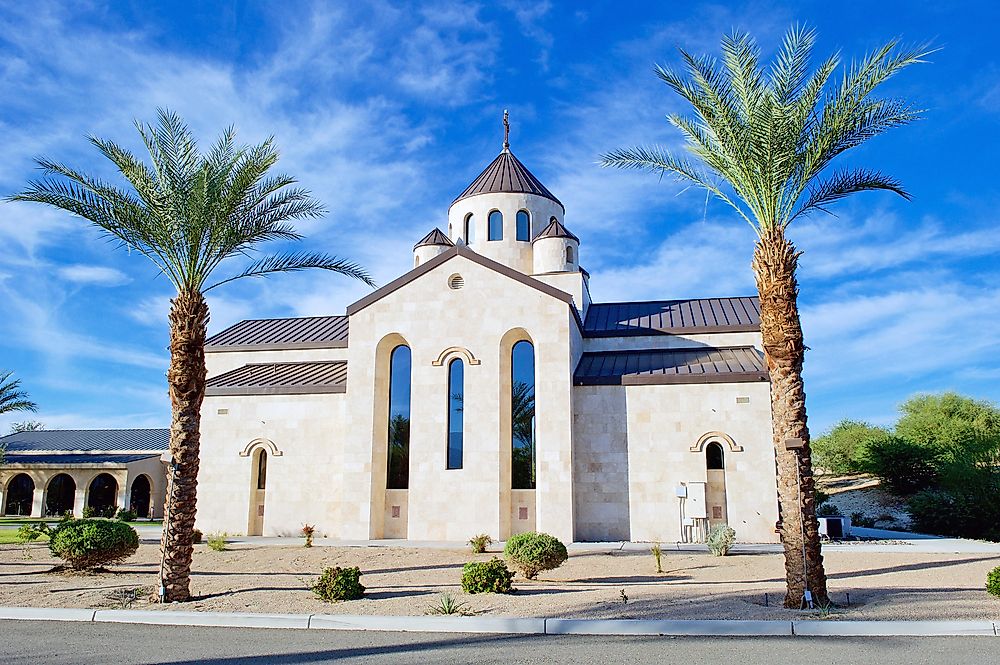 Armenian Americans are residents or citizens of the United States that have partial or total Armenian ancestry. The group forms the second largest Armenian diaspora population, after the Armenian population in Russia. Armenians began migrating to the US in the late 19th and early 20th centuries. The majority of Armenian migrants were escaping the massacres and genocide occurring in the country at that time. The global population of Armenians is estimated at 10 million, but only three million live in Armenia, while the remaining seven million are spread across the globe, including an estimated 2.5 Armenians in Russia. The American Community Survey suggests that half a million Americans are of Armenian ancestry, but several organizations have criticized that figure and claim the population is between 1.5 and 2 million.
States with the Largest Populations of Armenian Americans
California is home to the largest population of Armenian Americans. About 205,000 Armenian Americans reside in the state. Armenian Americans first began settling in California during the 1920s, but a surge in immigration in the 1970s caused the greatest population growth. The group has integrated well with other ethnic groups in the state, and many run businesses and Armenian schools. Los Angeles and Glendale have the highest number of Armenians in the state. California has been the preferred destination for immigrants of Armenian descent in the last two decades, and the population is likely to increase if this trend continues.
Massachusetts is home to the second largest population of Armenians in the country. About 30,000 people in the state are of Armenian descent. The earliest Armenians settled in the state in the early 1920s after fleeing the Ottoman genocide in Armenia. Boston and Watertown have the largest population of Armenian Americans in the state. In particular, Watertown has grown and developed as an Armenian hub, as thousands of Armenian immigrants find their way into town. Watertown is currently home to the headquarters of the Armenian Youth Federation, three Armenian churches, and the Armenian Library.
There are about 25,000 Armenian Americans in New York State. The earliest Armenians began settling in New York during the 1920s, and there was an influx in immigration during the 1960s. The population of Armenians thrived in Manhattan's Murray Hill, so much so that it was nicknamed "Little Armenia." Armenians in New York run businesses including boutiques, restaurants, schools, and music studios.
Notable Americans of Armenian Descent
Notable Americans of Armenian descent include reality television star Kim Kardashian, who is perhaps the most famous American of Armenian descent. Her father Robert Kardashian was from Armenia. Singer and actor Cherilyn Sarkisian (known as Cher) is the child of an Armenian-American father and an American mother. Others include Serj Tankian, lead singer of the music group System of a Down, and businessman Kirk Kerkorian.
States with the Largest Populations of Armenian Americans
| Rank | State | Population of Armenian Americans |
| --- | --- | --- |
| 1 | California | 204,631 |
| 2 | Massachusetts | 28,595 |
| 3 | New York | 24,460 |
| 4 | New Jersey | 17,094 |
| 5 | Michigan | 15,746 |
| 6 | Florida | 9,226 |
| 7 | Pennsylvania | 8,220 |
| 8 | Illinois | 7,958 |
| 9 | Rhode Island | 6,677 |
| 10 | Texas | 4,941 |