Shortest Rivers In The World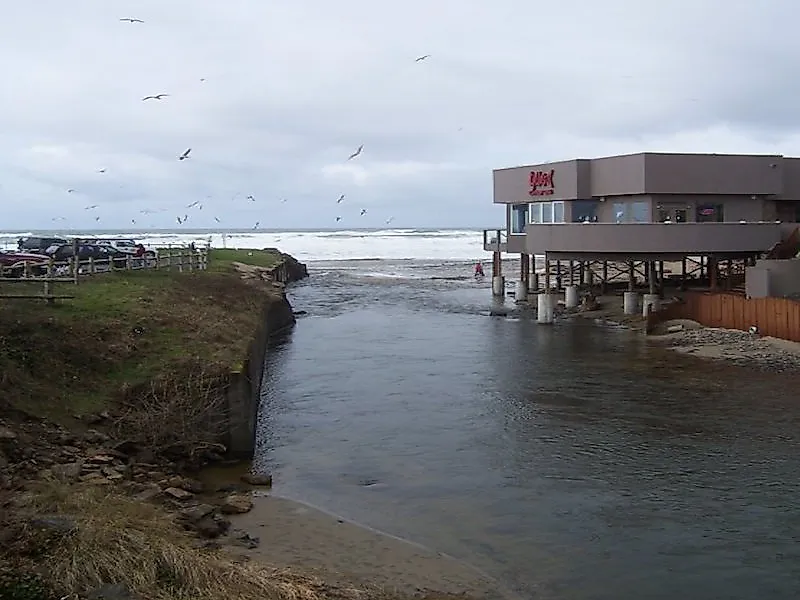 If they are so short, why are they called rivers? It is because they have constant flowing water which they receive from upland sources, and end in seas, lakes or wetlands. There are lakes which have higher water content than these rivers. Of the ten shortest rivers, five are found in Europe, four in the Americas, and one in Asia.
Tamborasi River
The Tamborasi River in Southeast Sulawesi, Indonesia, is 20 meters long, 15 m wide and flows into the Flores Sea in Bone Bay. It is a tourist attraction given its forest-clad rocky banks and cool waters, as well as the white sand of the Tamborasi beach at its mouth. It is situated 85 km from the city of Kolaka and is fed by the numerous streams that run through the mountainous Sulawesi province.
Kovasselva River
This Norwegian Kovasselva river starts at Lake Kovassvatnet and ends at the Norwegian sea, flowing for only 22 m. It is found in Hitra, the seventh largest island in Norway. Kristiansund, Orkanger, in the municipality of Trondheim are the towns nearest to it.
Reprua River
Flowing for only 27 m is the Reprua River in Georgia. Starting in the springs in Krubera Cave, this river is the deepest in the world with a depth more than 2300 m, and has a water flow rate of 2,000 l per second; it flows into the Black Sea.
Ombla River
River Ombla in Croatia flows for 30 meters into the Bay Rijeka Dubrovacka of the Adriatic sea. The source of the river is groundwater flow, fed by the stream Trebisnjica, and has a drainage basin of 600 square kilometers. Ombla supplies drinking water to Dubrovnik, its nearest city.
Jezernica River
Jezernica is one of the 59 rivers in Slovenia. It is also a tributary of the larger Idrijca that empties into the Adriatic Sea. Jezernica that is only 55 meters long and originates from the Wild Lake, which is a lake and a karst spring with an underground source of water. Water flow rates as high as 60 cubic meters per second have been recorded here.
Roe River
Flowing in Montana, United States, the Roe River starts at Giant Springs and ends as a tributary of Missouri River. Roe River is 61 m long and is up to 2.4 m deep at the end. Ships weighing 500 tons have been known to navigate this river.
Rio Los Patos
Los Patos is also 61 m long and flows into the Caribbean Sea at Barahona beach that is a popular tourist destination. Los Patos which means ducks was so named because of the vast number of birds that were originally found in this river, before they were hunted to extinction. Muscovy ducks have been reintroduced so that the river could live up to its name.
D River
The D river originates from the Devil's Lake and flows into the Pacific Ocean. It flows for 130 meters, within the city limits of the Lincoln City in Oregon, US, which is home to two world's largest kite festivals, in spring and fall.
Azuis River
Azuis River or Blue river flows for 147 m in the city of Aurora do Tocantins, Brazil. Its source is an underground spring, and its clear waters flow over a rocky river bed with a flow rate of approximately 11,000 l of water per second.
Aril River
Aril River called 'Ri river' by locals, starts in Cassone, a small village in Italy. Aril is fed by many freshwater streams and forms a small cool pond which the trout visit to lay their eggs. Flowing for 175 meters, the river passes three bridges and over a small waterfall, before ending in Lake Garda, the largest lake in Italy.
Guinness World Records
Some of the above rivers have been listed as the shortest river by Guinness World Records. The position which has been repeatedly challenged by new claimants until 2006, when Guinness discontinued this category.
Shortest Rivers In The World
| Rank | River, Country | Length |
| --- | --- | --- |
| 1 | Tamborasi River, Indonesia | 20 meters |
| 2 | Kovasselva River, Norway | 20 meters |
| 3 | Reprua River, Georgia | 27 meters |
| 4 | Ombla River, Croatia | 30 meters |
| 5 | Jezernica River, Slovenia | 55 meters |
| 6 | Roe River, Montana, United States | 61 meters |
| 7 | Rio Los Patos, Dominican Republic | 61 meters |
| 8 | D River, Oregon, United States | 130 meters |
| 9 | Azuis River, Brazil | 147 meters |
| 10 | Aril River, Italy | 175 meters |