Politics
List of Prime Ministers Of Nepal
The prime minister of Nepal serves as the head of the executive branch of the country's government.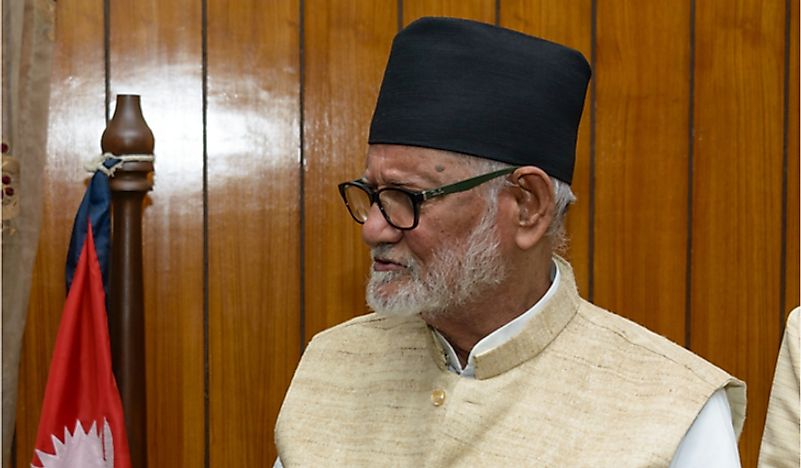 The prime minister of Nepal serves as the head of the executive branch of the country's government. The prime minister of Nepal is the one who manages the functioning of the government of Nepal as the role of the president is mostly a ceremonial position. The prime minister of Nepal is also is the one who appoints the attorney general of Nepal, while the heads of all of the other constitutional body positions are appointed by the President of the country after they get the recommendation of the country's constitutional council.
The position of Prime Minister in Nepal first came into existence at the beginning of the Shah Dynasty's reign in the country. That dynasty eventually founded what became a modern-day version of the country, the Kingdom of Nepal, which lasted from 1768 until 2008. In 2008 the monarchy of Nepal was abolished and the country became the Federal Democratic Republic of Nepal.
Notable Prime Ministers of Nepal
Surya Bahadur Thapa
Surya Bahadur Thapa, who lived from 1928 until 2015, was the prime minister of Nepal on five different occasions. During his two terms in office from December of 1963 until February of 1964 and from January of 1965 until April of 1969, his major accomplishment was abolishing the country's Land Birta System. He also worked to promote land reform, a women's right to vote and eradicating the practice of having a caste of untouchables. During his third term in office from May of 1979 until July of 1983, the Panchayat system of Nepal was upheld and political prisoners got amnesty. Thapa's fourth term from October of 1997 until April of 1998 was his first time as being elected as prime minister after the King asked him to form a coalition government to get elected since the previous two government suffered no-confidence votes and had been disbanded within a year.
Girija Prasad Koirala
Girija Prasad Koirala, who was born in 1924 and died in 2010, was the prime minister of Nepal on four different occasions. He also served as the acting head of state of Nepal from January of 2007 until July of 2008. During his first term in office, his government was able to legislate into law more liberalized education, media and health care in the country as well as constructing new universities and hospitals.
Pushpa Kamal Dahal
Pushpa Kamal Dahal is the current prime minister of Nepal, having also served as prime minister of the country during a previous term. During his first term as prime minister from August of 2008 until May of 2008, he was elected prime minister following the end of the Nepalese Civil War in which he led the Maoist-Center Communist Party of Nepal, which was one of the Maoist Communist Parties who had helped to launch and fight in the civil war.
Prime Ministers Of Modern Nepal
| Prime Ministers of Nepal Since 1951 | Term(s) in Office |
| --- | --- |
| Matrika Prasad Koirala | 1951-1952;1953-1955 |
| Tanka Prasad Acharya | 1956-1957 |
| Kunwar Inderjit Singh | 1957-1958 |
| Subarna Shamsher Rana | 1958-1959 |
| Bishweshwar Prasad Koirala | 1959-1960 |
| Tulsi Giri | 1960-1963; 1964-1965; 1975-1977 |
| Surya Bahadur Thapa | 1963-1964; 1965-1969; 1979-1983; 1997-1998; 2003-2004 |
| Kirti Nidhi Bista | 1969-1970; 1971-1973; 1977-1979 |
| Gehendra Bahadur Rajbhandari | 1970-1971 |
| Nagendra Prasad Rijal | 1973-1975; 1986 |
| Lokendra Bahadur Chand | 1983-1986; 1990; 1997; 2002-2003 |
| Marich Man Singh Shrestha | 1986-1990 |
| Krishna Prasad Bhattarai | 1990-1991; 1999-2000 |
| Girija Prasad Koirala | 1991-1994; 1998-1999; 2000-2001; 2006-2008 |
| Man Mohan Adhikari | 1994-1995 |
| Sher Bahadur Deuba | 1995-1997; 2001-2002; 2004-2005 |
| Pushpa Kamal Dahal | 2008-2009; 2016-2017 |
| Madhav Kumar Nepal | 2009-2011 |
| Jhala Nath Khanal | 2,011 |
| Baburam Bhattarai | 2011-2013 |
| Khil Raj Regmi | 2013-2014 |
| Sushil Koirala | 2014-2015 |
| Khadga Prasad Oli | 2015-2016, 2018 |
This page was last updated on April 2, 2019.
Citations
Your MLA Citation
Your APA Citation
Your Chicago Citation
Your Harvard Citation
Remember to italicize the title of this article in your Harvard citation.