List of Presidents of Somalia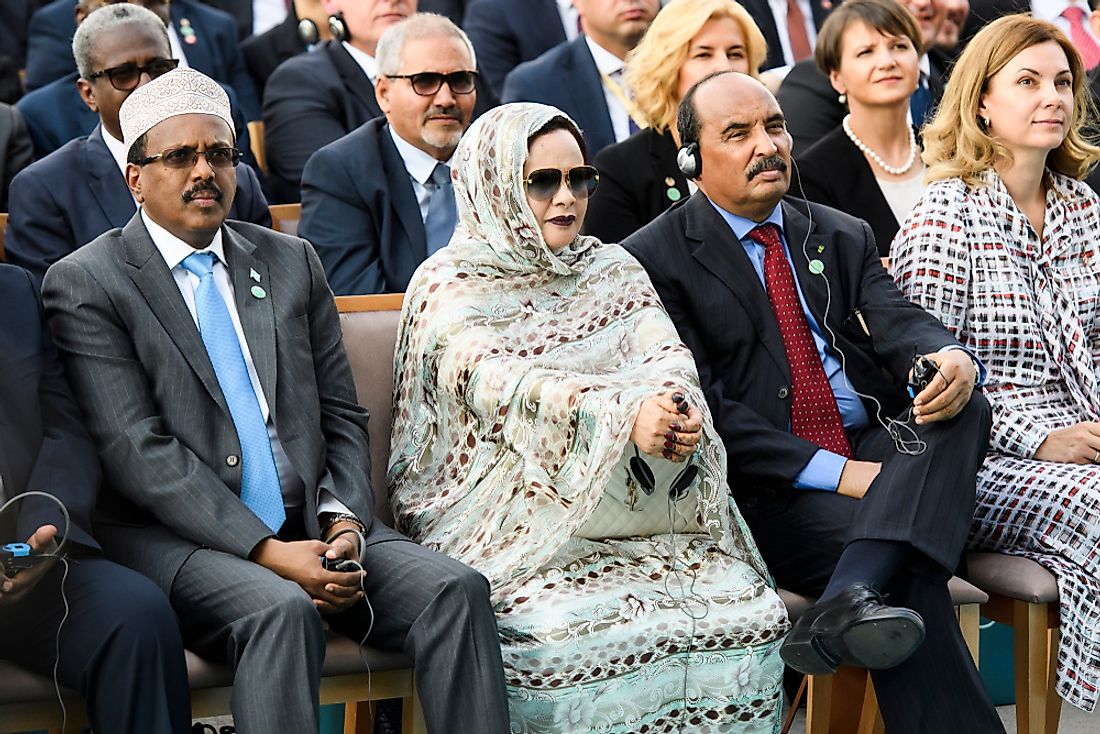 Somalia is officially known as the Federal Republic of Somalia. It is in the Horn of Africa, bordered by Kenya, the Gulf of Aden, Djibouti and the Indian Ocean. Somalia's population is an estimated 12.3 million. The Head of state in Somalia is the President whose office dates back to 1960. Hassan Sheikh Mohamud is the President incumbent of Somalia. The President of Somalia is the head of state, the commander-in-chief of The Somali armed forces. The President of Somalia is the representative of the Federal Republic of Somalia and the unity of the nation. The President of Somalia also is responsible for ensuring that the Somali constitution is implemented.
Presidents Of Somalia Since 1960
Aden Abdulle Osman Daar
Aden Abdulle Osman Daar was born in December 1908 in Beledweyne, Hiran, Somalia. Daar's political career began in 1944 when he joined the Somali Youth League (SYL) which was a nationalist organization that campaigned for Somalia's independence. In 1946 he became SYL's local secretary and a decade later becoming the National Legislative Assembly's chairman. Somalia gained independence in 1960 and Daar had already attained fame as a national figure which gave him victory as president.
Mohamed Siad Barre
Mohamed Barre was born on October 6, 1919, in Shilabo, Ogaden. In 1969 Barre led a coup d'état. His idea was to steer Somalia into scientific socialism which saw most of Somali's industries, businesses, and banks nationalized. He introduced a new writing system for the Somali language. Later on, President Barre incited inter-clan rivalries that led to the collapse of his regime in 1991. Barre later died in political exile in Lagos in 1995. He was President of Somalia from 1969-1991.
Abdullahi Yusuf Ahmed
Abdullahi Yusuf Ahmed was born on December 15, 1934, in Galkayo, Italian Somaliland and was the 6th President of Somalia. Ahmed was one of the founders of the Somali Salvation Democratic Front together with the Puntland State of Somalia where he served as the region's first President. In 2004 he co-founded the Transitional Federal Government and led Somalia as a President from 2004-2008.
Hassan Sheikh Mohamud
Hassan Sheikh Mohamud was born on November 29th, 1955 in Jalalaqsi, Hiran, Somalia. He is the eighth President of Somalia and the President incumbent. Before going into politics, Mohamud was a University dean and professor and is the founder and also chairs the Peace and Development Party. Mohamud was named as one of the 100 most influential people by NY TIME magazine in 2013 due to his efforts to fight corruption and promote national reconciliation. Mohamud has been Somalia's President since September 10, 2012.
Other Presidents of Somalia
Since independence, Somalia has had a number of Heads of State. Sheikh Muktar was acting as President when Sharmarke was assassinated and before Mohamed Barre became president following the coup d'etat. Aden Madobe was also the acting President of Somalia when President Abdullahi Yusuf resigned.
Presidents Of Somalia Since 1960
| Presidents of Somalia Since 1960 | Term in Office |
| --- | --- |
| Aden Abdullah Osman Daar | 1960-1967 |
| Abdirashid Ali Shermarke | 1967-1969 |
| Mohamed Siad Barre | 1969-1991 |
| Ali Mahdi Muhammad | 1991-1997 |
| Vacant (Interim and Transitional Governance) | 1997-2000 |
| Abdiqasim Salad Hassan | 2000-2004 |
| Abdullahi Yusuf Ahmed | 2004-2008 |
| Sharif Sheikh Ahmed | 2009-2012 |
| Hassan Sheikh Mohamud | 2012-2017 |
| Mohamed Abdullahi Farmajo | 2017- |