Society
Presidents Of Communist China Through History
President office was created in 1954 with 1st Constitution, the position was abolished between 1975 and 1983, then revived under the fourth constitution in 1982.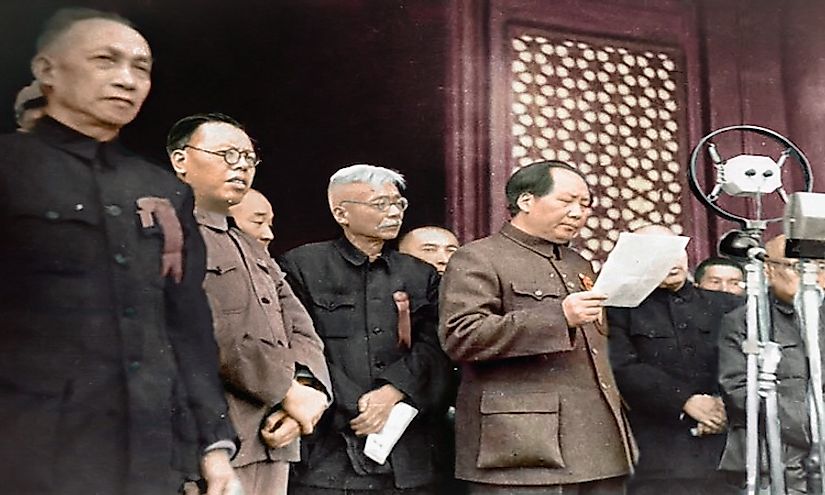 The Republic of China is the world's most populous country and the 2nd largest country by landmass. China has been run basically by the dynasties but later in 1912, it became a republic. From a small economy to a very vibrant economy, China's progress is mostly the work of its past great leaders. Here is the look of the three Presidents in the history of the Republic of China.
Mao Zedong
Popularly known as Chairman Mao, was the founding father of the People's Republic of China. Born into a rich farmer's family in Hunan province, he spent some time as a soldier. At a period when China was going through an evolution and revolution as world's most populous country and launched itself on an economic development platform, Mao played a very crucial role in the country's resurgence. He was an active participant in the united front and his appointment as a head of the peasant movement helped him in taking off his political career. Mao was hugely responsible for the establishment of Red Army during the late 1920's. Establishment of Peoples Republic of China (PRC) in 1949 transformed the political conditions of China. He succeeded in getting Stalin to sign a treaty of mutual assistance accompanied by limited economic aid ending the long-standing tensions with Moscow. Mao helped China march forward in all aspects and gave importance to industrialization and supply of machines to industries. In 1960's, he perceived in what he called "capitalist restoration". The Cultural Revolution was successful but lead to great disorder forcing Mao to call in the military to restore order.
Liu Shaoqi
Liu was considered the apparent successor of Mao Zedong until he was purged in the late1960s. He was considered the next most powerful man in the Chinese Communist Party (CCP). Liu was active in the Chinese Labor movement and was quite influential in the formulation of the governmental strategies and foreign affairs of communist China. In 1922, Liu organized National Labor Congress and slowly and steadily developed his career in politics. Liu went underground when the Nationalist Party and CCP split in April 1927 and later was elected to the 5th central committee of CCP. In 1932, Liu joined Mao's forces and later after 4 years was named secretary to the party's north China bureau when war with Japan has spread to most of China. Liu grew well in the party and became the most powerful man in the Chinese communist hierarchy. During the late 60's in his new post as head of the state, he played an important role in foreign affairs. Along with his associates, he was the first to be purged in the great proletarian Cultural Revolution. It is believed that in 1971, Liu had died in a plane crash while fleeing from an attempt to assassinate Mao.
Dong Biwu
Dong Biwu was a Chinese communist political leader who shaped his career under the regime of Mao Zedong. Mao and Dong were the only members who attended both the establishment of PRC and 1st Congress. He acted as China's Vice President along with Soong Ching Ling from 1959-1975. He also served as the President of Supreme Court of newly founded China. He was the member of the Politburo of the Communist Party of China during 1945 - 1975. He died in 1975 a year before Mao.
However, the head of the People's Republic of China under the constitution was majorly ceremonial and had very limited powers. The offices of President and Vice-President were abolished by the constitution in 1975 and were transferred to the chairman of the standing committee.
Presidents Of Communist China Through History
| Rank | President of the People's Republic of China | Term in Office |
| --- | --- | --- |
| 1 | Mao Zedong | October 1st, 1949 to April 27th, 1959 |
| 2 | Liu Shaoqi | April 27th, 1959 to October 31st, 1968 |
| 3 | Dong Biwu | October 31st, 1968 to January 17th, 1975 |
| 4 | None (Position Abolished) | January 18th, 1975 to June 18th, 1983 |
| 5 | Li Xiannian | June 18th, 1983 to April 8th, 1988 |
| 6 | Yang Shangkun | April 8th, 1988 to March 27th, 1993 |
| 7 | Jiang Zemi | March 27th, 1993 to March 15th, 2003 |
| 8 | Hu Jintao | March 15th, 2003 to March 14th, 2013 |
| 9 | Xi Jinping | March 14th, 2013 to Present |
This page was last updated on March 17, 2020.
Citations
Your MLA Citation
Your APA Citation
Your Chicago Citation
Your Harvard Citation
Remember to italicize the title of this article in your Harvard citation.