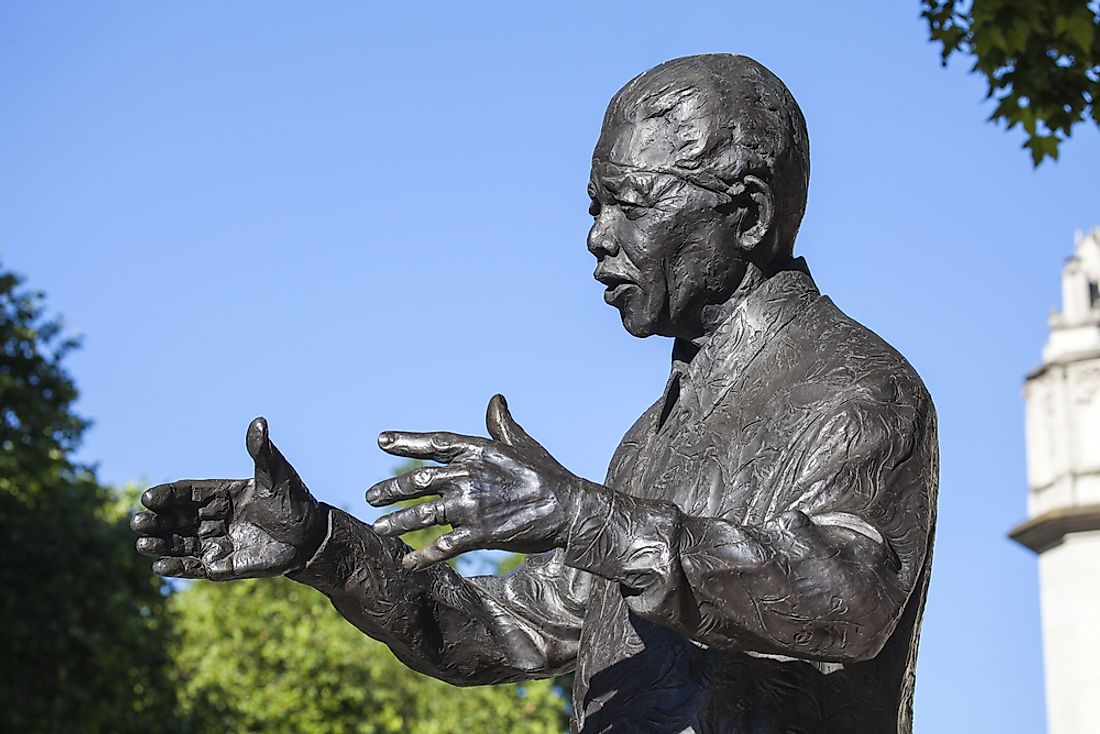 Nelson Mandela was a South African known as a heroic leader worldwide for his fight against apartheid and politician. He also showed exceptional leadership by stepping down for Thabo Mbeki after his first term ended in 1999. He has won many awards including the Nobel Peace Prize as an appreciation for his efforts to eradicate racial segregation.
Early Life
Mandela was born 18th July 1918 in Mvezo Village, Umtata in Cape Province. His clan name is Madiba, which people use to refer to him. He came from a royal family, Ngubengcuka; his great grandfather was Thembu king. Gadla, his father, was appointed in 1915 as an advisor to the monarch and local chief. He had four wives and 13 children who lived in different villages. Mandela's mother, with his two sisters, lived in Qunu where he was a herd's boy. At the age of seven Mandela was sent to the Christian Methodist School. At around nine years old, his father came to live in Qunu but sadly died of an undiagnosed ailment.
He did not see his mother for many years because he lived in the palace. He grew up with Chief's Jongintaba children, who were son Justice and daughter, Nomafu. Mandela joined Clarkbury Methodist High School for his secondary education where he would acquire skills to become a privy councilor in Thembu kingdom. In 1937 he and Justice joined Healdtown, a college in Fort Beaufort.
Involvement in Politics
In 1943, Sisulu influenced Mandela to join the African National Congress (ANC), where he spent time with other activists including Oliver Tambo. In 1944, the African National Congress Youth League was founded. Mandela met Evelyn Mase at Sisulu's house. They courted and married in 1944. They had two children, a son, Madiba and a daughter, Makaziwe who died after nine months of meningitis.
In March 1950, Mandela was elected to the ANCYL (African National Congress Youth League) as national president. In Johannesburg, communist activists held a "Defend Free Speech Convention" to call a strike in protest against white minority rule and apartheid. In 1955, Mandela took part in an unsuccessful protest to prevent black people from relocation from Sophiatown. ANC executives were arrested in 1956 for treason. In 1961, Mandela, Slovo, and Sisulu co-founded a militant group called Umkhonto we Sizwe, abbreviated as MK.
Life in Prison
Mandela and other MK members were arrested on August 5, 1962.He was found guilty and sent to prison. In 1964, Mandela and others were moved to Robben Island. The political prisoners lived in separate cells from the rest. In 1982, Mandela and other senior activists were transferred to another prison to prevent younger activists in Robben Island from hearing their influence. In 1988, Nelson was relocated to Victor Verster Prison where he was recovering from tuberculosis. On February 11, 1990, Mandela left prison.
Presidency
The election occurred on 27th April 1994, and Mandela won, and the ANC party slogan was "a better life for all." He assumed office on 10th May 1994 to 14th June 1999. He stepped aside and Thabo Mbeki to be the next president.
Death
He suffered from a respiratory infection, and died at the age of 95 on 5th December 2013. He was laid to rest at Qunu.