Countries Who Are Urbanizing At the Fastest Rate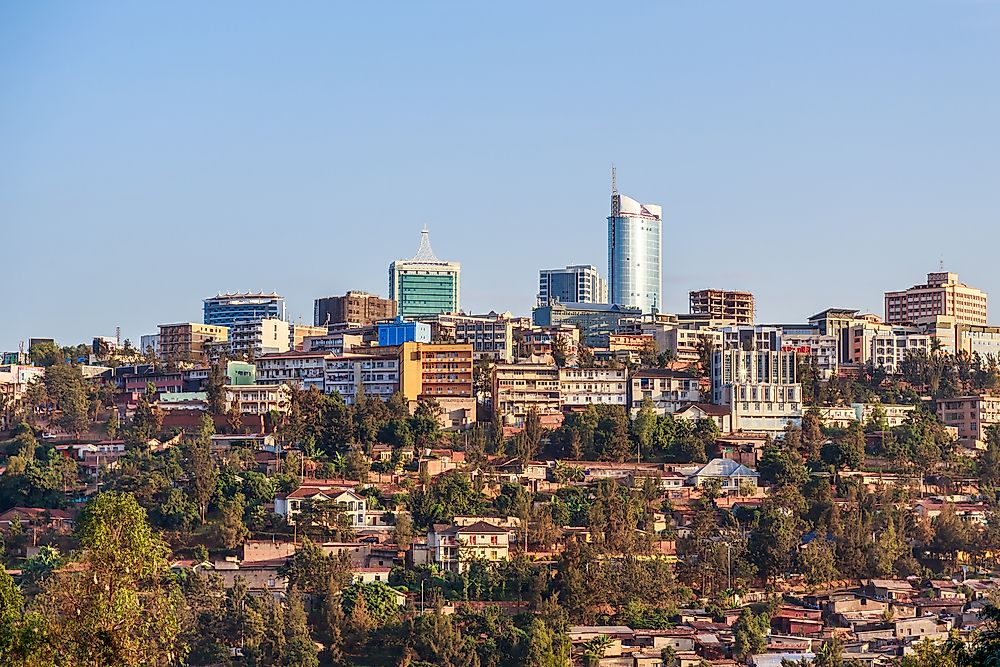 What Is an Urbanization Rate?
An urbanization rate is the rate at which the size of a given urban population adjusts over a defined period. A high urbanization rate implies high growth in urban population whereas low urbanization rate means that the population is growing slowly in the urban centre. Globally, some countries experience higher urbanization rates than others. The countries with highest urbanization rates in descending order include Rwanda, Qatar, United Arab Emirates, Burkina Faso, Laos, and Burundi.
Countries Who Are Urbanizing at the Fastest Rate
The top three countries with highest urban growth are Rwanda, Qatar, and United Arab Emirates recording growth rates of 9.3%, 7.9%, and 7.5% respectively.
Rwanda
Rwanda is the world's leading urbanizing nation with most of its population shifting into urban centers. It is estimated that between the years 1968 and 2017, the average rural to urban migration has increased from 3.1% (1968) and 30.7% (2017). Due to the genocide which marred the country's image and development in 1994, there was a need to embark on productive economic growth immediately. The country adopted vision 2020 by which they would have made significant economic, social, and political stride. Urbanization was, therefore, part of the strategy as the government viewed it as a way of encouraging integration between the two rival communities of Tutsis and Hutus.
Urban growth also resulted from the refugees who were returning to their stabilizing country and dwelled in the urban areas. Also, the government through its policies have introduced a legal and institutional framework to ensure facilities are established for conducive urban habitat. The government also set up bodies to ensure implementation of above strategies. Moreover, Rwanda has set up National Urbanisation Policy, which ensures maximum participation of stakeholders.
All these policies and government participation have seen Rwanda rise above its neighboring countries in achieving its goals. In fact, the World Bank ranked Rwanda as the continent's most competitive place to do business in Africa in 2016.
Qatar
Qatar is second after Rwanda regarding urbanization rate at an estimated rate of 7.9%. The country is situated in western Asia to the northeast coast of Arabian Peninsula, and its capital city is Doha. Statistics indicate that its population in the capital city has doubled since the year 2004. Some of the major cities in Qatar include Lusai City, Msheireb Downtown Doha, Katara, and Education City. The major factor contributing to urban development in this country is the availability of petroleum resources and natural gas fuel. Major towns and cities have housed laborers, academics, scientists, as well as designers.It is estimated that Doha recorded a rise in population from five hundred thousand people in 2004 to 1.3 million at present.
Qatar is striving towards achieving its vision 2030 target and works under the guidelines of the United Nations Sustainable Development Goals (UN SDGs). The country is targeting to counter the negative impacts of urban population by cooperating with the United Nations. The government of the United Nations appointed HH Sheikha Moza as one of the ambassadors of UN SDGs. Doha is well stocked with facilities including the airport, good residential houses, roads, transport, and communication facilities. There are continuous constructions of residential houses to counter the influx of urban dwellers.
Moreover, Qatar plans to hold the famous World Cup games in 2022. The tournament has boosted the country's economy due to the sponsorship deals, which are tied to it. Housing such world-popular sport has put the country into the international spotlight and therefore the need to up its facilities. Hence, many people have moved to the major cities to engage in preparation activities consequently adding to the already populated cities.
The United Arab Emirates
The third fastest urbanizing nation globally is the United Arab Emirates (UAE). The well-known decorated city of Dubai is situated in the UAE. The United Arab Emirates is located in Asia, neighboring Oman and Saudi Arabia among other countries.
Dubai city has gained world recognition and is known for its artificial decoration of beaches. It has become the center for different people; be it scientists, tourists, academicians, or business people. The fact that it has been designated to hold the World Expo 2020 has magnified its image further globally. The city has developed over the years as it was situated close to oil-rich countries such as Iran. Dubai is well endowed with infrastructure and facilities.
Why Do Some Countries Urbanize Faster Than Others?
From the above examples, it is evidenced that there is no uniformity in urbanization rate. Globally, these countries are influenced by many factors, which are different from one country to the other. For example, government policies are one of the important factors which influence urban growth. The above case relating to Rwanda indicates that the government encourages urbanization. The Rwandan government targets high urban growth by prioritizing it in its vision 2020 objectives. The United Arab Emirates government has invested its resources in Dubai to encourage residents and visitors to the city.
Moreover, some countries experience faster growth in urban population because of commercialization. Urban centers are equipped with trade and financial facilities; consequently, they pull people to its environs who invest in business activities. Furthermore, some countries have better transport and communication facilities in towns as compared to other parts of the country. These facilities would have a pulling effect on rural dwellers who move to urban areas.
In the less developed countries, people move to towns with the desire to change their social lives. Poor living conditions in rural areas force many people to consider urban life as an option. Finally, industrialization in urban centers attracts people since there are better opportunities for employment. Many countries are facing unemployment crisis, as the governments are unable to provide job opportunities to their growing populations.
The high urban growth rate has adverse impacts which may include overcrowding in towns, inadequate housing, unemployment, and rise in criminal activities. Faster urbanization may not match with the government's expansion of infrastructure and facilities hence leading to inadequate resources.
Countries Who Are Urbanizing At the Fastest Rate
| Rank | Country | Urbanization Rate |
| --- | --- | --- |
| 1 | Rwanda | 9.3 |
| 2 | Qatar | 7.9 |
| 3 | United Arab Emirates | 7.5 |
| 4 | Burkina Faso | 6.3 |
| 5 | Laos | 5.8 |
| 6 | Burundi | 5.3 |
| 7 | Angola | 5.3 |
| 8 | Bhutan | 5.3 |
| 9 | Mali | 5.2 |
| 10 | Eritrea | 5.0 |
| 11 | Tanzania | 4.9 |
| 12 | Uganda | 4.9 |
| 13 | South Sudan | 4.9 |
| 14 | Maldives | 4.8 |
| 15 | Turks and Caicos Islands | 4.7 |