Longest Cave Systems In The World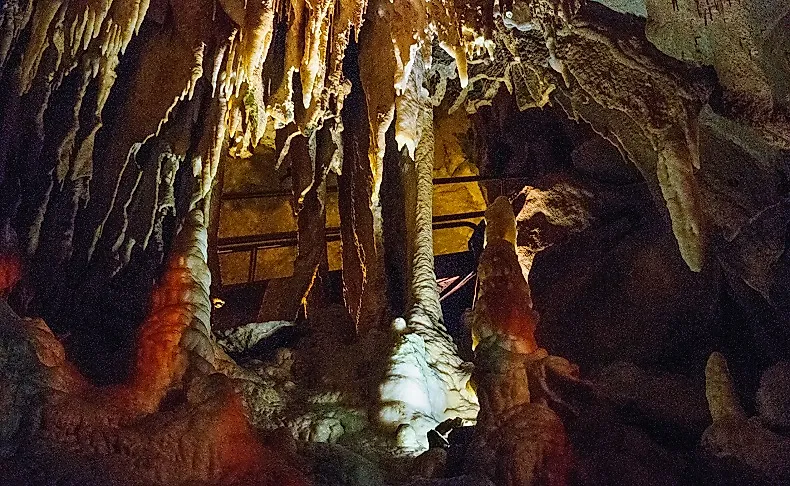 Caves are fascinating places to explore. Home to bats and some of the rarest species of fish and amphibians, and with unique internal mineral makeups that create stalactites and stalagmites over time, caves are well worth researching and investigating. The following is a list of the ten largest cave systems in the world
10. Hoelloch, Schwyz, Switzerland (125 miles)
The tenth largest cave system in the world is located in central Switzerland, and spans 125 miles. These caves are publicly accessible with a tour guide who can direct people along their cavernous tunnels.
9. Fisher Ridge, Kentucky, USA (125 miles)
Located in the Eastern United States in the state of Kentucky, Fisher Ridge, like Hoelloch, also spans around 125 miles, and is approximately 136 feet deep. These caves are located near the Mammoth Cave, listed below as the world's largest cave system.
8. Gua Air Jernih, Sarawak, Malaysia (130 miles)
Gua Air Jernih, also known as The Clearwater System, is the longest cave system in Southeast Asia, and the 8th longest system in the world. Located in Malaysia, Gua Air Jernih is located in Mulu National Park, near Malaysia's border with Brunei. These caves can be accessed through the same National Park. Different levels of tours are offered, and can last up to 15 hours for experienced cavers.
7. Lechuguilla, New Mexico, USA (135 miles)
Lechuguilla is a 135-mile-long cave system in New Mexico, a state in the southwestern United States. An exciting system to explore, Lechuguilla is home to gypsum and lemon yellow sulfur deposits. Nearby mining operations threaten the many unique species and entities found within these caves.
6. Wind Cave, South Dakota, USA (140 miles)
At 140 miles long, Wind Cave, named for the winds usually blowing at its entrance, is the sixth longest cave system in the world. These caves are known for the rare features of 'boxwork', which are unique formations of lace-like crisscrosses formed by mineral deposits.
5. Optymistychna, Korolivka, Ukraine (145 miles)
Optymistychna Cave, which translates to "Optimistic Cave" in English, is a 145-mile-long cave system found near the town of Korolivka in the northwest regions of the Ukraine. Optymistychna is the longest gypsum cave in the world.
4. Ox Bel Ha, Qunitana Roo, Mexico (160 miles)
Ox Bel Ha, meaning "Three Paths of Water" in Mayan, is the fourth longest cave system in the world, spanning 160 miles. The entire system is underwater, making it the longest explored underwater cave. Ox Bel Ha is a limestone cave, and is located in the Yucatan Peninsula of Mexico.
3. Jewel, South Dakota, USA (180 miles)
Jewel Cave is a National Monument in the U.S. state of South Dakota. At 180 documented miles in length, it is a caver's paradise. These caves are open to the public for guided explorations into three different areas within the Jewel system.
2. Sac Actun & Dos Ojos, Quintana Roo, Mexico (210 miles)
Sac Actum, or "White Cave" in English, and Dos Ojos ("Two Eyes" combine to form a 210-mile-long cave system located in Quintana Roo, on the Yucatan Peninsula of Mexico. Parts of these caves are underwater, and they sometimes exchange titles with the neighboring caves at Ox Bel Ha as being the longest underwater cave system in the world.
1. Mammoth, Kentucky, USA (405 miles)
Mammoth Cave National Park is located in south-central Kentucky in the United States. Mammoth is the world's largest cave system, and is home to 405 miles of explored tunnels, with more extensions still being found, further increasing it known length. There are many opportunities for exploring these caves year-round. There are different levels of cave exploration tours at Mammoth, ranging all the way from very easy to extremely strenuous.