Society
Leading Causes Of Death In Malawi
Around 27% of all deaths in Malawi are due to HIV/AIDS, an epidemic that kills thousands there each year.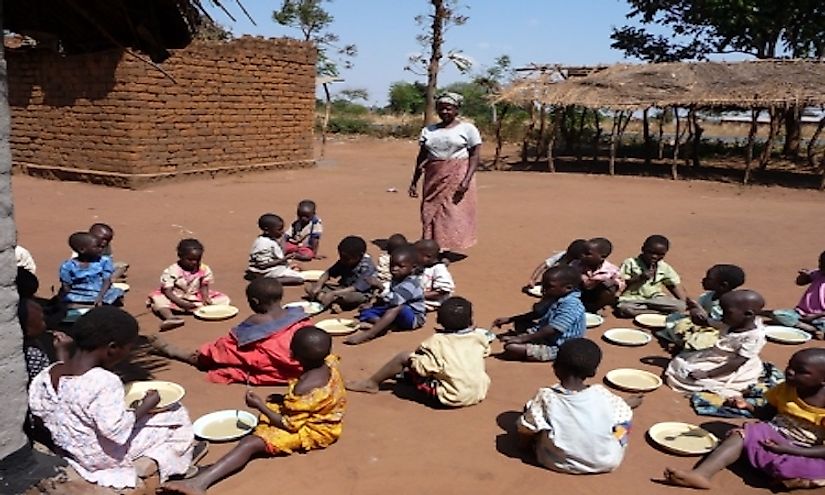 Malawi is one of the developing countries characterized by illnesses and diseases evidenced by the high mortality rate across all age groups. Malawi is a low-income country with an estimated population of 17 million people. The average life expectancy at birth is 59 years with 58 and 60 years for male and female respectively. The under-5 mortality rate per 1000 live births is 71 while maternal mortality rate stands at 510 per 100000 live births in the country. Maternal mortality rate in Malawi is remains one of the highest in Africa with obstetric complications contributes to a significant number of deaths. The leading causes of death in Malawi include;

HIV/AIDS
While Malawi has made strides in reducing the number of HIV infection in the country over the last decade, AIDS remains the number one killer in the country. 27.1% of all reported deaths in the country are HIV/AIDS related. An estimated 1 million Malawians are living with HIV with approximately 800000 children orphaned by AIDS. 13% of women and 8% of men in the country are living with HIV. An estimated 50000 new infections occur every year. Pregnant mothers are at risk of infecting their children. Multiple sex partners, low usage of condoms, and inadequate ARVs are some of the reasons for the high deaths as a result of HIV/AIDS in the country. Most Malawians also do not feel personally susceptible to HIV infections and therefore do not take necessary precautions to prevent the infections.
Lower Respiratory Infections
Lower Respiratory Tract Infection (LRTI) is the second leading cause of death in Malawi accounting for 8.6% of all reported deaths. Pneumonia and Tuberculosis are among the leading causes of LRTI deaths in Malawi. Pneumonia-related deaths are common among children under the age of 5. Overcrowding within social amenities such as prisons, hospitals, and mines are the leading reasons for the spread of LRTI in Malawi. Lack of access to health facilities for the treatment of these LRTI has led to significant deaths.
Malaria
According to World Health Organization, malaria-related deaths in Malawi were recorded as 9,484 accounting for 6.3% of the total recorded deaths in the country. With the adjusted death rate of 48.44% per 100000 populations, Malawi is ranked 26th country with the highest malaria-related death. Malaria accounts for 40% of hospitalization in the country. Access to insecticide-treated nets is still very low in Malawi thus exposing the majority of the population to the risk of contracting malaria. The high cost of treating malaria has led to significant deaths especially among the poor communities.
State Of Health Facilities In Zambia
The government of Malawi through the Ministry Of Heath has embarked on several measures to reduce the number of death in the country. Medical facilities have been expanded to accommodate the rising demand. More health personnel are being trained to reduce the ration of doctor to patients. The government and other NGOs and agencies like WHO have also rolled out campaigns to create awareness on these diseases. Despite all these efforts, the health facilities are not equipped to handle the rising needs for health services. In rural areas, patients still walk long distances to get to the health facilities. Lack of adequate health personnel sees many patients die before they can be attended to.
What is the Leading Cause of Death in Malawi?
Around 27% of all deaths in Malawi are due to HIV/AIDS, an epidemic that kills thousands there each year. It is the leading cause of death in the country.
Leading Causes Of Death In Malawi
| Rank | Cause of Death | % Of Total Deaths |
| --- | --- | --- |
| 1 | HIV/AIDS | 27.1% |
| 2 | Lower respiratory infections | 8.6% |
| 3 | Malaria | 6.3% |
| 4 | Stroke | 5.7% |
| 5 | Diarrheal Diseases | 4.6% |
| 6 | Preterm Birth Complications | 3.3% |
| 7 | Ischemic Heart Disease 3% | 3.3% |
| 8 | Birth Asphyxia & Trauma | 3.1% |
| 9 | Maternal Conditions | 2.2% |
| 10 | Protein-energy Malnutrition | 2.2% |
About the Author
John Misachi is a seasoned writer with 5+ years of experience. His favorite topics include finance, history, geography, agriculture, legal, and sports. 
This page was last updated on April 25, 2017.
Citations
Your MLA Citation
Your APA Citation
Your Chicago Citation
Your Harvard Citation
Remember to italicize the title of this article in your Harvard citation.