The Largest Hotels in the World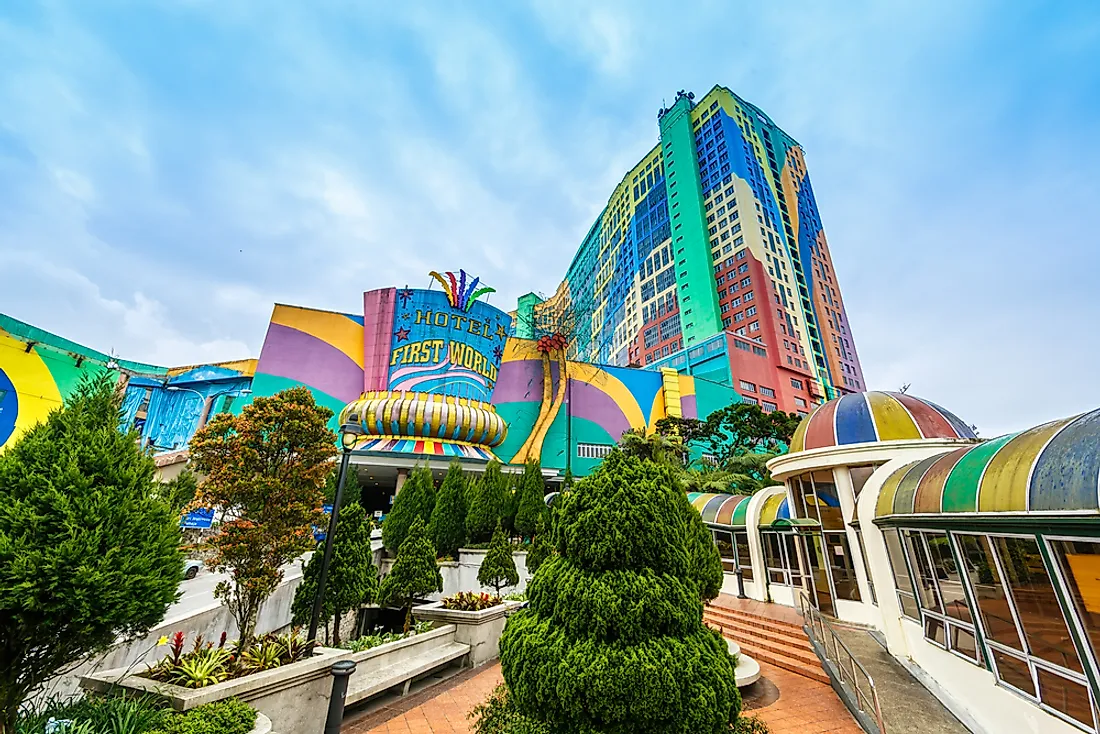 While many of the world's largest hotels are found in the United States, locations such as Macau, Malaysia, Thailand, and Russia also boast very large hotels. Las Vegas, USA is an epicenter of megahotels, with many of its properties making this list. Macau, however, follows closely behind with its hospitality offerings. Below is a detailed analysis of the world's biggest hotel properties.
Currently, a hotel is under construction in Saudi Arabia, called the Abraj Kudai. When opened, the hotel is expected to have a total of 10,000 guest rooms. This would give it the number one spot on the list of the world's largest hotels.
The Three Largest Hotels In The World
First World Hotel - 7,351 Rooms
The First World Hotel is a three star hotel found in Genting Highlands, Malaysia. Initially, the hotel was the world's largest until it was dethroned by an expansion of The Venetian in Las Vegas (now known as The Palazzo) which officially opened on January 1st, 2008. However, with the opening of a new block in 2015, the First World Hotel once again regained its title as the world's biggest hotel. The First World Hotel consists of two towers with 3,164 standard rooms, 2,922 deluxe rooms, 649 triple deluxe rooms, 480 superior deluxe rooms and 136 world club rooms. This brings the hotel's room total to 7,351.
The Venetian / Palazzo - 7,117 Rooms
The Venetian is a five diamond luxury hotel in Las Vegas. Found on the Las Vegas strip, the Venetian consists of 7,117 rooms in total. It is the second largest hotel in the world. However, the casino portion of the Venetian, is the world's largest casino.
MGM Grand Las Vegas - 6,852 Rooms
The MGM Grand Las Vegas is a casino and hotel in Las Vegas. Formally known as the Marina and the MGM Marina, the MGM Grand is the third largest hotel in the world with 6,852 rooms. When the MGM Grand Las Vegas was officially opened in 1993 it was the world's largest hotel complex. The hotel, which is owned and operated by MGM Resorts International, features a 30- floor building with a height of 293 feet. Inside the building sits waterfalls, a convention center, five outdoor pools, the Grand Spa, rivers and the MGM Grand Garden Arena.
Record Holders In The Hotel Industry
Throughout the years Moscow, Malaysia, and Las Vegas have exchanged the title of the largest hotel in the world. The Guinness World Records distinction has ignited a friendly competition of sorts between countries. However, the city of Las Vegas hold the title for having the biggest collection of the largest hotels in the world - it is home to 14 out of the 25 world's largest hotels. The world's largest hotels can be compared to mini cities due to their sizes and the facilities they have within their establishments.
Largest Hotel Locations in the World
| Rank | Hotel Name | Country | Capacity |
| --- | --- | --- | --- |
| 1 | First World Hotel | Malaysia | 7,351 |
| 2 | The Venetian/Palazzo | United States | 7,117 |
| 3 | MGM Grand Las Vegas | United States | 6,852 |
| 4 | CityCenter | United States | 6,790 |
| 5 | Sands Cotai Central | Macau | 6,000 |
| 6 | Izmailovo Hotel | Russia | 5,000 |
| 7 | Wynn Las Vegas | United States | 4,750 |
| 8 | Mandalay Bay | United States | 4,426 |
| 9 | Luxor Las Vegas | United States | 4,407 |
| 10 | Ambassador City Jomtien | Thailand | 4,219 |
| 11 | Sheraton Grand Macao | Macau | 4,001 |
| 12 | Excalibur Hotel and Casino | United States | 3,981 |
| 13 | Caesars Palace | United States | 3,960 |
| 14 | Bellagio Las Vegas | United States | 3,950 |
| 15 | Circus Circus Las Vegas | United States | 3,773 |
| 16 | Shinagawa Prince Hotel | Japan | 3,680 |
| 17 | Flamingo Las Vegas | United States | 3,626 |
| 18 | Atlantis Paradise Island | Bahamas | 3,414 |
| 19 | Hilton Hawaiian Village | Honolulu | 3,386 |
| 20 | Disney's Port Orleans Riverside and French Quarter | United States | 3,056 |
| 21 | The Mirage | United States | 3,044 |
| 22 | Monte Carlo Resort and Casino | United States | 3,002 |
| 23 | The Parisian | Macau | 3,000 |
| 24 | The Venetian Macao | Macau | 3,000 |
| 25 | Cosmopolitan of Las Vegas | United States | 2,995 |