Travel
Highest Numbers Of Airplane Carrier Takeoffs By Country
American planes took off from runways an astounding 9.5 million times in 2015, almost tripling second place China.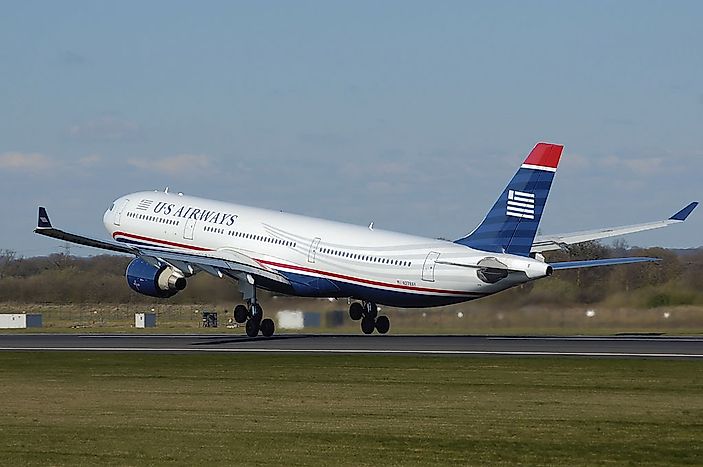 As per the definition by the International Civil Aviation Organization, registered carrier departures worldwide are domestic and international take-offs of air carriers registered in the country. Annual global takeoffs are estimated to be at 36.5 million, and the numbers are unevenly distributed among all countries. Some countries register less or more takeoffs than others. The top-ranked countries are home to massive international airlines with a high level of capacity to handle both regional and global markets. Countries with the highest numbers of airplane carrier takeoffs are:

USA
The US has the most takeoffs by registered carriers accounting for 9,495,129 million departures globally in 2015. The sheer size of the US also makes it the country with the highest number of airports in the world. The US is home to top international airlines such as Delta Airlines, American Airlines, and South West Airlines. These airlines fly to multiple destinations all over the world. Hartsfield- Jackson Atlanta International Airport is the busiest airport and accounts for the most global take-offs in the US. The airport is also the busiest airport worldwide and handles more than 90,000,000 local and international passengers annually.
China
China has the second highest number of take-offs by registered carriers worldwide at 3,616,026 million departures in 2015. China's air transport industry has experienced a boom in the recent years mainly fuelled by reforms such as the liberation of the industry. Mergers and acquisition in China's domestic airlines have seen the formation of dominant carriers which have emerged as top players in the world's top market. Most of the airlines in China are state-owned although there is a move to a more liberalized economy. Top international airlines in China include China Southern Airlines and China Eastern Airlines. Beijing Capital International Airport is undoubtedly the busiest airport in Asia and served approximately 90,130,390 million passengers in 2015
Canada
Canada was credited with 1,322,033 take-offs all over the world by its registered airline carriers in 2015. The Canadian air transport industry especially boomed after the government made reforms to deregulate the industry starting from 1984. Today, Canada has formidable global airlines such as Canadian Airlines International and Air Canada. Mergers and acquisition have been a typical scenario in the industry such that larger airplane carriers are formed with a greater capacity and a larger global market share. The Canadian air transport industry gets its massive share of the global market through liberalized bilateral agreements with other countries. The number of contracts today stands at 40 agreements with different countries.
UK
In 2015, registered carriers in the UK accounted for 1,100,186 take-offs globally. The UK is home to one of the largest and busiest airports in the world, Heathrow Airport in London. Biggest airlines in the UK are British Airways, EasyJet, and Virgin Atlantic Airways. These airlines have subsidiaries in other countries and are also part of bilateral agreements to acquire a share of the global market.
Conclusion
Other countries that had high numbers of takeoffs by registered airplane carriers in 2015 are Japan (953,258), Germany (950,440), Brazil (944,557), India (787,998), Russia (767, 043), and Turkey (706,067). Globalization is a major boost to global air transport, and the countries mentioned above have been on the forefront to claim a significant share of the world market. Airlines in these countries continue to increase their carrier capacity through mergers and acquisitions. Bilateral agreements are seen as a pivotal factor to strengthen global airlines' presence in other nations.
Highest Numbers Of Airplane Carrier Takeoffs By Country
| Rank | Country That Planes Are Registered In | Carrier Departures Globally, 2015 |
| --- | --- | --- |
| 1 | United States | 9,495,129 |
| 2 | China | 3,616,026 |
| 3 | Canada | 1,322,033 |
| 4 | United Kingdom | 1,100,186 |
| 5 | Japan | 953,258 |
| 6 | Germany | 950,440 |
| 7 | Brazil | 944,557 |
| 8 | India | 787,998 |
| 9 | Russia | 767,043 |
| 10 | Turkey | 706,067 |