Travel
Garden of the Gods, Colorado - Unique Places around the World
This immensely popular American park has been home to a number of interesting archaeological finds.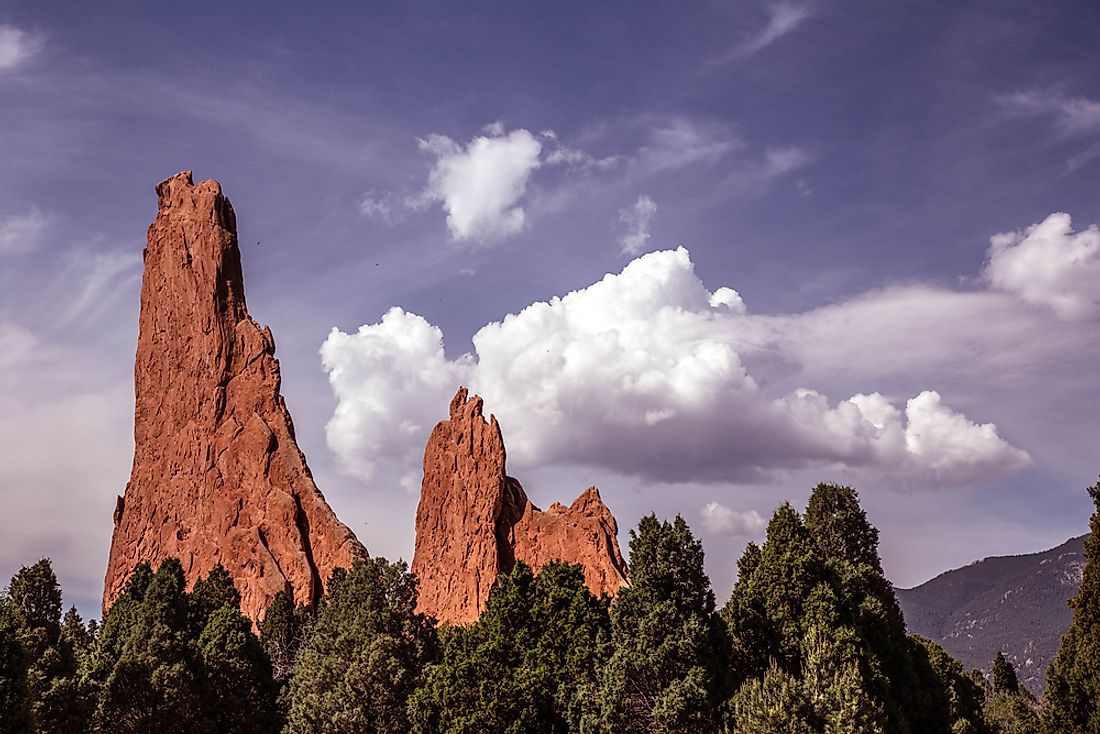 Description
The Garden of the Gods is a public park located near Colorado Springs, Colorado, in the United States. The most outstanding geologic features of this park are the ancient sedimentary beds of deep-red, pink and white sandstones, conglomerates, and limestone that were initially deposited horizontally. Over time, the deposits have now been titled vertically and faulted into "fins" through the immense mountain-building forces caused by the uplift of the Rocky Mountains and the Pikes Peak Massif. The Pleistocene Ice Age following formation resulted in erosion and glaciation of the rock, creating the present rock formation we see today. The resulting rocks each had different shapes and orientations, with different ones being either toppled, overturned, stood-up, pushed around from their original location, or slanted.
Tourism
The Garden of the Gods Park is a popular destination for its many attractions, including hiking, technical rock climbing, road and mountain biking, and horseback riding. It attracts more than two million visitors a year, making it the area's most visited park. It became a National Natural Landmark in 1971, was ranked the second best park in the nation, was selected as the Great American Public Place of 2011 by the American Planning Association, and ranked the third best park in the world by a leading international travel website, TripAdvisor, on their Choice Attractions of 2013. Due to the proximity to Colorado Springs, it is very accessible to an average American citizen.
Uniqueness
The Garden of the Gods Park is a rich ecological resource. Not only does it feature unusual and steep rock formations, with its rocks coming in every conceivable, and inconceivable, shape and size, but it also has a remarkable diversity of species of flora and fauna that call it home as well. Moreover, the park also has a fascinating history attached to it. There are more than 15 miles of trails, including a 1.5-mile trail running through the heart of the park, which is paved and wheelchair-accessible.
Habitat
The Garden of Gods is known best for the dinosaur species Theiophy talia kerri that was found in the park in 1878, and studies of its skull in 2006 revealed it to be a new species. A honey ant never before recorded elsewhere was also discovered in the park in 1870, and subsequently named for the park. On top of that, mule deer, bighorn sheep, and fox can also be found in this area, as in much of the Western United States. In fact, the park is home for more than 130 species of birds, including white-throated swifts, swallows, and canyon wrens. As a transition between the Western Mountains and Plains, the park also prominently features an array of plants that is quite diverse.
Threats
Although the trail may be challenging for some people, and in spite of its wild biodiversity, the Garden of Gods is not generally considered to be dangerous for people. In fact, it is very accessible for people seeking different, family-friendly things to do outdoors. Its accessibility, functionality, and community involvement make it a great public space and popular tourist destination. As a protected natural monument, the Garden of the Gods itself, on the other hand, is minimimally affected by urbanization, climate change, and human activities.
This page was last updated on December 1, 2017.
Citations
Your MLA Citation
Your APA Citation
Your Chicago Citation
Your Harvard Citation
Remember to italicize the title of this article in your Harvard citation.