Early Life
Ludwig Mies van der Rohe was born in Aachen, Germany before he moved to Berlin, joining the office of Bruno Paul, an interior designer. Mies started his career as an architect in 1908 where he worked at the studio of Peter Behrens as an apprentice until 1912 where he worked alongside Le Corbusier, another major influence in modern architecture.
Career
Despite, Mies lacking any formal college level certificate or education, his talent was instantly acknowledged, and soon enough he was promoted to work on independent commissions. Van der Rohe first began designing upper-class homes, inspired heavily by the simplicity of Prussian Neo-classical architecture. Following the first World War, Europe was experiencing a cultural shift that sought out alternative architecture types. Mies van der Rohe reacted by designing modernist buildings that often featured all-glass detailing and innovative lines. He refined this style by incorporating the use of geometric forms as part of the German avant-garde, a group determined to prove to decline in relevance of old European architectural styles. Following the resistance met during the time of Nazi-occupied Germany, who saw van der Rohe's architecture as non-German, van der Rohe left Germany for the United States. It was there he took a position as department head of the Illinois Institute of Technology in Chicago. It was the van der Rohe's educational material and attitude that started what is now known as the Second Chicago School.
Major Contributions
It was in America that van der Mies got to fulfill his dream as the architect he wanted to be and express himself as a true artist. Most of his important projects in the United States are found in the area of Chicago such as Crown Hall, 860-880 Lake Shore Drive, Farnsworth House, the Chicago Federal Center Complex. Notable outside of Chicago are the Seagram Building in New York, the TD Canada Trust Tower in Toronto, and Westmount Square outside of Montreal. Also included amongst his works are the Museum of Fine Arts in Houston, Texas which he was commissioned to design the master plan of in 1953. The National Gallery in Berlin was one of the last projects Mies designed, and it is considered one of the perfect signatures of his approach to architecture. Mies is also known for designing modern furniture pieces with the use of new industrial technologies, and he mostly collaborated with Lilly Reich on the designs. Examples of his modern furniture designs include the Tugendhat chair, the Barcelona table and chair and the Brno chair. His contribution to modern furniture features fine craftsmanship incorporated with the use of traditional luxurious materials such as leather together with modern frames made of chrome.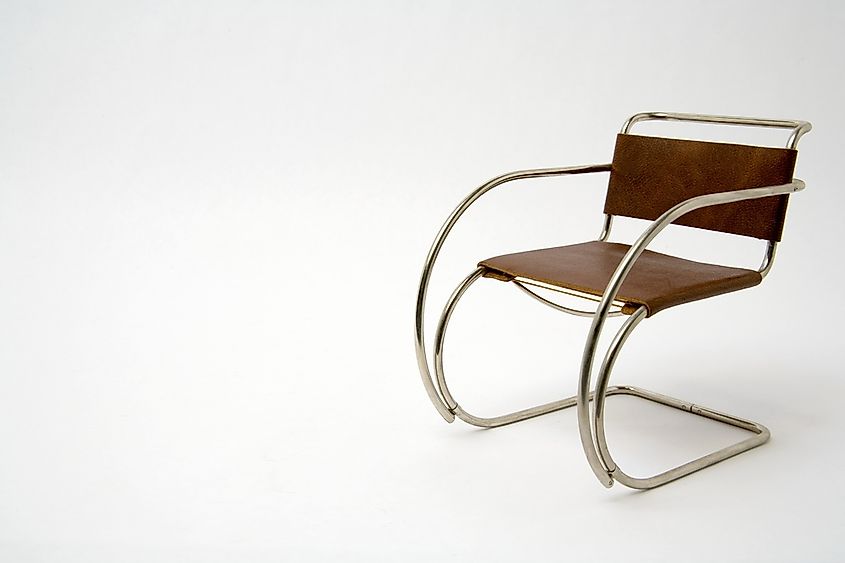 Challenges
Despite the proven significance of van der Rohe's work, he received criticism in equal measure. Post-modernism played a significant role in the demise of Modernism as it was readily welcomed and most preferred as an architectural style. Another key reason as to why Mies's style failed to catch on is that his artistic prowess was almost impossible to match as he had already set high standards that his followers could not reach.
Death and Legacy
Mies van der Rohe aimed at developing an architectural style that provided a free and open space. In the last 20 years of his life, he was not only able to develop but also build his architectural vision dubbed "skin and bones". On August 17th, 1969 Mies van der Rohe died leaving behind a great legacy in the history of modern architecture.