World Facts
The Highest Volcanoes in Europe
Mount Etna in Sicily, Italy, is Europe's highest volcano.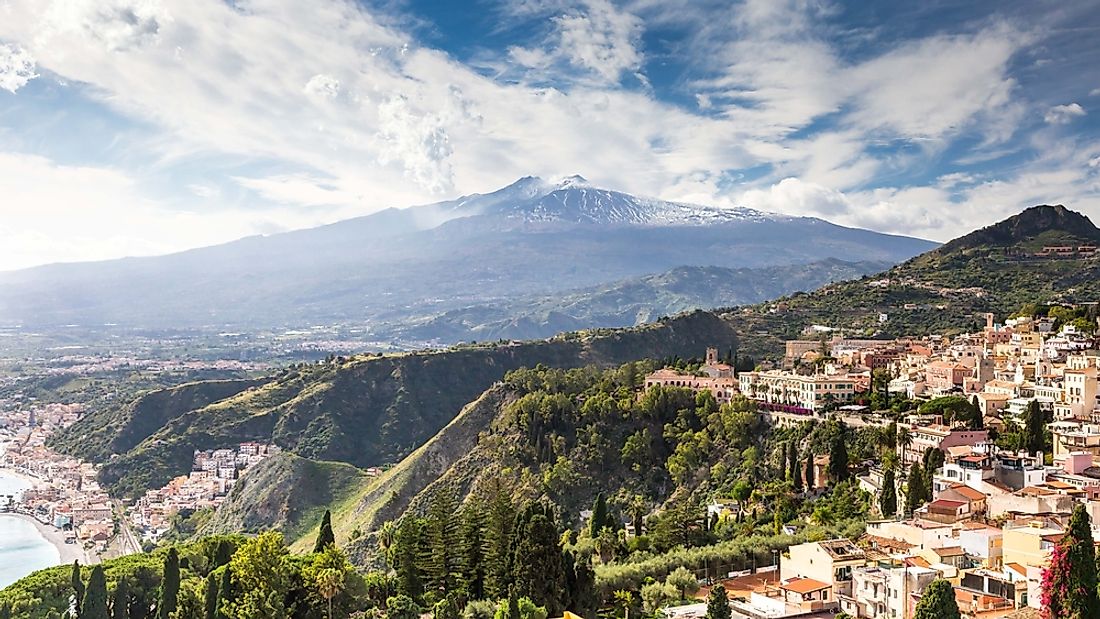 Europe's highest volcanoes include Mount Etna, Beerenberg, Oraefajokull, Baroarbunga, Stromboli, Soufriere Hills, and Mount Vesuvius. Three of these volcanoes are situated in different parts of Italy: Mount Etna, Mount Vesuvius, and Stromboli. Öræfajökull and Baroarbunga are located in Iceland, while Beerenberg and Soufriere are found in Norway and United Kingdom, respectively. All of these mountains are active, and have volcano spews from time to time. Stromboli has recorded one of the longest periods of volcanic activity in the world.
Europe's Highest Volcanic Mountains
Mount Etna
Located in Sicily, Italy and known for its frequent volcanic eruptions, Mount Etna has an elevation of 3,329 meters above sea level. It is a product of a long, complex tectonic and geologic history. In fact, it seats below a hotspot which is also a crustal break. Mount Etna's first volcanic eruption occurred 500,000 years ago. However, the most recent volcanic eruption took place on February 27, 2017. During the eruption, the mountain ejected lava and rocks which were thrown up about 650 feet high. Mount Etna is characterized by a variety of eruption styles and summit calderas, such as the Ellitico Caldera.
Beerenberg
Beerenberg, Europe's second highest volcanic mountain, is a stratovolcano located on the Norwegian island of Jan Mayen. It possesses an ice-filled crater which is approximately one kilometer wide, and is characterized by many glaciers, the longest glacier being Weyprecht Glacier. The highest number of volcanic eruptions in the history of Beerenberg took place between 1970 and 1985. Other eruptions occurred in 1732, 1818, and 1857. During volcanic activity, the volcano mostly ejects basaltic lava and small amounts of tephra. Cinder cones have formed on the Beerenberg Mountain which is 2,277 meters above sea level.
Öræfajökull
The third highest volcanic mountain in Europe is a stratovolcano in Iceland known as Öræfajökull. It is 2,110 meters high and is the third largest post-glacial volcano in the northern part of the world. Oraefajokull has had two volcanic eruptions in its history. The first, which was also the most destructive, occurred in 1362, and left the district of Herad in Iceland inhabitable for a period of 40 years. A smaller volcanic activity occurred many years later in 1727. Öræfajökull is popular for its magnificent glaciers.
Be Cautious of Active Volcanic Mountains!
Active volcanoes can be dangerous and destructive. For instance, the phreatic eruption at Mount Etna in 1979 resulted in 140 deaths. Similarly, the 1362 eruption of Öræfajökull completely destroyed the district of Herad in Iceland. The overheated streams of lava and tephra ejected during the volcanic eruptions result in significant damage. Accordingly, it is important that people who live at the foothills of these mountains are aware of the potential danger and take necessary caution whenever they receive warnings of volcanic activity.
What Is The Tallest Volcano In Europe?
Mount Etna in Sicily, Italy, is Europe's highest volcano. Mount Etna has an elevation of 3,329 meters above sea level and is known for its frequent volcanic eruptions.
Europe's Highest Volcano
| Rank | Volcano Name | Height (Meters) | Location |
| --- | --- | --- | --- |
| 1 | Mount Etna | 3,329 | Sicily, Italy |
| 2 | Beerenberg | 2,277 | Jan Mayen, Norway |
| 3 | Öræfajökull | 2,110 | Iceland |
| 4 | Baroarbunga | 2,005 | Iceland |
| 5 | Mount Vesuvius | 1,281 | Aeolian Islands, Italy |
| 6 | Stromboli | 924 | Aeolian Islands, Italy |
| 7 | Soufriere Hills | 915 | Montserrat (United Kingdom) |
About the Author
Sharon is a Kenyan native with a wide range of interests. An accountant and financial analyst by profession, Sharon enjoys writing about world facts, the environment, society, politics, and more.
This page was last updated on September 18, 2019.
Citations
Your MLA Citation
Your APA Citation
Your Chicago Citation
Your Harvard Citation
Remember to italicize the title of this article in your Harvard citation.