Ecological Regions Of Botswana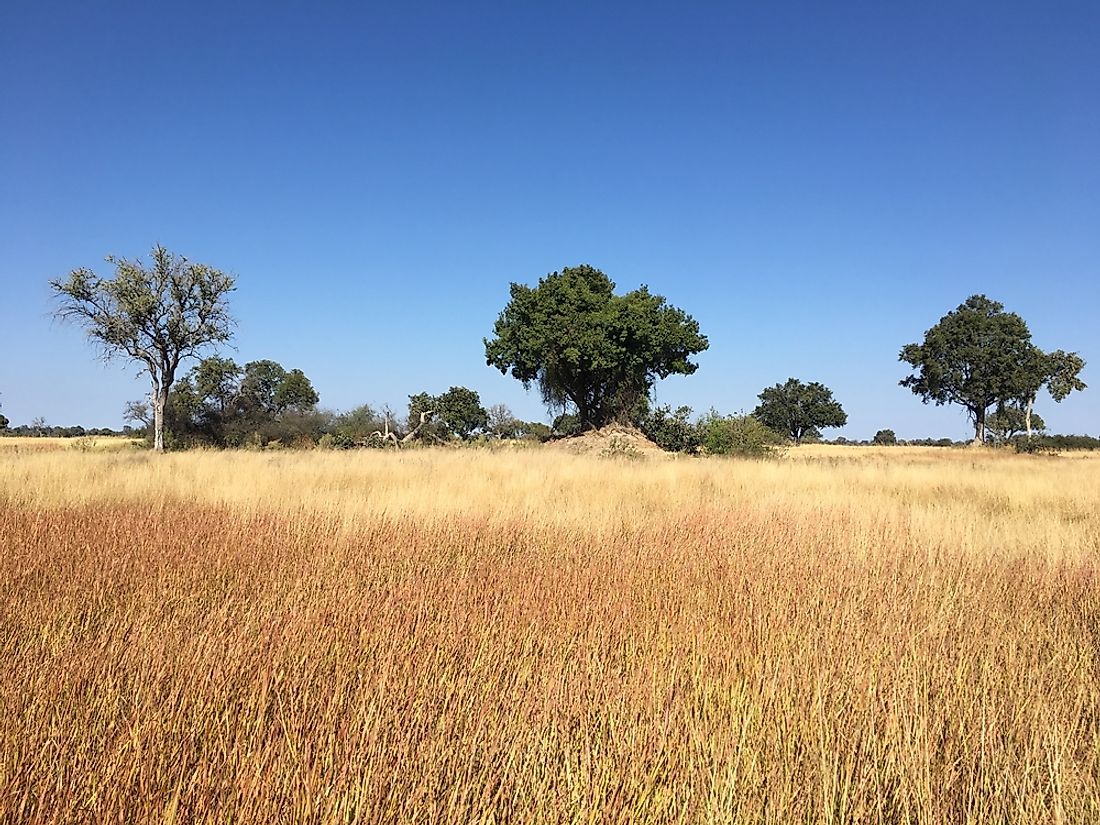 The Republic of Botswana is one of the African continent's landlocked countries. The country is located in the southern part of Africa and it borders South Africa, Namibia, Zimbabwe, and Zambia. Botswana was formally a British Protectorate of Bechuanaland but assumed the name "Botswana" after independence in 1966. With a population of only 2 million, the country is one of the least populated in the world. Botswana is a relatively flat with almost 70% of the country forming part of the Kalahari Desert. The country is divided into five biomes with several ecological regions. Botswana's ecological regions are looked at below.
Kalahari Acacia-Baikiaea Woodlands
The Kalahari Acacia-Baikiaea Woodlands are found in the southern part of Africa, running from Northern Namibia to Botswana and ending along the border of South Africa. The climate of this ecoregion is characterized by semi-arid conditions and drought. An annual rainfall of around 600 millimeters mainly occurs from March to October in the form of a thunderstorm. Temperature range is between 9o Celsius during winter and 40o Celsius during summer. The few mammals found in Kalahari Acacia-Baikiaea Woodlands are listed by the International Union for the Conservation of Nature (IUCN) as threatened species, and they include black rhinoceros, cheetah, brown hyena, leopard, lion, and African Wild dog. There are also 31 species of amphibians, 468 species of birds, and 92 species of reptiles. The Central Kalahari Game Reserve is the only protected area within this ecoregion.
Southern Africa Bushveld
The Southern Africa Bushveld covers parts of the southeast corner of Botswana, the southern part of Zimbabwe, and the northern portions of South Africa. The climate is increasingly arid, and soil is a bit fertile. The climate of this ecoregion is hot and wet during summer and cool and dry during winter. Rainfall ranges between 350 millimeters and 900 millimeters annually with a temperature range of -3o Celsius to 40o Celsius. The Bushveld lack snow or frost which is a distinguishing characteristic of this ecoregion. Southern Africa Bushveld is characterized by large mammals and abundant bird life. Due to the less population density in Botswana, much of Southern Africa Bushveld ecoregion remains intact since the development of settlements in this area is restricted.
Zambezian Baikiaea Woodlands
The Zambezian Baikiaea Woodlands is a mosaic of dry deciduous forests, thickets, and grasslands. The region lies within the Kalahari Desert belt and is drained by Zambezi River and its numerous tributaries. The ecoregion is characterized by a hot semi-arid climate with a mean annual rainfall of less than 400 millimeters and a temperature range of between 9o Celsius and 30o Celsius. Baikiaea plurijuga is the dominant plant species in this ecoregion, but the effects of logging have threatened its existence. There are over 160 species of mammals including lion, African Wild Dog, Zebra, cheetah, spotted hyena, antelopes, bushbucks, reedbuck, and impala among other mammals within this ecoregion. There are also has over 400 species of birds which including Bradfield's hornbill, secretary bird, white-backed vulture, hooded vulture, and southern ground hornbill. 87 species of reptiles and seven species of amphibians also inhabit this ecoregion. The Zambezian Baikiaea Woodlands ecoregion faces the threat of poaching even within the protected areas while counties' borders also block migration routes. Logging is also a major threat, especially to the Baikiaea plurijuga trees.
The larger biomes encompassing the ecoregions of Botswana include Tropical and Subtropical Grasslands, Savannas, and Shrublands, Flooded Grasslands and Savannas, Deserts and Xeric Shrublands, Zambezi Freshwater, and Southern Temperate Freshwater.
Ecological Regions Of Botswana
| Ecological Regions of Botswana | Biome |
| --- | --- |
| | |
| Kalahari Acacia-Baikiaea Woodlands | Tropical and Subtropical Grasslands, Savannas, and Shrublands |
| Southern Africa Bushveld | Tropical and Subtropical Grasslands, Savannas, and Shrublands |
| Zambezian Baikiaea Woodlands | Tropical and Subtropical Grasslands, Savannas, and Shrublands |
| Zambezian Mopane Woodlands | Tropical and Subtropical Grasslands, Savannas, and Shrublands |
| Zambezian Flooded Grasslands | Flooded Grasslands and Savannas |
| Zambezian Halophytics | Flooded Grasslands and Savannas |
| Kalahari Xeric Savannah | Deserts and Xeric Shrublands |
| Kalahari Freshwater | Zambezi Freshwater |
| Okavango Floodplains | Zambezi Freshwater |
| Upper Zambezi Floodplains | Zambezi Freshwater |
| Western Orange River | Southern Temperate Freshwater |