Countries Coming The Closest To Realizing Their Economic Frontiers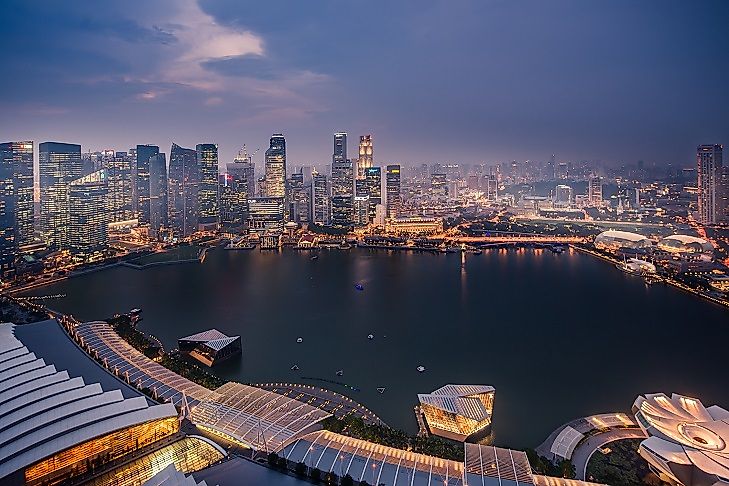 Economic growth and performance are important in gauging the ability and capacity of an economy to sustain its population and that population's needs. Economic growth is the ability of a country to produce goods and services within a given period through the efficient use of available resources. Economic growth is a long-term process of productivity and expansion of the economy to meet the varied country's wants. Countries around the world are categorized as either least developed or developed depending on their level of economic growth and development. No country in the world has realized an economic perfection neither is there any country that can fully sustain itself. However, some countries are coming close to achieving economic perfection. These countries include those detailed below.
Singapore
Singapore has been ranked first for the second year running as the country closest to realizing economic perfection. The country scored 87% according to the World Bank Distance to Frontier score. The high score in Singapore has been attributed to many factors including the ease of doing business where the country ranked number one in 2015, efficiency in paying taxes, short export time, low shipping cost and effectiveness in enforcing contracts. Singapore's adherence to best world practices continues to give it an edge over most of the developed countries while its stronger business legal framework continues to promote economic activities in the country. Singapore is currently a role model for most of the developing economies.
New Zealand
New Zealand's economy has undergone significant changes over the last three decades, going from an economy that was once highly regulated to a freer, market-based economy. New Zealand is mainly an export driven economy with a low inflation rate, flexible exchange rates, and no exchange control restrictions. The country is one of the best places to do business according to World Bank ranking and the freest economy in the world. New Zealand's flexible economy and less regulation has pushed the country towards realizing economic perfection. According to 2015 World Bank report, New Zealand's distance to frontier score was joint highest with Singapore with a score of 87%. The figure indicated how advanced the country's economy is and the ease of doing business.
Denmark
Denmark is one of the best countries for business start-ups and general business activities because of the relaxed legislative measures and low investment capital required for conducting business affairs there. Business registration has been simplified in the country and can be done anywhere within hours. Denmark has digitized most of its activities and has invested in the information and communications technology (ICT) sector to improve business in the country. The country is on its way to realizing economic perfection by focusing mainly on the major economic growth indicators. According to World Bank ranking, the country was ranked third with a distance to a frontier score of 84% because of the ease of doing business and the limitless business opportunities in the country.
Making an Economy Thrive
Ease of doing business is one of the contributing factors to realizing economic perfection among many developed countries. Government legislation and a clear business framework are some of the reasons businesses are thriving in these countries. Countries with perfect economies are likely to attract more investors and business opportunities that are critical to its development. Other countries with Distance to Frontier Scores of more than 80% include South Korea, Hong Kong, the United Kingdom, the United States, Sweden, Norway, and Finland.
Countries Coming The Closest To Realizing Economic Perfection
| Rank | Country | Distance to Frontier Score (100=Realizing the Furthest Reaches of Relative Economic Achievement) |
| --- | --- | --- |
| 1 | Singapore | 87 |
| 2 | New Zealand | 87 |
| 3 | Denmark | 84 |
| 4 | South Korea | 84 |
| 5 | Hong Kong | 84 |
| 6 | United Kingdom | 82 |
| 7 | United States | 82 |
| 8 | Sweden | 82 |
| 9 | Norway | 82 |
| 10 | Finland | 81 |