Calvin Coolidge - US Presidents in History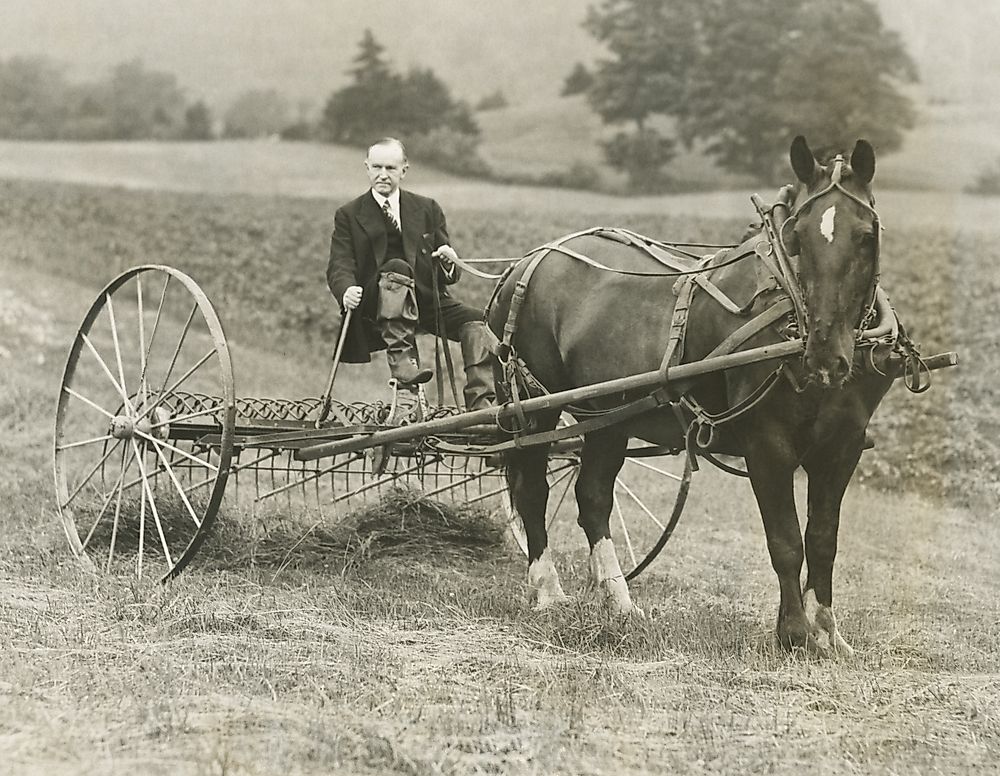 5. Early Life
John Calvin Coolidge, the United States' 30th president, was born in Plymouth Notch, Vermont on July 4th, 1872. As a young boy, he ran errands on the family farm, and assisted his storekeeper father with accounts and selling apples. Coolidge's early education began at Plymouth Elementary School, where he was considered a "fair to average" student. After the eighth grade, he joined Black River Academy when he was 12 years old, and graduated in 1890. Coolidge proceeded on to the prestigious Amherst College and graduated with honors in 1895. Later, he apprenticed and studied law at a law firm in Northampton, Massachusetts and, after passing the bar exam in 1897, Coolidge began practicing law himself.
4. Rise to Power
Early on, Coolidge's main influence in joining politics was his father, who himself had served in Vermont's House of Representatives and the state's Senate. In 1900, Coolidge's work at the local Republican Club in Northampton won him a spot on the City Council as a solicitor. In 1904, he was elected chairman of the Republican Party. Coolidge continued his rapid rise in the state's politics, and in 1918 became Governor of Massachusetts. His foray into a bid for the presidency began in 1920 at the Republican National Convention, though he received only 34 votes on the first ballot. A backroom deal among Republican Party leaders had ensured that Warren G. Harding would be nominated instead. Coolidge was also not initially considered in this deal to be a viable option as Harding's running mate, but rebellious delegates gave him their votes nonetheless. Harding went on to win the Presidential Election with Coolidge as his Vice-President, though in the Harding administration Coolidge became more of a peripheral figure. On August 2, 1923, President Harding died of a heart attack in San Francisco while Coolidge was vacationing in Plymouth. Coolidge was informed and sworn in immediately by his father (who was on vacation with him) as president at 2:24 am on August 3. He then returned to Washington as the new American President.
3. Contributions
Coolidge believed government should not interfere in private businesses and industries. He viewed limited and frugal government spending as a moral issue, and these beliefs forced his hand twice in vetoing farm relief bill legislation, and halted a planned project to build an hydroelectric power plant in the Tennessee River Valley. Under his administration, the national debt was reduced by one-third. According to the Coolidge Foundation, Coolidge described excessive taxation as a restriction on the freedoms of the people, and in this frame of mind he systematically implemented tax cuts. In 1924, he signed the Indian Citizenship Act, which conferred citizenship to all Native American born within US borders.
2. Challenges
In July of 1924, Coolidge experienced a great personal challenge when his teenage son died. This took such a heavy toll on him that he wrote that the power and glory of the Presidency went with his son. Less than two years later, his father passed away as well. Towards the end of Coolidge's term in office, critics faulted his fiscal policies. These, they argued, had led to feverish stock market speculation, and many later felt that they had contributed to the 1929 stock market collapse that was to come.
1. Death and Legacy
Coolidge died from a clot in his heart at his home in Northampton, Massachusetts, on January 5th, 1933. His death occurred shortly before Franklin D, Roosevelt, a man whose policies were in stark opposition to those Coolidge had pushed, took over the Oval Office from Coolidge's own successor, fellow Republican Herbert Hoover. Though the public had a liking of Coolidge during his tenure, his reputation was eroded as his policies became increasingly linked to the Great Depression that began in 1929. Fueling his greatest criticisms was his failure to aid the depressed agricultural sector, which led to the bankruptcy of nearly 5,000 rural banks. Historians also fault Coolidge's foreign policy for contributing to instability in Europe, as his Dawes Plan and the Kellogg-Briand Pact failed to avert the rise of Nazism in Germany. In conservative circles, however, Coolidge has long been a revered figure. Ronald Reagan, during his own tenure as US President, lauded Coolidge's "hands off" brand of political leadership, and as well as his conservative fiscal style.