World Facts
Trump Properties Located Outside of the United States
Though many properties are named after Donald Trump, he is not the owner of such properties so much as the public face of them.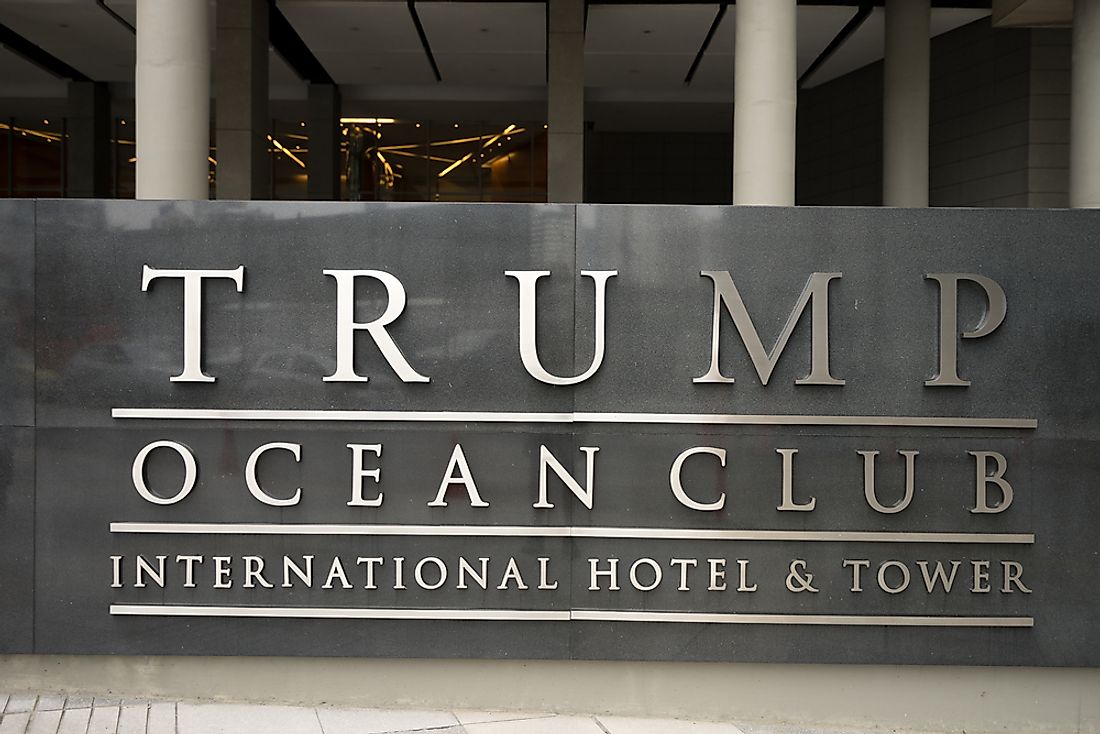 Before he was president of the United States, Donald Trump was a famous real estate mogul known throughout the world. His net worth is estimated at $3.9 billion. Trump Organization LLC is the primary holding organization for the array of companies owned by Trump. Some of the real estate portfolio owned by Trump includes properties in Illinois, Virginia, Florida, Nevada, California, New Jersey, Connecticut, New York, and Hawaii. New York makes the majority of portfolio ownership which includes the most expensive and the tallest properties in the state. He also has properties in different countries like Canada, Panama, Israel, Dubai, Mexico, South Korea, Uruguay, India, Turkey, and the Philippines. He also has interest and a stakeholder in numerous properties in different countries.
Trump Plaza Tower: Ramat, Israel
Trump Plaza Tower in Ramat Gan in Israel is still under construction and is set to be the tallest building in Israel once complete. Initially, it was known as the Elite tower and was purchased by Donald Trump for $44 million. Trump later slowed down the arrangements to construct the tower in 2007 when he sold the site to Azorim Group. The location is on the historic site of the Elite Candy Factory.
Trump International Hotel & Tower: Vancouver, Canada
The skyscraper is still under construction and is slated to be completed by end year. It is a 63-storey reaching 188 meters (617 ft) high. The building will be the second tallest in Vancouver, British Columbia, Canada.
Trump Towers: Istanbul, Turkey
The building in Istanbul, Turkey has two towers, one is residential while the other is an office. It is the first Trump tower to be built in Europe. The building has 200 residences, a shopping mall, multiplex cinema, and 80 shops. The complex is co-owned by Donald Trump and the Turkish billionaire and property developer, Aydin Dogan
Trump World: Seoul, Korea
The complex has 70 floors above the ground and two underground floors with 376 residential units located in Soul, South Korea. The building was developed by Daewoo E&C, and Donald Trump lent his name to be used in the building. It was the first such arrangement with a foreign organization. The project was completed in 2001 at the cost of $240 million, and the units were sold quickly giving profits to both parties.
Trump International Hotel and Tower: Toronto, Canada
The 65-storey building is 276.9 m tall with 260 luxury hotel rooms and 109 condominiums. The hotel which is owned by Val Levitan and Canadian businessman Alex Shnaide is named after the American real estate developer Donald Trump, a minority shareholder in the project.
The Palm Trump International Hotel and Tower: Dubai, UAE
The Hotel Tower is also referred to as Trump Tower Dubai and was expected to have 300 rooms, with 48 stories, but construction was canceled indefinitely in 2008 after the financial crunch. The project is co-owned by Trump and Dubai-based Nakheel, a government-owned company.
Trump Ocean Club International Hotel and Tower: Panama City, Panama
The project incorporates 369 in townhouse units, 700 apartment suite units, 1500 parking spots, retail shops, gambling club, utilization of a private shoreline club on Viveros Island, yacht club and wharf, wellbeing spa, recreational center, pool deck, meeting and occasion spaces, and a business focus. The architecture was developed by absolute acreage administrator Donald Trump of the Trump Organization and Roger Khafif, President of the K Group, a Panama resort developer.
Trump Ocean Resort: Baja, Mexico
This was a failed luxury condominium and hotel resort in Mexico. It was a joint venture between the Trump organization and Irongate, a real estate development company. The project was to have 25 stories with a 526 condominium hotel. Investors were made to believe Trump was supervising the project but it later turned out that Trump had only licensed his name for the development.
Trump at Cap Cana: Punta Cana, Dominican Republic
Trump at Cap Cana was an 8,000-acre oceanfront resort that would bear Donald Trump's name in exchange for a name license fee. Donald Trump finally filed a suit against the developers for $6 million because they failed to remit the monthly sales reports and the name license fee. It was thought that the 2008 financial crisis affected the developers.
Trump Tower Manila: Manila, Philippines
Trump Tower Manila, also known as Trump Tower at Century City, is a residential complex in Manila Philippines scheduled to open by 2016. It is one of the tallest buildings in the Philippines. Century City Development Corp was the developers of the complex with the brand name of Donald Trump.
Trump Tower: Mumbai, India
The Tower is 800 feet and has 3 and 4 bedroom apartments. It was constructed by Lodha Group with the name Donald Trump as a brand name after signing the deal in 2014. The tower is within a park that has commercial developments like deluxe hotels, premium residential apartments, and luxury malls.
Trump Tower: Pune, India
Trump Tower in Pune, India is a 22 story tower having 44 single floor apartments. The owners are Zero G Apartments Pvt Ltd who used the name Trump as a brand under a license agreement with Donald Trump.
Controversy
The use of Trump's name in foreign countries has not been without controversy, for instance, in 2015 the owners of Trump Tower in Turkey were contemplating legal ways to dissociate the property after Donald Trump had called for the ban of Muslims entering the US. In June 2016, the Turkish President Erdogan was reported to have called for the removal of Trump's name from the towers citing the intolerant remarks by Trump against Muslims. He called for those using Trump's name in Istanbul to remove it immediately.
Which Countries Have Trump Towers?
Some of the countries that are home to Trump towers include Mexico, Dominican Republic, Philippines, India, and Canada.
Buildings/Real-Estate Projects Outside The US That Are Named After Donald Trump
| Rank | Name Of Building/Project | Location |
| --- | --- | --- |
| 1 | Trump Plaza Tower | Ramat Gan, Israel |
| 2 | Trump International Hotel & Tower Vancouver | Vancouver, Canada |
| 3 | Trump Towers Istanbul | Istanbul, Turkey |
| 4 | Trump World Seoul | Seoul, Republic Of Korea |
| 5 | Trump International Hotel and Tower Toronto | Toronto, Canada |
| 6 | The Palm Trump International Hotel and Tower | Dubai, UAE |
| 7 | Trump Ocean Club International Hotel and Tower | Panama City, Panama. |
| 8 | Trump Ocean Resort Baja Mexico (Project Collapsed) | Mexico |
| 9 | Trump at Cap Cana | Punta Cana, Dominican Republic |
| 10 | Trump Tower Manila | Manila, Philippines |
| 11 | Trump Tower, Mumbai | Mumbai, India |
| 12 | Trump Tower, Pune | Pune, India |
About the Author
Benjamin Elisha Sawe holds a Bachelor of Arts in Economics and Statistics and an MBA in Strategic Management. He is a frequent World Atlas contributor. 
This page was last updated on July 18, 2017.
Citations
Your MLA Citation
Your APA Citation
Your Chicago Citation
Your Harvard Citation
Remember to italicize the title of this article in your Harvard citation.