Biggest Islands In Vanuatu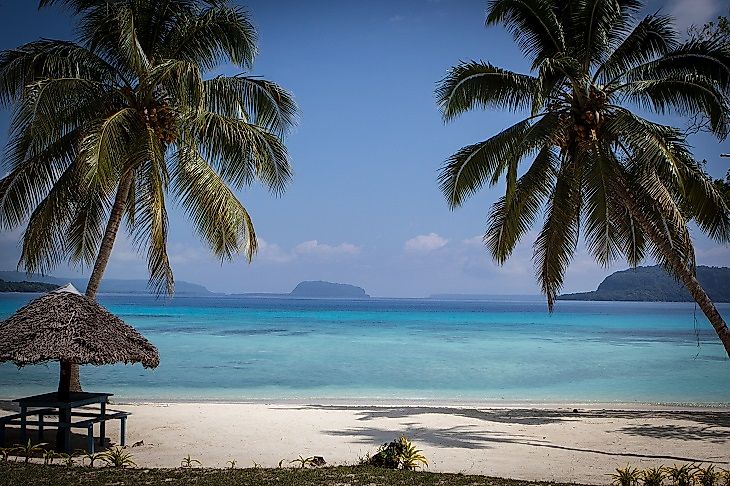 Pink sandy beaches, crystal clear waters, and large collections of shipwrecks and offshore reefs to explore make Vanuatu a bastion for tourism and a diver's dream-come-true. The South Pacific island nation is comprised of approximately 83 islands. Espiritu Santo is the largest, with an area of 1,527 square miles. Malakula, the second largest island, is approximately half its size, while Efate and Erromango are just under 350 square miles. Only six other islands are larger than 130 square miles.
Economic and Cultural Landscapes
Tourism is the mainstay of Vanuatu's economy. The islands receive approximately 60,000 tourists each year. The hospitality industry serves the cruise ship and yachting communities, as well as tourists staying in upscale island resorts. Vanuatu's agricultural industry is primarily devoted to copra, but taro, cacao, sugar cane, nuts and tropical fruit are also grown. A few islands have verdant coastal plains, ideally suited for livestock and plantations.
Vanuatu has also been immortalized in popular culture down through the years. The US Army base on Espiritu Santo was the inspiration and locale for the James Michener novel, "Tales of the South Pacific" and its subsequent musical adaptation by Rodgers and Hammerstein. The island of Ambae is referenced in the hauntingly beautiful song, "Bali Ha'i." The island of Efate was also used as the location for three seasons of the reality TV game show, Survivor.
Demographics and Growth Trends
Vanuatu's current population is 252,763, spread out over 65 inhabited islands. The islands have been inhabited for approximately 3,000 years. The population was reduced significantly during the Nineteenth Century, resulting from a combination of forcible indentured servitude known as "blackbirding" and exposure to European diseases. Currently, the inland jungles contain small, self-sufficient, isolated villages. Most people identify as Christian, although the traditional chief system still continues in many areas.
Habitats and Biodiversity
Espiritu Santo is home to all of Vanuatu's endemic birds. Two protected areas have been established to safeguard the island's biodiversity. The Loru Conservation Area protects a lowland rainforest, as well as a stretch of reef, while the Vatthe Conservation Protects an alluvial limestone forest. Erromango contains cloud forests and grassland. Ambrym, Ambae and Gaua are home to active volcanoes and lava lakes. The coral reefs of Epi Island's Lamen Bay also provide a habitat for the dugong, a vulnerable aquatic mammal.
Environmental Threats
Vanuatu's growing population is placing increasing pressure on its land and natural resources. Coastal fish species are becoming dangerously depleted, and extensive logging has contributed to erosion and landslides. Natural disasters such as cyclones and volcanic eruptions are also a major threat.
Territorial Disputes
In the early Nineteenth Century, several nations fought for the right to harvest sandalwood, a highly-prized commodity, on the island of Erromango. In 1830, Hawaii, Fiji and Tonga battled with each other and with the native Erromangans for occupation of the island. During World War II, Espiritu Santo was used by Allied forces as a military supply base, naval harbor, and airfield.
More recently, charismatic leader Jimmy Stevens and his cult following fought against Vanuatu's independence by forming the Nagriamel political movement. He and his supporters even staged a coup in 1980. Armed with traditional weapons, they occupied Luganville on Espiritu Santo and declared the island to be the newly-independent country of Vemarana. Four months later, Stevens was arrested and the new nation he led collapsed.
Biggest Islands In Vanuatu
| Rank | Biggest Islands in Vanuatu | Area |
| --- | --- | --- |
| 1 | Espiritu Santo | 1,527 square miles |
| 2 | Malakula | 788 square miles |
| 3 | Efate | 347 square miles |
| 4 | Erromango | 344 square miles |
| 5 | Ambrym | 262 square miles |
| 6 | Tanna | 210 square miles |
| 7 | Pentecost | 190 square miles |
| 8 | Epi | 171 square miles |
| 9 | Ambae | 154 square miles |
| 10 | Gaua | 132 square miles |