Society
The Biggest Cities In The United Kingdom
The London Metropolitan Area alone has more residents than Scotland, Wales, and Northern Ireland combined.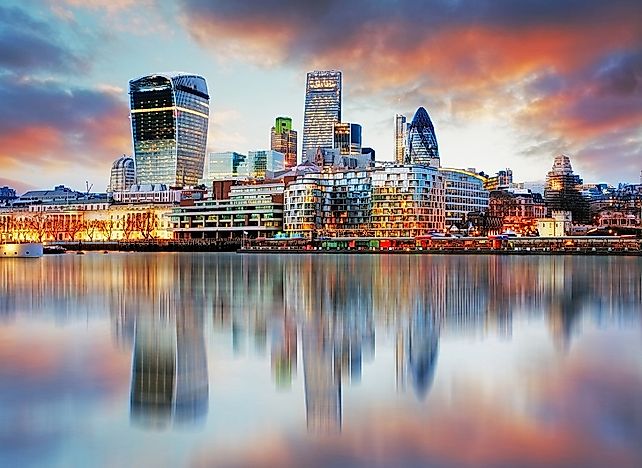 The United Kingdom is a sovereign state in Europe. Its boundaries include the island of Great Britain, the northeastern portion of the island of Ireland, and several other smaller islands. The United Kingdom is surrounded by North Sea, English Channel, Atlantic Ocean, and the Celtic Sea. The country has the 13th longest coastline in the world (12th if Antarctica is not considered). The United Kingdom covers a total area of 242,500 square kilometers, making it the 11th largest country in Europe and 78th in the world. The country has an estimated population of 65.1 million, the fourth most densely populated country in Europe. The United Kingdom is a developed economy with some of the best-developed cities in the world, the largest of which are looked at below.
The 3 Biggest Cities in The United Kingdom
London
London, first settled during the reign of the Roman Empire over what is now Britain, is today the capital city of both England and the United Kingdom. The city is the most populous city in the United Kingdom with a population of 9 million inhabitants who speak over 300 languages. London is one of the leading global cities in art, entertainment, commerce, finance, fashion, media, and healthcare. The city is also one of the world's leading financial centers and has the fifth largest metropolitan area GDP in the world. London, which is home to four World Heritage Sites, is among the world's most visited cities.
Manchester
Manchester has a population of 2.6 million inhabitants, which makes it the second largest city in the United Kingdom by population. Manchester was ranked as a beta world city by Globalization and World Cities Research Network in 2014. The city is the third most visited in the United Kingdom because of its culture, media links, architecture, scientific output, social impact, and sports clubs. Manchester has been called Europe's most affordable city with a cost of living index below 95.
Birmingham
The city of Birmingham is in the West Midlands of England. The city is home to 2.5 million people. Birmingham grew to prominence in the 18th Century during the Midlands Enlightenment and Industrial Revolution. Today, the city's economy is driven by the service sector being a major international commercial sector. The city is also a conference, retail, events, and transport hub. Its economy is the second largest in the United Kingdom with an average GDP of $121 billion. Its six universities make it one of the largest higher education centers. The cultural institutions in the city enjoy international recognition because of the vibrant art, music, culinary, and literary scenes.
List of the Largest Cities in the United Kingdom
| Rank | City | Population |
| --- | --- | --- |
| 1 | London | 9 046 000 |
| 2 | Manchester | 2 690 000 |
| 3 | Birmingham (West Midlands) | 2 570 000 |
| 4 | West Yorkshire | 1 864 000 |
| 5 | Glasgow | 1 661 000 |
| 6 | Southampton/Portsmouth (South Hampshire) | 912 000 |
| 7 | Liverpool | 893 000 |
| 8 | Newcastle upon Tyne | 801 000 |
| 9 | Nottingham | 775 000 |
| 10 | Sheffield | 720 000 |