Society
Biggest Cities In Sri Lanka
With more than 5.6 million metro area residents, Colombo on the west coast is by far Sri Lanka's largest city.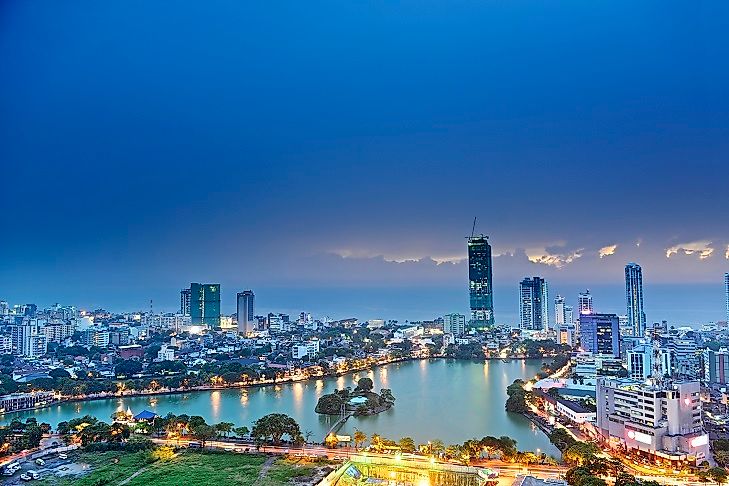 Sri Lanka is a Southeast Asian island nation located off of the southeast coast of India. It covers an area of 25,332 square miles and has a population of 20,277,597. Between 1999 and 2010, Sri Lanka experienced the fastest urban expansion within the Southeast Asian region. This article takes a look at some of its most populated cities.
Biggest Cities in Sri Lanka
Colombo

Colombo is the biggest city in the country. It has a population of 5,648,000 and is considered to be the financial center of Sri Lanka. Although a modern city, Colombo continues to display colonial-style architecture in many of its buildings that reflect all three eras of colonialism, including their respective Portuguese, Dutch, and British influences. It has a history of sea trade that dates back to over 2,000 years due to its location on the coast and was made the capital of the island under the British Empire in 1815. It remained the capital after independence until 1978, when the government functions were moved to another city. Due to its history of trade and colonialism, the city today is multicultural and multi-ethnic. The largest ethnicities in the city include the Sinhalese, who comprise 41.36% of the population therein, followed by Sri Lankan Tamils (28.91%), and Sri Lankan Moors (23.87%). Other groups include Indian Tamils (2.17%), Sri Lankan Malays (1.73%), Burghers (.82%), Sri Lankan Chetty (.11%), and Bharatha (.07%). Due to the fact that it is considered the financial center of Sri Lanka, several corporate headquarters are located in Colombo. Some of the most important industries in this city include chemical, glass, cement, textile, and leather. The city also remains one of the most important commercial ports in the country.
Sri Jayawardenepura Kotte

The second most heavily populated city in the country is Sri Jayawardenepura Kotte. With a population of 2,234,289, this city has been the capital of Sri Lanka since 1978. Prior to European colonization, this city served as a fort for the indigenous population and because it was so successful at defending the area, it became the capital of the Kotte Kingdom until the later part of the 16th Century. When Portuguese colonizers arrived, they made Colombo the new capital. Sri Jayawardenepura Kotte did not begin to grow again until the 1800's when archaeological ruins were torn down in order to use the building materials for new structures. Today, the largest ethnic group are the Sinhalese which make up 87.49% of the population. Because this is the legislative capital, many ministries can be found here as well as jobs in public administration. Within the city limits are several agricultural endeavors as well like rice paddies and plantations.
Other urban areas in Sri Lanka are not nearly as big as these two cities. In fact, they remaining cities all have populations of less than 1,000,000. This population distribution speaks to the importance of Colombo and Sri Jayawardenepura Kotte as economic and governmental centers for the country.
Urban Growth in Sri Lanka
While rapid urban growth can have detrimental effects on cities, their economies, and the environment, it can also be beneficial if carefully planned prior to when the growth begins occurring. When compared to other Southeast Asian countries, Sri Lanka has handled its growing urban population better than most. This country experiences lower rates of extreme urban poverty and marginal residencies than other countries. This can partially be attributed to sustained economic growth that has provided economic opportunities to the urban populations.
What is the Biggest City in Sri Lanka?
With more than 5.6 million metro area residents, Colombo on the west coast is by far Sri Lanka's largest city.
| Rank | Biggest Cities in Sri Lanka | Metro Area Population |
| --- | --- | --- |
| 1 | Colombo | 5,648,000 |
| 2 | Sri Jayawardenepura Kotte | 2,234,289 |
| 3 | Dehiwala-Mount Lavinia | 245,974 |
| 4 | Moratuwa | 207,755 |
| 5 | Negombo | 153,670 |
| 6 | Kandy | 125,351 |
| 7 | Kalmunai | 108,696 |
| 8 | Vavuniya | 99,653 |
| 9 | Galle | 99,478 |
| 10 | Trincomalee | 99,135 |
About the Author
Amber is a freelance writer, English as a foreign language teacher, and Spanish-English translator. She lives with her husband and 3 cats.
This page was last updated on April 25, 2017.
Citations
Your MLA Citation
Your APA Citation
Your Chicago Citation
Your Harvard Citation
Remember to italicize the title of this article in your Harvard citation.