Biggest Cities In Saudi Arabia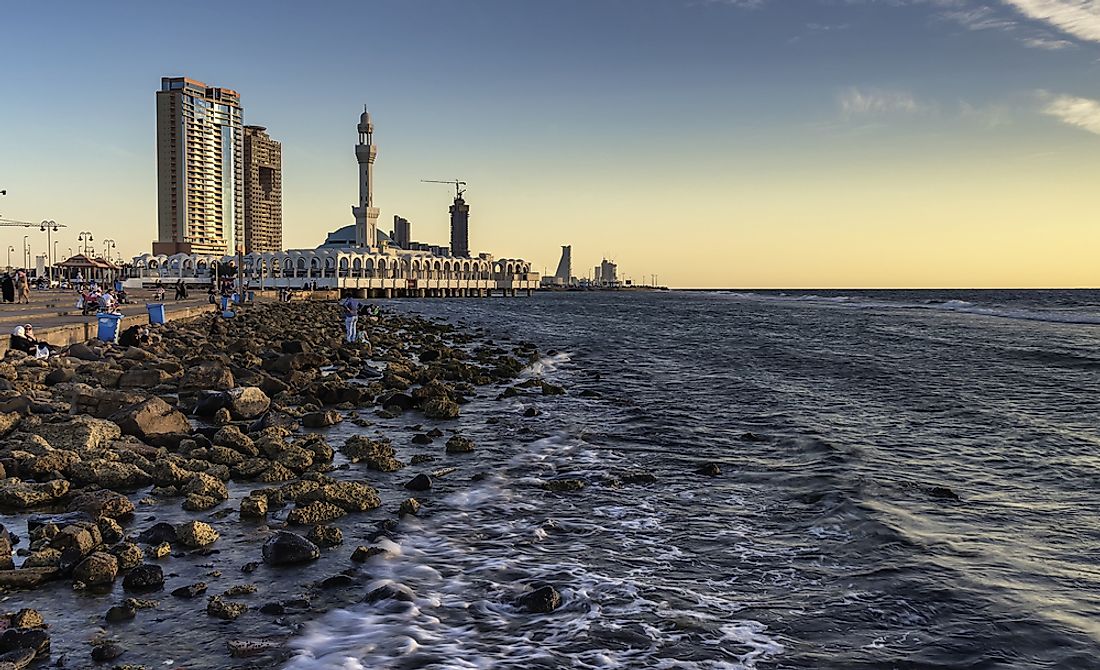 Saudi Arabia is an Arab state found in Western Asia also referred as "the kingdom of Saudi Arabia." Started in 1932 by Ibn Saud, it consists of ten major cities namely Riyadh, Jeddah, Mecca, Hofuf, Ta'if, Medina, Dammam, Khobar, Khamis Mushait, and Burayda
Biggest Cities In Saudi Arabia
Riyadh
Riyadh is the largest city in Saudi Arabia, and it is also the commercial capital of the country with a population of 6,506,700. Riyadh is also Riyadh's Province capital and belongs to the historical areas of Najd and Al-Yamana. The Riyadh Development Authority and the mayor of Riyadh head this municipal district with the governor of Riyadh province acting as the chairperson. Riyadh grew into a large metropolis from a small isolated town in the 1940's. The city grew at the rate of 8.2% between the years 1974-1992. Riyadh has a hot desert climate.
Jeddah
With a population of 3,976,400, Jeddah is the largest town in Makkah Province. It is also the second largest city in Saudi Arabia after Riyadh and the biggest seaport in the Red Sea. Jeddah is situated in the Hijaz Tihamah area on the coast of the Red Sea. In 2009, Jeddah was positioned fourth in the Africa-Mid–East area because of its innovation. It is believed that Jeddah developed as a fishing hamlet by the Yemeni Quda'a tribe in 522 BC and has a tropical arid climate.
Mecca
Mecca is Makkah area's capital city in the Hejaz area in Saudi Arabia. With a population of 1,919,900, Mecca gets visitors three times its population every year during the Haji pilgrimage. It is situated in a narrow valley 43.5 miles from Jeddah and its elevation above sea level is 908 feet. Mecca is also considered to be the place of birth for Muhammad and the location of Muhammad's first revelation of the Quran. In the Islamic religion, Mecca is the holiest city and presently managed by the municipality of Mecca with a mayor as its head.
Medina
With a population of 1,271,800, Medina is the capital city of Saudi Arabia's Al-Madinah region. It is often referred as the "Radiant City" and is found in the Hejaz. Al-Masjid an-Nabawi has great religious significance because it is the burial place of Prophet Muhammad. Medina city comes second after Mecca as holiest city according to Islam religion. It is located 200miles north of Mecca and 118 miles from the red sea and located on Hejaz's most fertile area.
Unique And Interesting
Each of these cities in Saudi Arabia has different cultural, social and economic ties and unite together to form the Kingdom of Saudi Arabia. Regardless of their sizes and population, they all offer something unique and worthy of exploration.
Biggest Cities In Saudi Arabia
| Rank | City | Population |
| --- | --- | --- |
| 1 | Riyadh | 6,506,700 |
| 2 | Jeddah | 3,976,400 |
| 3 | Mecca | 1,919,900 |
| 4 | Medina | 1,271,800 |
| 5 | Al-Ahsa | 1,136,900 |
| 6 | Ta'if | 1,109,800 |
| 7 | Dammam | 975,800 |
| 8 | Buraidah | 658,600 |
| 9 | Khobar | 626,200 |
| 10 | Tabuk | 609,000 |