Biggest Cities In Myanmar (Burma)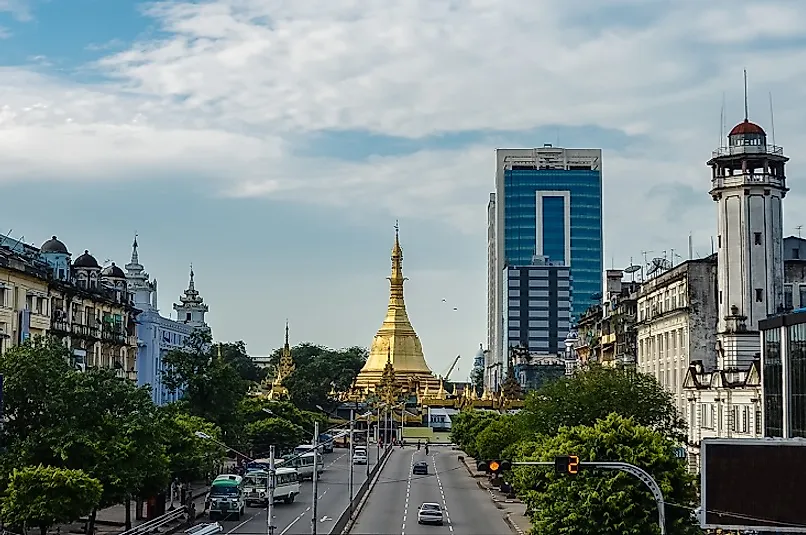 Myanmar is a Southeast Asian nation that shares borders with India, Laos, China, Bangladesh, and Thailand. It encompasses 261,227 square miles of land area and has a total population of 51,486,253. Around one-third, or 33%, of its inhabitants live in urban areas. This article takes a look at the most populated cities in the country.
Yangon
Yangon, formerly known as Rangoon, is the most heavily populated city in the country. Approximately 5,998,000 people call this city home. When the British had control of the country in the 1850's, they turned this city into the commercial and political center, building roads, hospitals, and universities. During this time, it was named Rangoon. When Myanmar won its independence in 1948, the new leaders went to work renaming cities and streets to more Burmese sounding words, thus, Yangon.
In 2006, the government decided to move the national administrative capital to Naypyidaw, which took a significant number of public officials out of the city of Yangon. The majority of the remaining residents are of Bamar descent although there are large communities of Indians, Southeast Asian Burmese, and Chinese Burmese individuals as well. The most common religions include Buddhism, Christianity, Hinduism, and Islam.
Mandalay
Mandalay is the second most populous city in Myanmar with 1,225,133 people living within its borders. The population is expected to grow by 50% over the next 10 years. Much of this growth will be attributed to Chinese immigrants who, today, make up between 40% and 50% of the population. Burmese is still the principal language spoken, however. Mandalay is the main economic center for the northern part of the country, serving as a trade hub between north and central Myanmar as well as the point of departure for exports to China and India. People come here from the upper region of the country to attend university and to seek attention at the hospitals.
Other Populous Burmese Cities
Other heavily populated cities include Naypyidaw with 1,158,367 residents, followed by Mawlamyine (491,139), Taunggyi (380,665), Monywa (371,963), Meiktila (309,465), Bago (288,120), Pathein (286,684), and Mergui (284,037).
Overcrowding in Myanmar's Cities
The rapid growth experienced in Yangon, as well as the other cities mentioned, has contributed to a major problems with overcrowding. Due to the conditions of poverty in rural areas, rural to urban migration has increased as people come to find economic opportunities in a growing economy. When the migrants arrive, they are unable to find affordable housing. This pushes them into the marginal areas of the city. Nearly 30% of the population of Yangon, for example, lives in outlying slums which lack basic services, including electricity, running water, and sewage.
More than the promise of better economic opportunity draws these individuals away from their rural homes. Global climate change is bringing more natural disasters and flooding to areas such as the Irrawaddy Delta. These changes to the climate ruin crops and homes, creating unlivable conditions and motivating the search for something better.
Environmental Problems Arising from Urbanization
Unfortunately, slums create additional environmental problems in and of themselves. Lack of sewage lines leads to unsanitary waste disposal in open areas which contaminates shared water sources. Contamination of water sources spreads illnesses such as typhoid and cholera among the people. Depending on the type of contaminant, it can also kill aquatic life. If fish from these contaminated sources is consumed, it can lead to additional health problems.
The Myanmar government is aware of the projected urban growth still to come. If it acts now, it can create a sustainable urban development plan that includes affordable, safe, and hygienic housing for its future residents.
Biggest Cities In Myanmar (Burma)
| Rank | Biggest Cities in Myanmar | Metro Population |
| --- | --- | --- |
| 1 | Yangon (Rangoon) | 5,998,000 |
| 2 | Mandalay | 1,225,133 |
| 3 | Naypyidaw (Nay Pyi Taw) | 1,158,367 |
| 4 | Mawlamyine | 491,130 |
| 5 | Taunggyi | 380,665 |
| 6 | Monywa | 371,963 |
| 7 | Meiktila | 309,465 |
| 8 | Bago | 288,120 |
| 9 | Pathein | 286,684 |
| 10 | Mergui | 284,037 |