The Largest Casinos In The World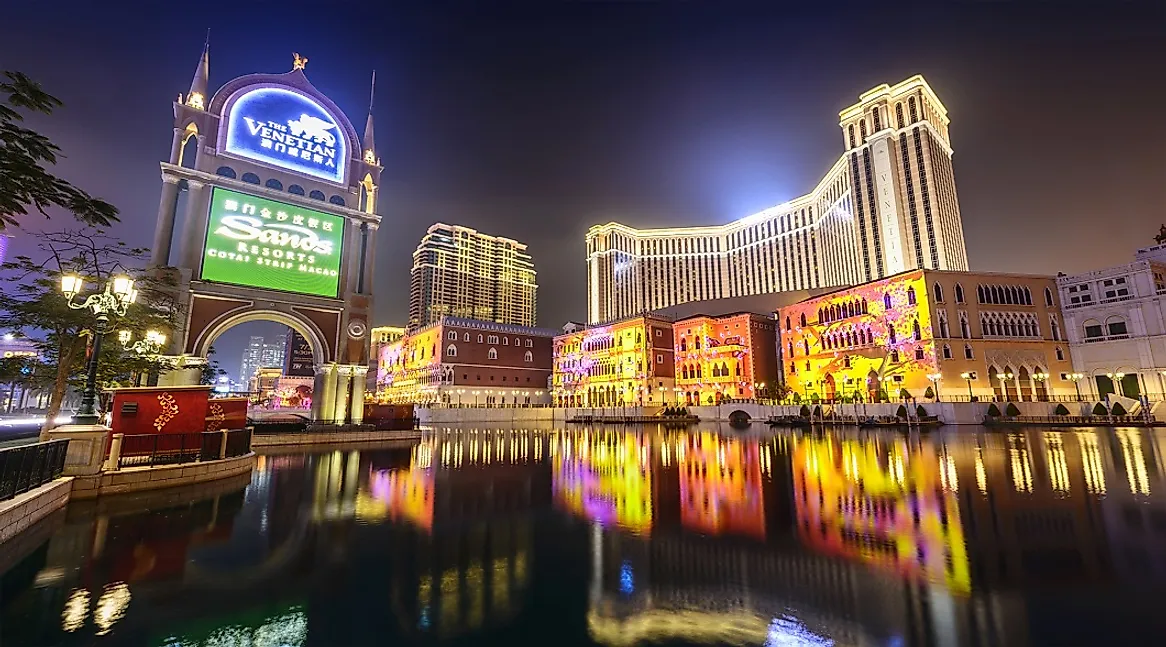 There are casinos in the world, and then there are these behemoth casinos! Not only can each herein boast of their excellent facilities, but also of their enormous indoor space and the acreage of their sprawling grounds. Ultra-modern, palatial, and out to make a big dent in your pocketbook, these casinos today cater to every whim of the paying public. With their five-star hotel accommodations, Michelin star restaurants, designer shops, and top-billed entertainment shows, which range from high-flying circus acts to the latest musician concerts topping the Billboard charts, they will leave you with something to remember, even if you are among the majority the win back little of what you lose at the gaming tables and slot machines. Here we list the top 10 largest casinos in the world, which have been impressing guests for many years now with their sheer size.
11. Borgata, Atlantic City, New Jersey, USA (161,000 square feet)
The Borgata is a casino hotel located in Atlantic City, New Jersey, USA. With its 161,000 square feet of space, it is the largest of its kind in the city. The Borgata's name means "little village" in Italian. The casino has 4,100 gaming machines, and 285 card games tables as well, the latter offering poker, craps, and roulette. The casino is complemented by the 17 restaurants and bars offering the guests there everything from fine dining to casual gastronomic delights. Its hotel has about 2,002 rooms worth of accommodations, which are fit for even the most discriminating of guests. Its poker program is affiliated with the World Poker Tour, which at times has daily tournaments and also high-stakes championships tournaments.
10. Lisboa, Lisbon, Portugal (165,000 square feet)
The Lisboa is a casino hotel operating in Lisbon, Portugal. The casino offers 165,000 square feet of gambling, dining, and hotel accommodations for international tourists and locals alike. It is located in the Park of the Nations center in the city. The casino hotel offers 1,000 gaming machines and 26 card gaming tables, and there are seven restaurants and bars for fine dining and casual eats in the hotel. The hotel also has a 1,000-room capacity to sleep its casino guests after a long day of casino winnings or losings. The Lisboa is the biggest hotel casino in Europe today, and one of the most prominent landmarks in the city.
9. MGM Grand, Las Vegas, Nevada, USA (170,000 square feet)
The MGM Grand is in Las Vegas, Nevada, USA. The hotel is known for its live entertainment and spectacular shows, which can include boxing, magic shows, and even circus acts. It offers 170,000 square feet of gambling, dining, shopping, and hotel space for almost every size of expense account. The casino has more than 2,300 slot machines, and also offers 20 card games tables as well. The MGM's 5,044-room hotel's accommodations have recently received designer interior upgrades. In fact, the MGM Grand in Las Vegas is one of the pioneers in this sort of family entertainment experience, with this Las Vegas venue in Nevada and another on our list in Macao.
8. MGM Grand Macao, Macao, China (222,000 square feet)
The MGM Grand Macao is a casino hotel situated in Macao, China. The MGM's modern facilities offer the guests there more than 222,000 square feet of entertainment and gambling. Its hotel has 593 rooms with the ultimate of accommodations. The cuisine offered by its 12 restaurants range from casual to fine dining, and its well-stocked bars offer bliss for and tired gentleman and ladies who frequent it. The casino has about 835 slot machines, and its poker and card games tables number 410 strong. It also offers private salons for its special preferred guests.
7. Sands Macao, Macao, China (229,000 square feet)
The Sands Macao Casino is where the action is in Macao, China. With its 229,000 square feet of gambling and hotel accommodations, it was one of the first imported casino hotels in Macao. It offers 51 rooms of accommodations for its many guests. The casino has 750 slot machines and 1,000 poker and card game tables. There are seven fine dining and casual restaurants there, which are in turn complemented by bars to satisfy the palate with spirits after a day at the casino. The architecture of the casino hotel is a standout in the Macao strip, in that the look itself is said to promise winnings.
6. Tusk Rio, Klerksdorp, South Africa (266,000 square feet)
The Tusk Rio Casino Resort is located in Klerksdorp, South Africa. With 266,000 square feet of space for its 257 slot machines and 12 poker and card games tables, it has that winning quality that's hard to miss. The casino's theme is a throwback to the first Rio Carnival in Brazil. One great thing are the many denomination slot machines available for its guests. In addition, there are private gambling salons inside the casino for the Tusk Rio's guests. A glitzy experience for the traveler, the resort has a 70 room hotel on its location, among many other hotels in the immediate area.
5. Ponte 16, Macao, China (270,000 square feet)
The Casino Ponte is the only casino situated in the historic center of Macao, China which has been designated as a UNESCO World Heritage site. The casino complex has more than 270,000 square feet of gambling facilities, and within this area offers 320 slot machines and 150 tables for poker and and other table card games. Its hotel has 423 modern rooms that afford its guests a view of Macao's sleek skyline. The casino has three restaurants complemented with bars offering relaxing drinks to wind down with after the casino experience. The architecture of the casino hotel is reminiscent of Macao's Portuguese heritage.
4. Foxwoods, Ledyard, Connecticut, USA (340,000 square feet)
The Foxwoods Resorts Casino is in Ledyard, Connecticut, USA. Within its 340,000 square feet are 7,000 slot machines, and 400 card games tables that offer the ultimate experiences in poker, roulette, and craps. The Hard Rock Cafe is one of the standouts in dining experience among its many delectable restaurants. Its hotel offers 824 rooms to relax within after a full day of fun in the casino. It also has a spa to complement the all-around great vacation. Children and teens can enjoy a separate day experience with its two-story arcade, which is sure to please any arcade game enthusiast.
3. City of Dreams, Macao, China (420,000 square feet)
The City of Dreams Casino is right next to the Venetian in Macao, China. The 420,000 square foot hotel and casino caters to couples and singles that want a great time in a frenetically hopping place. The casino has 1,350 gaming machines and 520 poker gaming tables. It offers 1,400 rooms worth of accommodations to its guests, and calls to those who are partial to full sensory entertainment, which awaits one at every floor space of the casino. The interior is an evolution of the discotheque experience of the 1970s and 1980s, and visual effect has been spared to create the ultimate hard rock experience. There are free shows galore at the City of Dreams, and great dining as well.
2. Venetian Macao, Macao, China (546,000 square feet)
The second largest casino in the world is the Venetian Macao with 546,000 square feet. The Venetian Macao is situated in the coastal area of Macao, China. It has a floor space of more than 546,000 square feet of gambling area for the convenience of its guests. The casino area has 3,000 gaming machines, and 870 tables for card games and roulette. In addition, shopaholics can splurge their winnings in its three humongous shopping malls. Guests can take a break in one of its four swimming pools, or take gondola rides just like in the real Venice in Italy. Whether you're into fine dining or casual fast food, the Venetian Macao restaurants have a wide offering of cuisine choices and options. Its 3,000-room hotel accommodations are complete with every amenity needed to satisfy its guests.
1. WinStar World Casino (600,000 + square feet)
Found in Thackerville, Oklahoma, about an hour south of Oklahoma City and one hour north of Dallas, the WinStar World Casino is the largest casino in the world. It has more than 600,000 square footage of gambling. The casino was originally opened in 2003 but was given a large addition in 2013. The casino also functions as an entertainment venue. There is a large hotel available on-site.
The World's Largest Casinos
| Rank | Casino | Location | Size (Square Feet) |
| --- | --- | --- | --- |
| 1 | Winstar | United States | 600,000 |
| 2 | Venetian | Macao | 546,000 |
| 3 | City of Dreams | Macao | 420,000 |
| 4 | Foxwoods | United States | 340,000 |
| 5 | Ponte 16 | Macao | 270,000 |
| 6 | Tusk Rio | South Africa | 266,000 |
| 7 | Sands Macao | Macao | 229,000 |
| 8 | MGM Grand Macao | Macao | 222,000 |
| 9 | MGM Grand | United States | 170,000 |
| 10 | Lisboa | Portugal | 165,000 |
| 11 | Borgata | United States | 161,000 |