Economics
Average Household Incomes Across Canada
Ottawa, Ontario, has the highest earning households out of all major cities in Canada.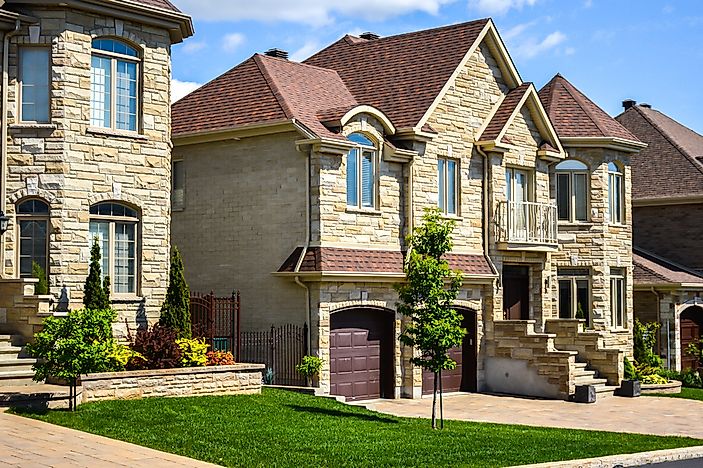 Canada is categorized as a thriving and economically prosperous nation. It is consistently ranked amongst the wealthiest countries on the globe. The country's unemployment rate sits at around 7%, and while income inequality does exist, it is less pronounced than what is found in other countries. The following is a list of the cities where earners take home the highest amount on average.
Cities with Highest Average Household Incomes
Ottawa, Ontario
The median family income in Ottawa stands at 94,700. These figures can be directly linked to the fact that this city is the capital of Canada where most commercial activities are executed. As the country's capital, there are a great number of government jobs in Ottawa, which tend to be high paying.
Calgary, Alberta
This city comes second in the list for highest earning households in Canada. The average income earnings for households in this city stand at 89,490, putting it at a close second behind Ottawa. Calgary is the most populous city of the province of Alberta and the main economic activities revolve around the energy industry, financial services, manufacturing and technology among others.
Edmonton, Alberta
Edmonton is the capital city of the province of Alberta. It is the 5th largest municipality in Canada. The city is third on the list for the highest earning households in Canada with the average figure being 87,930. The major economic activities here range from fishing, entertainment, oil exploration and gas industrial activities.
Regina, Saskatchewan
Regina as a major city in Canada is fourth in the list for the highest earning households. Its statistics stand at 84,890 on average. Oil exploration activities and mining are the key driving forces of the economy in the city of Regina. Most household families are employed to work in these industries where they draw their income.
Oshawa, Ontario
Fifth on the list is Oshawa, Ontario. The average earnings for the households stand at 82,270. The main employers for the locals in the city are manufacturing and administrative operations. Others include fishing and technology sectors which too accommodate quite a sizeable number of the locals.
Conclusion
The most significant task that the people and government of Canada are faced with is to ensure that these economic activities that generated income for the households are sustainable. The income, as generated by various cities in Canada, reveals even distribution development of the regions in the country triggering sustainable source of income for the locals.
Average Household Incomes Across Canada
| Rank | City | Median Family Income, CAD (Source: Statistics Canada) |
| --- | --- | --- |
| 1 | Ottawa, Ontario | 94,700 |
| 2 | Calgary, Alberta | 89,490 |
| 3 | Edmonton, Alberta | 87,930 |
| 4 | Regina, Saskatchewan | 84,890 |
| 5 | Oshawa, Ontario | 82,270 |
| 6 | Saskatoon, Saskatchewan | 80,570 |
| 7 | St. John's, Newfoundland | 78,210 |
| 8 | Victoria, British Columbia | 77,820 |
| 9 | Kingston, Ontario | 77,140 |
| 10 | Kitchener-Cambridge-Waterloo, Ontario | 77,040 |
| 11 | Hamilton, Ontario | 76,730 |
| 12 | Greater Sudbury, Ontario | 76,710 |
| 13 | Halifax, Nova Scotia | 76,500 |
| 14 | Quebec, Quebec | 76,450 |
| 15 | Thunder Bay, Ontario | 75,640 |
| 16 | Winnipeg, Manitoba | 72,050 |
| 17 | London, Ontario | 71,840 |
| 18 | Windsor, Ontario | 69,480 |
| 19 | Saguenay, Quebec | 69,340 |
| 20 | Saint John, New Brunswick | 69,100 |
| 21 | Toronto, Ontario | 68,110 |
| 22 | Vancouver, British Columbia | 67,090 |
| 23 | Montreal, Quebec | 67,010 |
| 24 | St. Catharines-Niagara, Ontario | 65,900 |
| 25 | Trois-Rivieres, Quebec | 63,510 |