20 Countries With The Best Acess To Nurses And Midwives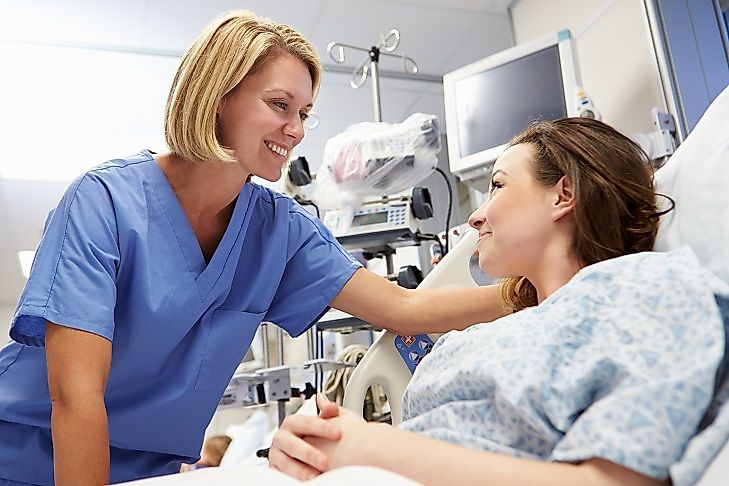 Nurses and midwives play an important role in delivering and maintaining health care systems around the world. Access to qualified and experienced nurses and midwives could mean the difference between life and death for many patients. 84% of clinical workforce comprises of nursing staff. Providing the right kinds of training, resources, and infrastructure to this staff is of utmost importance. As the world of medicine has changed, the health system and challenges have also changed. With this, the role played by nurses and midwives has become dynamic. But this workforce is geographically unevenly distributed.
Countries With High Accessibility To Nurses and Midwives
According to the data provided by the World Health Organization (WHO) and the Organization for Economic Cooperation and Development (OECD), countries with the best accessibility of nurses are Switzerland, Norway and Monaco. Switzerland with 17.4 nurses and midwives per 1,000 people is on the top, while Norway with 17.3 is on the second and Monaco with 17.2 nurses and midwives per 1000 people is on the third place. In 2010, there were approximately 15 nurses per 1000 people in Switzerland, which has considerably increased by 2014-2015. To address the problem of the shortage of doctors, most of the countries have taken initiative to include nurses in more advanced roles to ensure proper and basic health care. It is important to mention the role of midwives, as they are the first support for any homesick person. Midwives perform all varieties of basic care jobs, such as addressing daily issues, changing clothes, dressing wounds, ensuring proper medicine intake, provide first aid in case of emergency, and many more.
Monaco's health care system has advanced technical and medical facilities with the best doctors from all over the world and highly efficient nurses and midwives. Patients get extremely high standards of medical care and attention in public hospitals in Monaco. In these countries, there is an oversupply of doctors and lack of supply of nurses, resulting in an unequal distribution of human resources.
Numerous Benefits of Having Nurses and Midwives Available to Patients
All countries in the world whether it be developed, underdeveloped or developing nation, every nation needs to have proper and basic medical facilities and good health management system. Availability of doctors is important on one hand and accessibility of nurses is equally important on the other hand. A sustainable and competent health work force is vital for the maintenance of healthy society. As patients have immediate contacts with nurses and midwives than doctors, easy accessibility helps in a number of areas. These include providing a gentle touch and filling the need of doctors for small purposes, taking day-to-day care of patients by doing the right practices, proffering a great deal of moral and physiological support to the patients, an long term maintenance of chronic diseases in home care settings.
The WHO has been adopting various resolutions and strategies on improving and strengthening the nursing and mid wife work force among its member countries ever since 2002. A more recent resolution of the WHO mandates the strengthening of the capacity of members of the nursing workforce and developing strong interdisciplinary health teams. Efficient planning and use of existing resources, education, a coordinated management of existing and future resources is required for sustainable development of health workforce.
20 Countries With The Best Acess To Nurses And Midwives
| Rank | Country | Nurses and Midwives per 1,000 people |
| --- | --- | --- |
| 1 | Switzerland | 17.4 |
| 2 | Norway | 17.3 |
| 3 | Monaco | 17.2 |
| 4 | Iceland | 15.6 |
| 5 | Luxembourg | 12.6 |
| 6 | Uzbekistan | 11.9 |
| 7 | Japan | 11.5 |
| 8 | Germany | 11.5 |
| 9 | Finland | 10.9 |
| 10 | Australia | 10.6 |
| 11 | Belarus | 10.6 |
| 12 | France | 9.3 |
| 13 | Canada | 9.3 |
| 14 | United Kingdom | 8.8 |
| 15 | San Marino | 8.8 |
| 16 | Slovenia | 8.5 |
| 17 | Czech Republic | 8.4 |
| 18 | Kazakhstan | 8.3 |
| 19 | Brunei | 8.0 |
| 20 | Austria | 7.9 |