10 Biggest Urban Parks In The World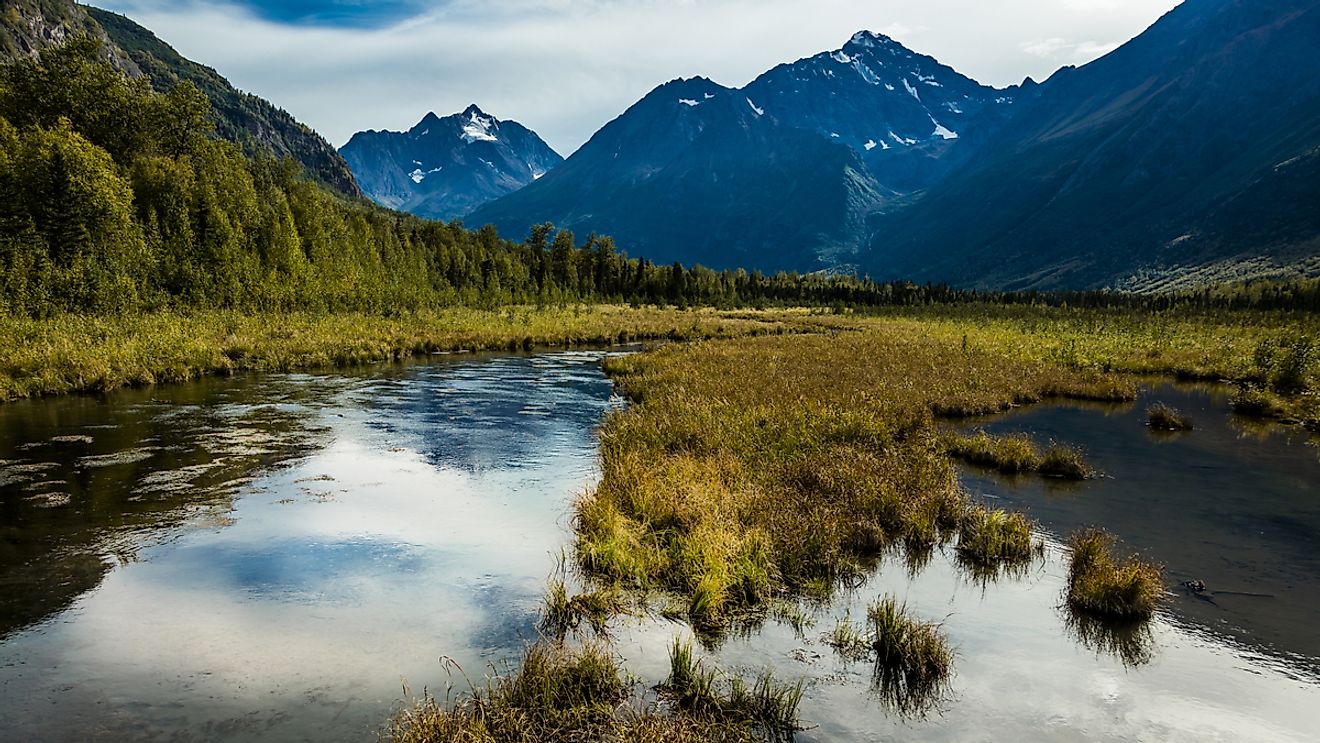 Chugach State Park, located in Anchorage, Alaska, is the largest urban park in the world.
More than half of the world's 50 largest urban parks are located in the United States.
Many urban parks are created for the purpose of protecting vulnerable ecosystems, including threatened plant and animal species.
Many of the world's cities seem like mazes of glass and concrete. Everywhere you look, you find tall skyscrapers, roads teeming with cars, and a whole lot of noise associated with city living. Not very appealing if you're someone who enjoys being somewhere more tranquil, with lots of green space. 
Some cities contain large proverbial oases of green space, in which people can enjoy the sights and sounds of wildlife, play a sport, have a picnic, or simply take a relaxing stroll. These oases are known as urban parks. Some of these parks encompass hundreds, even thousands, of hectares. Some can be accessed from within the city, others are found just on the outskirts of city limits. Here are the 10 biggest urban parks in the world.
1. Chugach State Park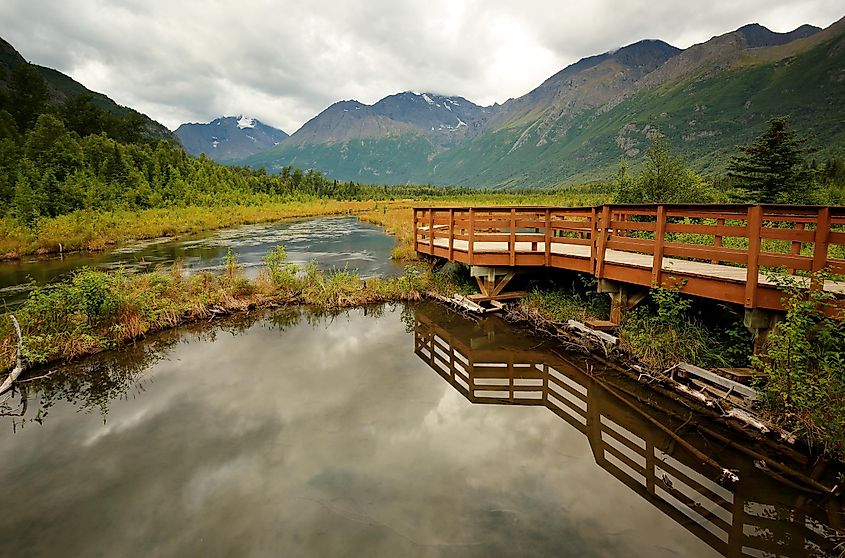 Chugach State Park is the largest urban park in the world, spanning more than 200,000 hectares. In fact, it is almost ten times larger than Table Mountain National Park, the world's second-largest. Chugach State Park is located in Anchorage, Alaska. "Chugach" is a tribal name for the local Indigenous people. The park itself contains various different geographical features, including tall mountains, foothills, lakes, and rivers. It also includes hiking trails that are very popular with tourists. Other popular outdoor activities in the park include rafting, biking, riding ATVs, kayaking, and fishing. The park also includes campgrounds and cabins that park users can rent.
2. Table Mountain National Park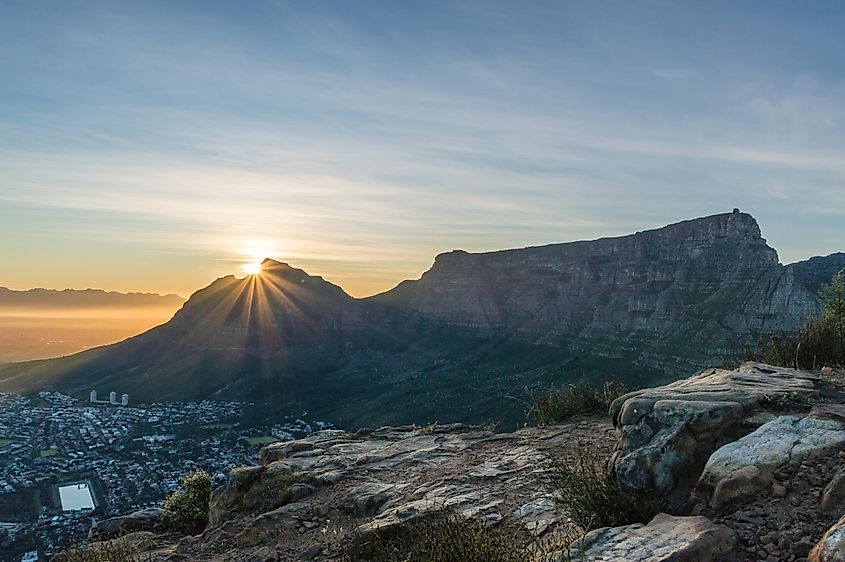 The world's second-biggest urban park is located in Cape Town, South Africa. The park, which measures 22,100 hectares, is named after the iconic, flat Table Mountain, which has a flat summit that makes it look like the top of a table. A cable car at the park can take tourists all the way to the top of the mountain. The park contains around 2,200 different species of plants and 1,470 floral species, many of which are endemic to the region. Another interesting sight to see at Table Mountain National Park is the penguins, who like to flock in an area of the park known as The Boulders.
3. Margalla Hills National Park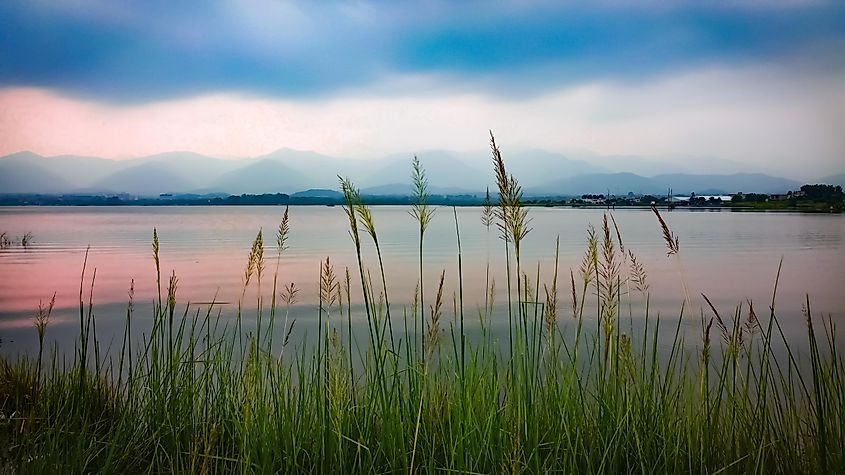 The third-biggest urban park in the world, consisting of 17,386 hectares, is located in the city of Islamabad, which is the capital of the South Asian nation of Pakistan. The park, which was established in 1980, includes the Margalla Hills, Rawal Lake, and the Shakarparian Sports and Cultural complex. The park boasts several species of birds, reptiles, and mammals, and it is an extension of the Islamabad wildlife sanctuary. It also includes several hiking trails that are popular with tourists and locals. In terms of landscape, the Margalla Hills are the rugged foothills of the vast Himalayan mountain range and contain many valleys and steep slopes.
4. Pedra Branca State Park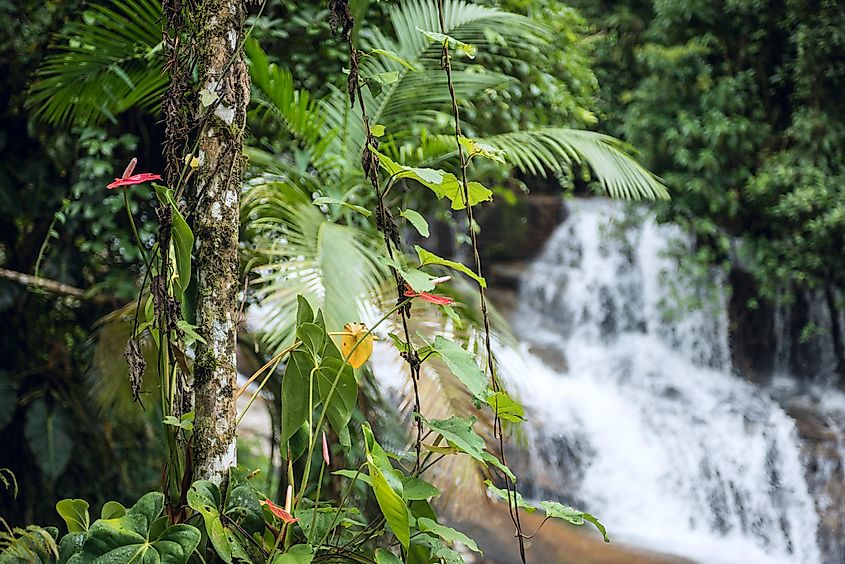 Pedra Branca State Park is an urban park spanning 12,394 hectares in one of Brazil's largest cities, Rio de Janeiro. It can more accurately be described as an urban forest. The park protects half of what is known as the Atlantic Forest remnant of Rio de Janeiro, one of the most threatened biomes of both Brazil and the world. It contains more than 900 species of plants and almost 500 different species of birds, mammals, reptiles, amphibians, and fish, some of which are endangered. The park is where you will find the highest point in Rio de Janeiro, the Pico da Pedra Branca, located at an altitude of 3,360 feet (1,024 m).
5. McDowell Sonoran Preserve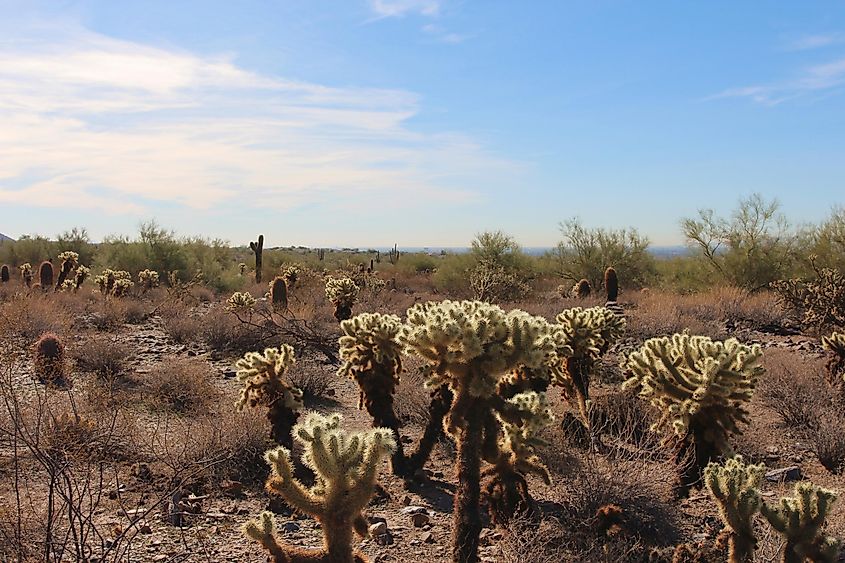 McDowell Sonoran Preserve is located in the US state of Arizona, in the city of Scottsdale. The park, which encompasses 12,300 hectares of Sonoran Desert habitat, includes a wide variety of multi-use trails, which can be traversed by foot, horse, or bike. The City of Scottsdale website warns people who visit the park to watch out for rattlesnakes, which emerge from hiding in the spring and are a protected species deemed vital to the park's ecosystem. Archery hunting is a unique activity that can be enjoyed in the McDowell Sonoran Preserve, especially in December and January, which constitutes deer and javelina season.
6. Losiny Ostrov National Park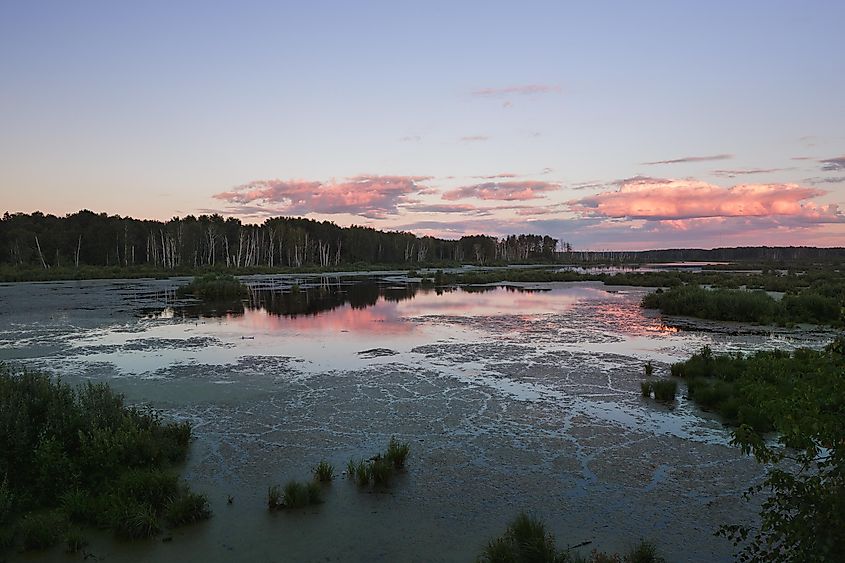 Losiny Ostrov National Park is located in Moscow, the capital of the Russian Federation. Actually, 27% of the park is located within the city limits of the Russian capital. The park spans 11,600 hectares; more than 80% of it is covered by forest, and almost half of the park is not open to the public. The other half is set aside for established excursion routes and tours, as well as other recreational activities open to the general public. Wildlife in the park includes moose, beavers, wild boards, weasels, hares, muskrats, and red foxes. There are also 186 species of birds that live in the park or migrate through it.
 7. Sanjay Gandhi National Park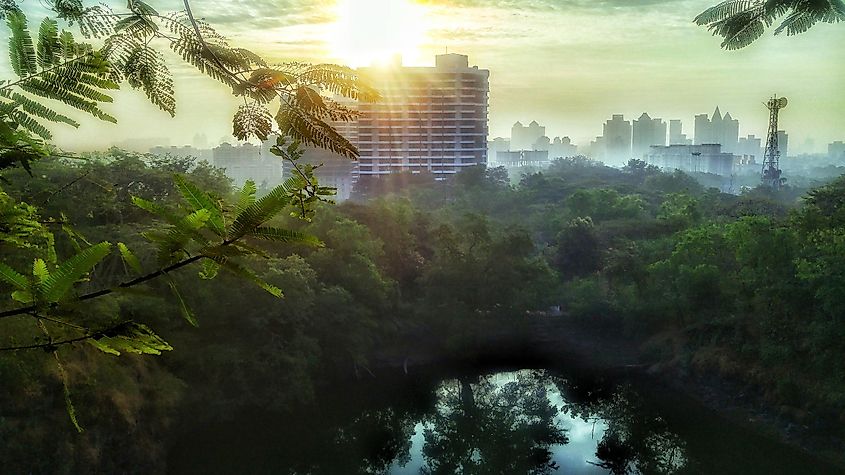 Named after a prominent Indian politician, the Sanjay Gandhi National Park covers a space of 10,384 hectares and is located in Mumbai, India. The park contains a vast area of forest, with more than 1,300 species of trees. It also contains many different animal species, including 274 species of birds, 35 species of mammals, and 170 species of butterflies. Visitors to the park can enjoy various activities, such as going on tiger and lion safaris, boating, cycling, and visiting the ancient Kanheri Caves carved into rock about 2,000 years ago.
8. Franklin Mountains State Park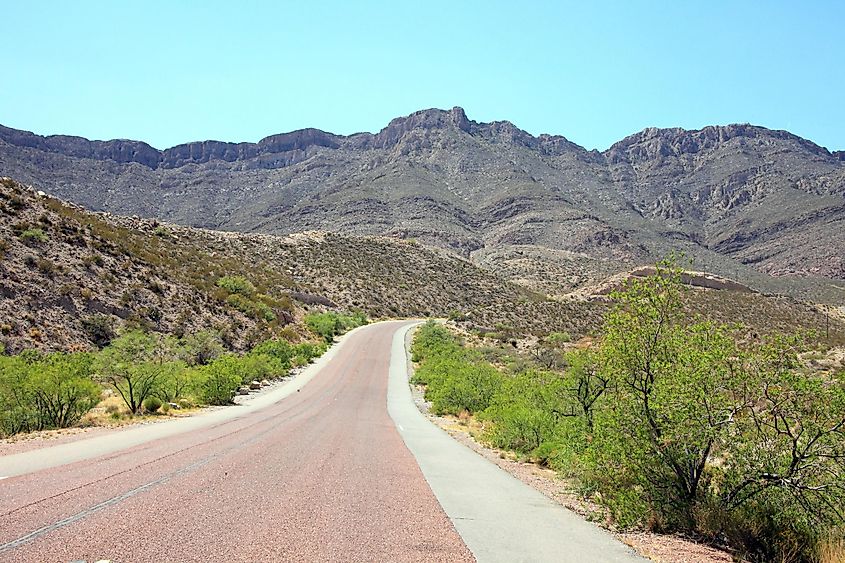 As its name implies, the Franklin Mountains State Park is located in the small Franklin Mountains range, lying within the city limits of El Paso, Texas. The park spans 9,812 hectares, and was established in 1979 to preserve the Chihuahuan Desert landscapes. Park activities include hiking, mountain biking, camping, and rock climbing. If you visit Franklin Mountains State Park, you will have the opportunity to ride a mechanized gondola to an observation point at an altitude of 5,632 feet (1,717 m).
9. Bayou Sauvage National Wildlife Refuge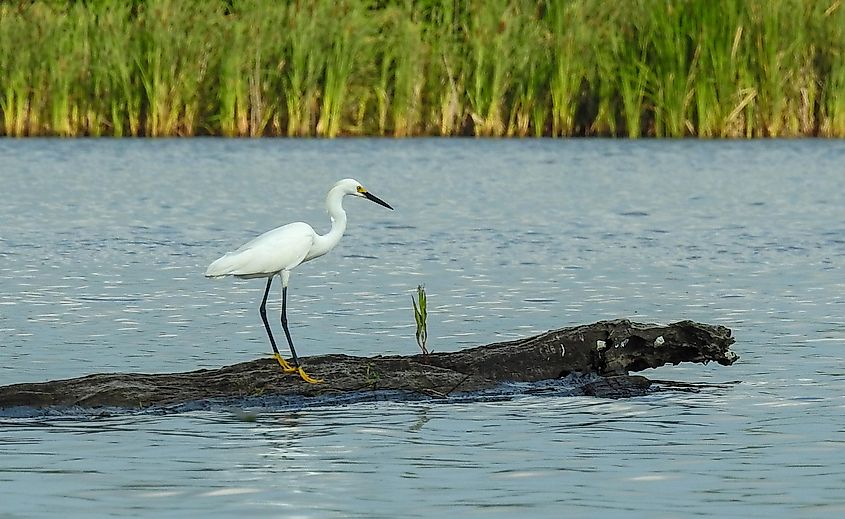 Created to protect the last remaining marsh areas in the region, the Bayou Sauvage National Wildlife Refuge is located in the city of New Orleans, Louisiana, and encompasses an area of 9,210 hectares. The refuge is home to several different natural habitats, including marshes, bottomland hardwoods, lagoons, canals, burrow pits, and of course, natural bayous. There are about 340 species of birds that can be found in the refuge. Another common sight is the American alligator. This refuge is just one of nine that are all part of the Southeast Louisiana Wildlife Refuges Complex.
10. Bukhansan National Park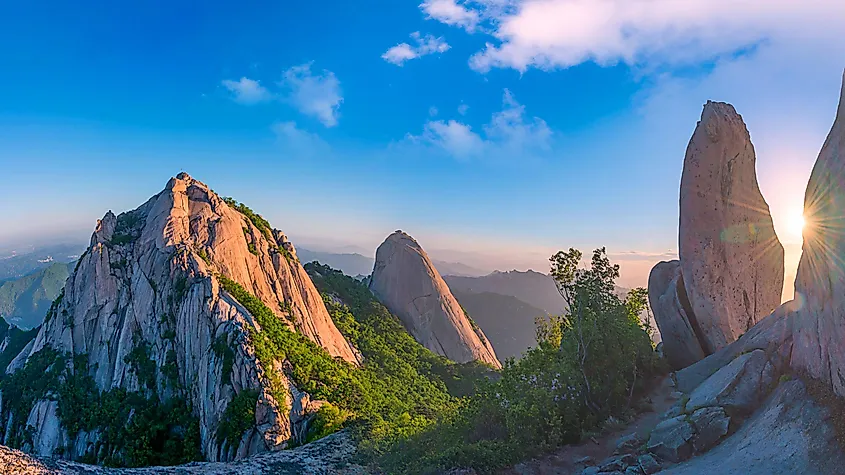 Rounding out our list of the ten biggest urban parks in the world is Bukhansan National Park, which is located in Seoul, the capital of South Korea. The word, Bukhansan, literally means "mountains north of the Han River." The park itself, which has an area of 7,992 hectares, has been designated by the Guinness Book of World Records as the "Most Visited National Park per Unit Area," and is visited by an estimated 5 million people a year. It is very popular with hikers and contains forested areas, gorges, granite peaks, and Buddhist temples. The park is also home to around 3,100 plant and animal species.
Why Urban Parks?
Parks located inside or on the outskirts of cities exist so that local residents and tourists have a place to go and get away from the hustle and bustle that constitutes normality in a large metropolis. But of course, the parks aren't just for people. In fact, many large urban parks were created, first and foremost, to protect vulnerable ecosystems and habitats from destructive human activity. These parks also provide refuge for many different species of plants and animals, some of which are threatened or at risk of extinction. If you do visit any of the world's big urban parks, it is important that you respect the natural environment and don't do anything that might harm it.
10 Biggest Urban Parks In The World
| Rank | Name | City/Metropolitan area | Country | Size in hectares |
| --- | --- | --- | --- | --- |
| 1 | Chugach State Park | Anchorage | United States | 200,400.0 |
| 2 | Table Mountain National Park | Cape Town | South Africa | 22,100.0 |
| 3 | Margalla Hills National Park | Islamabad | Pakistan | 17,386.0 |
| 4 | Pedra Branca State Park | Rio de Janeiro | Brazil | 12,394.0 |
| 5 | McDowell Sonoran Preserve | Scottsdale | United States | 12,300.0 |
| 6 | Losiny Ostrov National Park | Moscow | Russia | 11,600.0 |
| 7 | Sanjay Gandhi National Park | Mumbai | India | 10,384.0 |
| 8 | Franklin Mountains State Park | El Paso | United States | 9,812.0 |
| 9 | Bayou Sauvage National Wildlife Refuge | New Orleans | United States | 9,210.0 |
| 10 | Bukhansan National Park | Seoul | South Korea | 7,992.0 |
| 11 | North Saskatchewan River valley parks system | Edmonton | Canada | 7,284.3 |
| 12 | South Mountain Park | Phoenix | United States | 6,589.0 |
| 13 | Western Sydney Parklands | Sydney | Australia | 5,280.0 |
| 14 | Changa Manga | Lahore | Pakistan | 5,064.6 |
| 15 | Rouge National Urban Park | Toronto | Canada | 5,000.3 |
| 16 | Government Canyon State Natural Area | San Antonio | United States | 4,955.0 |
| 17 | Appian Way Regional Park | Rome | Italy | 4,580.0 |
| 18 | Lee Valley Park | London | United Kingdom | 4,046.9 |
| 19 | Trinity River Project | Dallas | United States | 4,046.9 |
| 20 | Phoenix Sonoran Preserve | Phoenix | United States | 3,890.0 |
| 21 | Cullen Park | Houston | United States | 3,751.4 |
| 22 | Ulsan Grand Park | Ulsan | South Korea | 3,640.1 |
| 23 | Topanga State Park | Los Angeles | United States | 3,626.0 |
| 24 | Namhansanseong Provincial Park | Seongnam | South Korea | 3,445.0 |
| 25 | Timucuan Preserve | Jacksonville | United States | 3,184.9 |
| 26 | George Bush Park | Houston | United States | 3,156.5 |
| 27 | Newport News Park | Newport News | United States | 3,120.5 |
| 28 | North Mountain and Shaw Butte Preserves | Phoenix | United States | 3,035.1 |
| 29 | Mission Trails Regional Park | San Diego | United States | 2,921.4 |
| 30 | Verkiai Regional Park | Vilnius | Lithuania | 2,711.4 |
| 31 | Jefferson Memorial Forest | Louisville | United States | 2,432.6 |
| 32 | William B. Umstead State Park | Raleigh | United States | 2,257.7 |
| 33 | Bitsa Park | Moscow | Russia | 2,208.4 |
| 34 | Brescia Hills Park | Brescia | Italy | 2,183.0 |
| 35 | El Tepeyac National Park | Mexico City | Mexico | 2,153.7 |
| 36 | Ahupua'a O Kahana State Park | Honolulu | United States | 2,116.1 |
| 37 | Forest Park | Portland | United States | 2,087.0 |
| 38 | Eagle Creek Park | Indianapolis | United States | 1,928.7 |
| 39 | Far North Bicentennial Park | Anchorage | United States | 1,821.1 |
| 40 | Shelby Farms | Memphis | United States | 1,821.1 |
| 41 | Santiago Metropolitan Park | Santiago | Chile | 1,784.7 |
| 42 | Blue Mountain-Birch Cove Lakes Wilderness Area | Halifax | Canada | 1,767.0 |
| 43 | False Cape State Park | Virginia Beach | United States | 1,748.6 |
| 44 | Casa de Campo | Madrid | Spain | 1,724.0 |
| 45 | Griffith Park | Los Angeles | United States | 1,706.6 |
| 46 | Fairmount Park | Philadelphia | United States | 1,686.3 |
| 47 | Oldman River valley parks system | Lethbridge | Canada | 1,618.7 |
| 48 | Izmaylovsky Park | Moscow | Russia | 1,608.1 |
| 49 | Pumpkin Hill Creek Preserve State Park | Jacksonville | United States | 1,576.7 |
| 50 | Walter E. Long Park | Austin | United States | 1,503.4 |