World Facts
20 Biggest City Parks In The World
Believe it or not, some of the world's largest cities have set aside tens of thousands of acres with their city limits as designated park areas.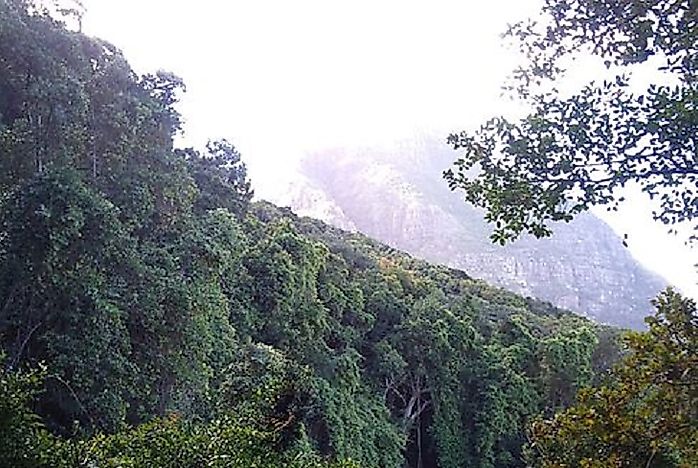 City parks are public parks located in cities around the world which feature huge amounts of spaces allocated for gardens, strolling promenade, playgrounds, fitness trails, hiking trails, horse trails, bicycle trails, tennis courts, benches, restrooms, picnic grounds, and natural landscaping such as ponds, lakes, and streams. Some city parks are huge while some have just enough space for a walk-around with a fountain, gazebo, pergola, and garden. Although some city parks have themes like topiary animals while some display concrete dinosaurs. But all city parks are in open-air spaces that permit strollers to have some peace and quiet to enjoy the outdoors to a certain extent. They are recreational spaces owned and maintained by the local government.
Urban Parks With Massive Acreage
Believe it or not, some of the world's largest cities have set aside tens of thousands of acres within their city limits as allocation for urban parks. Urban parks should just be like that, huge open spaces with natural landscape and picnicking facilities that should make a visit there enjoyable. Among the largest of all of the world'scity parks, number one on the list is the 74,132-acre Bosque de la Primavera Park located in Guadalajara, Mexico. Its geothermal river, the Rio Caliente, is a must visit, as is its huge nature reserve with wild animals and unforgettable habitats. Second on the list is the 60,070-acre Table Mountain Park in Cape Town, South Africa. An arduous climb for health conscious hikers, or the cable cars up to the top of the mountain, each offer wonderful vistas. Rare animal populations can be observed inside the park. Third is the 30,626-acre Pedra Branca Park in Rio de Janeiro, Brazil. It contains a 30-acre rainforest within the park and lots of wild animals to see at the right moment. Hiking and the mountaintop vista. Fourth on the list is the 28,717 acre Losiny Ostrov Park in Moscow, Russia. Its forest area is close to 23,722 acres, although only around 7,366 acres are open to the public for recreational activities. Fifth on the list is the 27,800-acre McDowell Sonoran Park in Scottsdale, Arizona, U.S.A. Tours for hiking, rock climbing, and biking are either guided or unguided. Loop desert trails that features desert life and vegetation. Sixth on the list is the 25,700 acre Sanjay Gandhi Park in Mumbai, India. The 2,400-year-old Kanheri caves within the park is a must visit, including the park's flora and fauna. Tiger-Lion Safari, boating, rock climbing, and a 1.5-mile toy train ride makes a park visit worthwhile. Seventh on the list is the 25,323-acre Pereyra Iraola Park in Buenos Aires-La Plata, Argentina. The park was declared a UNESCO Biosphere Reserve in 2008. Park visitors come for the biodiversity inside it. Eighth on the list is the 24,248-acre Franklin Mountains Park in El Paso, Texas, U.S.A.. It features mountain climbing, hiking, biking, camping, and scenic driving. An aerial tramway goes up to the Ranger Peak. Ninth on the list is the 22,770-acre Bayou Sauvage Park in New Orleans, Louisiana, U.S.A. The attraction here are the waterbirds. A diverse habitat also serves as conservation grounds for the biodiversity inside the park. Tenth on the list is the 19,561-acre Serra da Cantareira Park in Sao Paulo, Brazil. Outdoor activities like hiking, mountain climbing, and walking are the attractions here. View from the top is amazing. Eleventh on the list is the 19,408-acre Bukhansan Park in Seoul, South Korea. Attractions here are small villages, temples and forests. Hiking and mountain climbing are activities worth indulging here. Twelfth is the 18,000-acre North Saskatchewan River Valley Park in Edmonton, Canada. Biking, walking, golfing, camping, and skiing are just some of the outdoor activities here. Thirteenth is the 17,386-acre Margalla Hills Park in Islamabad, Pakistan. Sino-Himalayan flora and fauna forms the diversity in these area. Rock climbing and trekking are two best activities here. Fourteenth is the 16,094-acre South Mountain Park in Phoenix, Arizona, U.S.A. Attractions here are the Elephant tree and the Chuckwalla lizard. Fifteenth is the 13,047-acre Western Sydney Park in Sydney, Australia. Landscape includes mountain ridges, hills, lakes, and picnic spots. A Chinese garden is in the Nurragingy Reserve inside the park. Sixteenth is the 12,423-acre Changa Manga Park in Lahore, Pakistan. It maintains a huge diversity of flora and fauna. It contains a bird conservation center. Seventeenth is the 12,356-acre Rouge Park in Toronto, Canada. Flora and fauna biodiversity is an attraction here. It also has a conservation center inside the park. Six other smaller parks are within its boundary. Eighteenth is the 9,270-acre Cullen Park in Houston, Texas, U.S.A. There are picnic areas, biking trails, wetlands, a water playground, an archery range, and a ball park inside this huge city park. Nineteenth is the 8,995-acre Ulsan Grand Park in Ulsan, South Korea. This park has a few playgrounds, a butterfly and petting zoo, a botanical garden, a nature learning center, and walking trails. Twentieth is the 8,960-acre Topanga Park in Topanga, Los Angeles, California, U.S.A. The flora and fauna biodiversity alone make it worth a visit, with historical buildings also adding to the allure of Topanga. Outdoor activities like hiking, walking, and biking are popular with both local residents and outsiders alike.
Most Beautiful Urban Parks in the World
Urban parks are for everyone to enjoy and appreciate and that includes pets as well. A city needs a well designed park that should easily combine natural landscaping and city culture. The space should be a haven and sanctuary from the everyday rush of the city. San Francisco's Golden Gate Park is one such place where woodlands, ponds, and lakes meet to give a restful landscape. Barcelona's Park Guell, designed by Antoni Gaudi, is famous of its fanciful and colorful mosaic art. Then there is New York's Central Park which is visited annually by around 40 million people. Its attractions include a zoo, a museum, and a mall. Another absolutely beautiful and blissful urban park to visit is the Parc des Buttes-Chaumont situated on a hillside in Paris. Its winding pathways guarded by old trees that lead to waterfalls is an unforgettable experience.
20 Biggest City Parks In The World
| Rank | Park, City | Area |
| --- | --- | --- |
| 1 | Bosque de la Primavera, Guadalajara, Mexico | 74,132 acres |
| 2 | Table Mountain, Cape Town, South Africa | 60,070 acres |
| 3 | Pedra Branca, Rio de Janeiro, Brazil | 30,626 acres |
| 4 | Losiny Ostrov, Moscow, Russia | 28,717 acres |
| 5 | McDowell Sonoran, Scottsdale, Arizona, U.S.A. | 27,800 acres |
| 6 | Sanjay Gandhi, Mumbai, India | 25,700 acres |
| 7 | Pereyra Iraola, Buenos Aires-La Plata, Argentina | 25,323 acres |
| 8 | Franklin Mountains, El Paso, Texas, U.S.A. | 24,248 acres |
| 9 | Bayou Sauvage, New Orleans, Louisiana, U.S.A. | 22,770 acres |
| 10 | Serra da Cantareira, Sao Paulo, Brazil | 19,561 acres |
| 11 | Bukhansan, Seoul, South Korea | 19,408 acres |
| 12 | North Saskatchewan River Valley, Edmonton, Canada | 18,000 acres |
| 13 | Margalla Hills, Islamabad, Pakistan | 17,386 acres |
| 14 | South Mountain, Phoenix, Arizona, U.S.A. | 16,094 acres |
| 15 | Western Sydney, Sydney, Australia | 13,047 acres |
| 16 | Changa Manga, Lahore, Pakistan | 12,423 acres |
| 17 | Rouge, Toronto, Canada | 12,356 acres |
| 18 | Cullen, Houston, Texas, U.S.A. | 9,270 acres |
| 19 | Ulsan Grand, Ulsan, South Korea | 8,995 acres |
| 20 | Topanga, Los Angeles, California, U.S.A. | 8,960 acres |