Kanheri Caves: An Archeological Marvel In An Indian National Park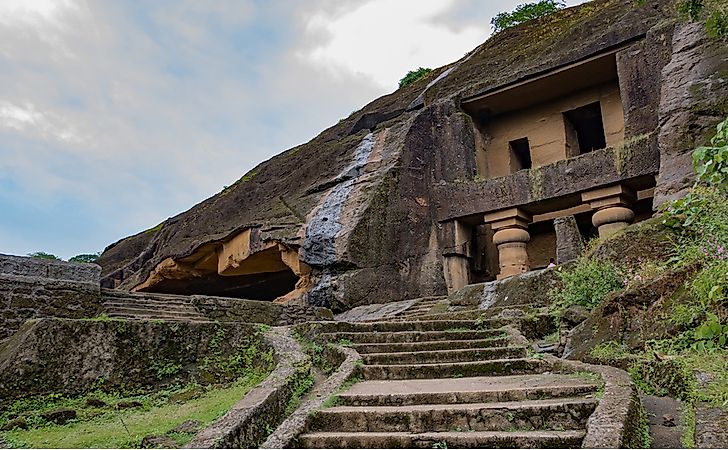 The Kanheri Caves are a series of caves and rock dugouts cut in an extensive basalt outcrop in Sanjay Gandhi National Park, Mumbai, India. The caves contain relief carvings, inscriptions, sculptures, and paintings dating back to between 1 and 11 century AD. The cave system consists of 109 caves. The oldest is unadorned while the newer ones are decorated by paintings, inscriptions, carvings, and drawings. Rock cut drainage systems channel rainwater across the complex. The caves were used as monasteries by Buddhist monks who carved symbols of Buddha. Larger caves served as Chaityas for congressional worship and are lined with carvings of Buddhist reliefs, sculptures, rock-cut stupas, and pillars. The caves were also connected to trading centers, including Nasik, Kalyan, Sopara, Ujjain, and Paithan. There are about 26 epigraphs and 51 legible inscriptions, which include inscriptions on the marriage between Vashishtiputra Satakarni and the daughter of Rudradaman.
Descriptions Of Caves
Most of the 109 caves serve as Viharas which were cells where monks lived, meditated, and studied, while a few large ones served as Chaityas which were places of worship. The best known of the caves, Cave 3, was shaped severally between the 2nd and 6th centuries AD. Most, if not all, contain Buddhist inscriptions, paintings, and drawings. Pillars of various shapes support the caves from collapsing.
Great Chaitya Cave
The Great Chaitya Cave (Cave 3) is perhaps the most important in the system since it served as a temple. It is about 86 feet long by 39 feet wide and contains 34 pillars. It contains the inscriptions of Yajna Sri Satakarni, whose names also appear in Cave 81, and it is believed that it was created during his reign. The veranda in front of the cave has two pillars. The left side of the temple has two interconnected rooms that were excavated much later than the main hall.
Darbar Cave
Darbar Cave (Cave 11) is located in a gully, north-east of the Great Chaitya. It is not a temple but a place of assembly where ancient monks assembled for other purposes other than prayers. The inscriptions are not integral, and the entire cave is architecturally plain and unornamented. Pillars in the cave are square below and above, with circular moldings at the center, while those at the veranda are octagonal. A Gupta Empire-style inscription that was later discovered places the date of the cave to within the fifth century.
Cave 41
Cave 41 is an assembly hall, just like Cave 11. Molding surrounds the main door while paintings of Buddha cover the back walls. A figure of Buddha sits on a large recess and Padmapani (not yet Buddha) sits on his left. A litany is located on the right side of the cave, signifying its period as a late cave.