Sailors and maritime pilots have over the years utilized lighthouses as navigation aids. They signify safe entries to coastlines as well as danger hazards like reefs and shoals. Lighthouses are structures that work as communication tools via light emission and are majorly towers and buildings at the shores of water bodies and seas. The recent years have however seen a critical decline in the number of active lighthouses as a result of technological advancement in navigation. More and more electronic systems have been designed to aid in navigation. In the Connecticut state in the U.S.A, lighthouses were in use from as early as 1760. To date, fourteen lighthouses remain standing but six of these are inactive.
10. Greens Ledge Light - 1902
The Greens Ledge Lighthouse was built in 1902 at Norwalk Islands southwest end to replace the Sheffield Island Lighthouse. The four-story structure raises to a height of 16 m (52 feet). The light was automated in 1972. In 1990, the lighthouse was added to the National Register of Historic Places. It was acquired by the Greens Ledge Light Preservation Society in 2016 and a preservation and restoration campaign began in 2017.
9. Saybrook Breakwater Light - 1886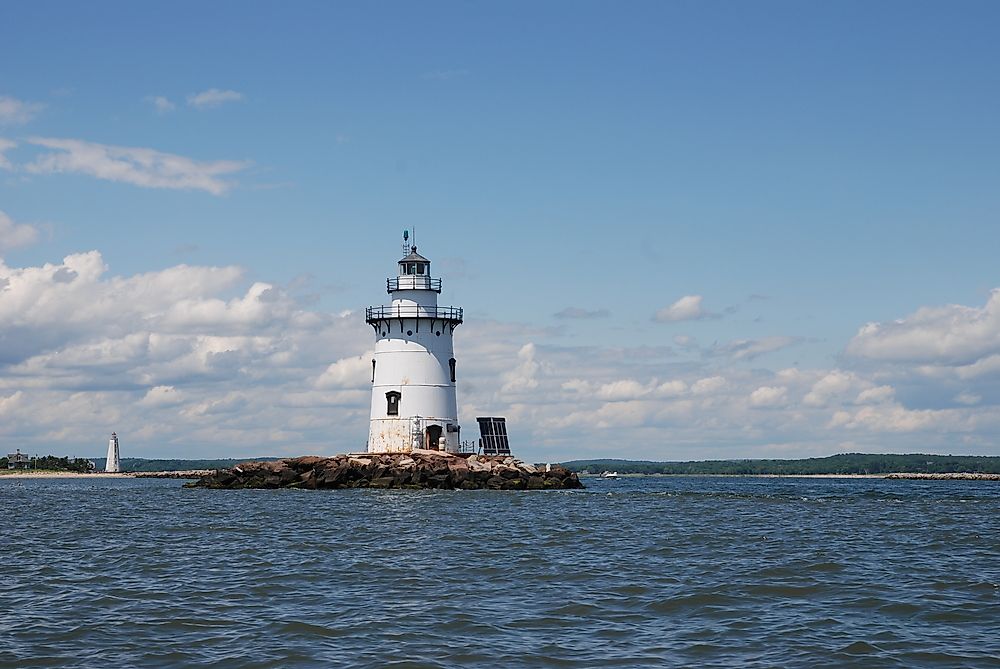 This lighthouse stands on a 48 feet structure at the mouth of Connecticut River at the Femwick point. The Saybrook Breakwater Light, also referred to as outer light, is 75 years younger than the inner light (Lynde Point Light) in terms of construction times. It has been in operation since its construction in 1886. Its automation was done in 1959. In 2007, the lighthouse was put on sale by the federal government. However, the U.S. Coast guard is charged with maintenance of the light itself and the land onto which the structure is erected. As of 2014, the Minio family owns the lighthouse and are in charge of maintenance of the structure.
8. Stamford Harbor Ledge Light - 1882
It is 60 feet in height and cylindrical in shape. It is located 3,600 feet from the town of Stamford, at the entrance of Stamford Harbor. Its construction was completed in 1882, fully automated in 1953 but converted to private ownership in 1955. After its activation, it remained in a deactivated state for 32 years but became active again in 1988. The lighthouse was however put in the market for sale again in 2008 but gradually its price kept decreasing. By the year 2014, the lighthouse was in need of renovation.
7. Stratford Shoal Light - 1877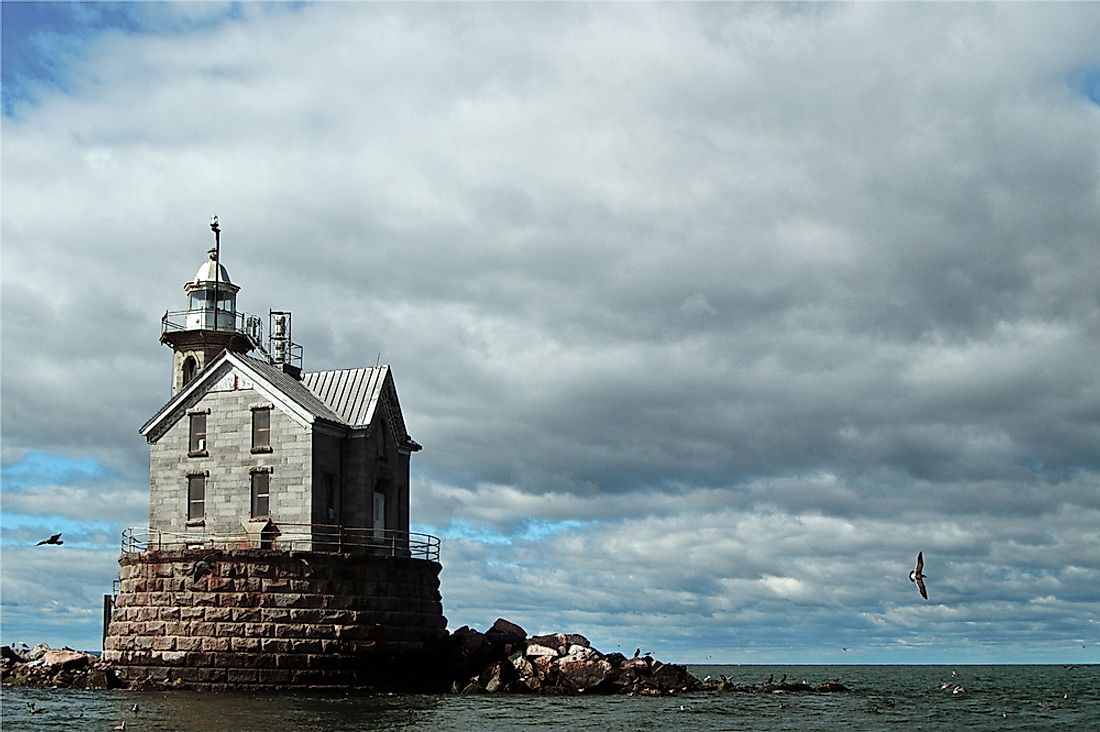 Based on its location, this lighthouse is also referred to as Middle Ground Light. It is located almost halfway between Bridgeport in Connecticut state and Port Jefferson in the New York state on a shoal in a man-made island, the Long Island Sound. It is octagonal in shape, made of granite and its masonry design is historic and monumental. It remains active to date under the U.S Coast Guard, having been automated in 1970 making the need for keepers void.
6. Southwest Ledge Light - 1877
This 45 feet tower is octagonal in shape, made of cast iron material. It is situated in New Haven, Connecticut at the New Haven Harbor on a reef. It lies on a less than an acre piece of land. The construction took 4 years, from the year 1873 to 1877. This lighthouse was automated in 1975 and listed in the National Register of Historical Places in 1990. The Southwest Ledge Light is one of the active lighthouses in U.S. It was however placed in the market for sale in August 2016.
5. Penfield Reef Light - 1874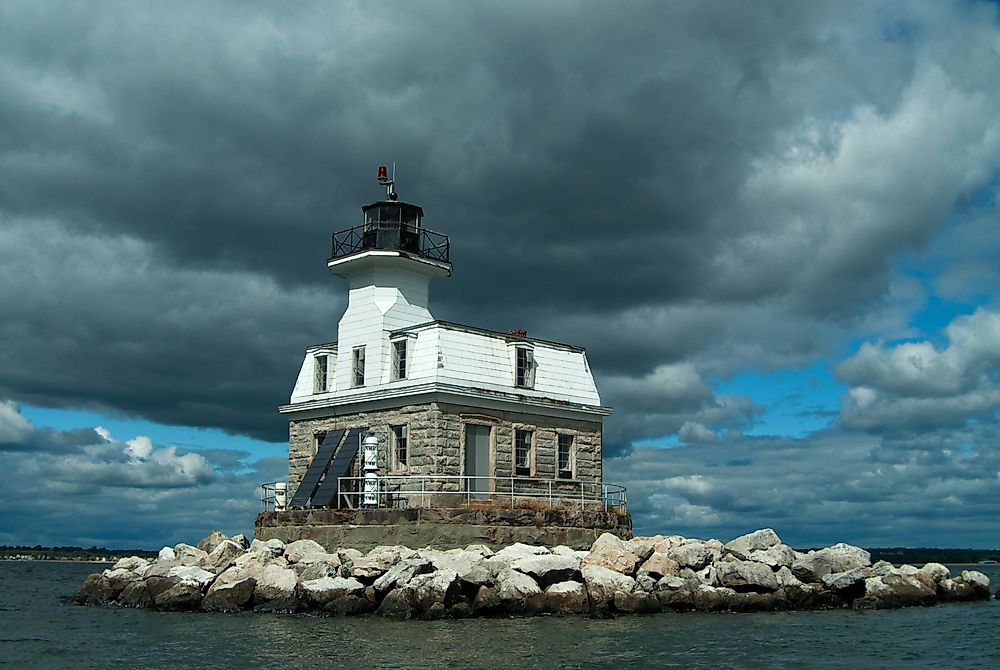 This is an offshore lighthouse on the Penfield reef at the Black Rock Harbor. It is situated 1.8 km from the Fairfield town. Having being built in 1874, this octagonal shaped structure was automated in 1971. It is an active lighthouse with the last maintenance event by the U. S. Coast Guard being in the year 2003. In 2007, it was put in the market by the United States General Services Administration. Following various proposals, the lighthouse was sold to Beacon Preservation Inc.
4. Stratford Point Light - 1822
It is a conical lighthouse at the opening of Hausatonic River in Stratford town in Connecticut. This lighthouse lies on a 1.6 hectare piece of land. Initial construction was in 1822 as a 28 feet wooden structure, and this was accompanied by a number of changes and improvements leading to automation of the brick lined tower in 1970. Fifth order lens were added in 1855 and the 35 feet brick lined tower erected in 1881. It is an active lighthouse, currently under the management of the United States Coast Guard.
3. Lynde Point Light - 1803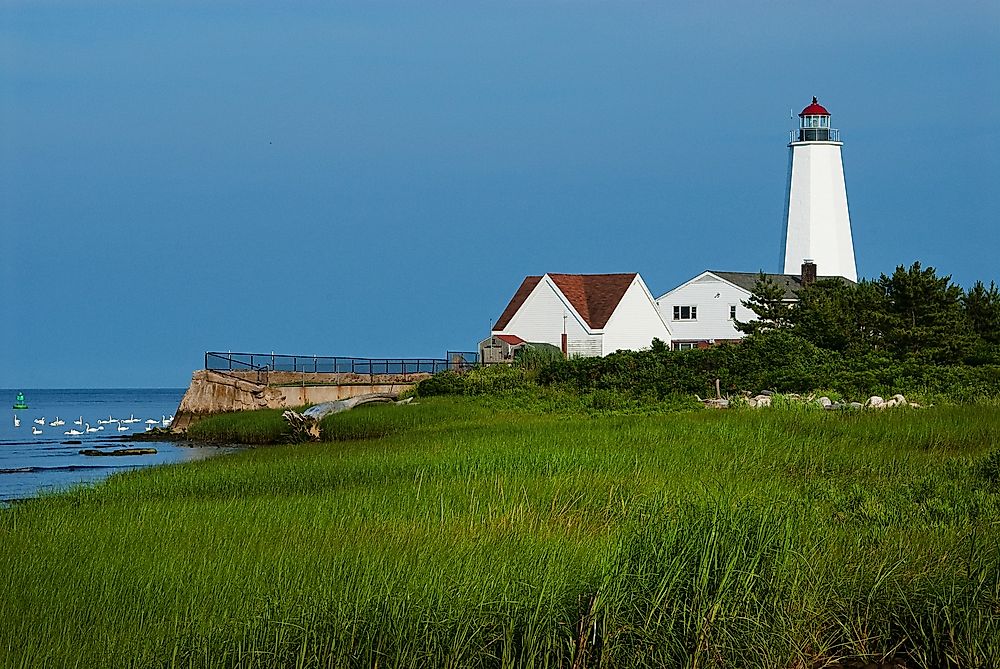 Lynde Point was built in 1803 on the mouth of Connecticut River in Saybrook, Connecticut. In terms of shape, it is octagonal with a taper. In 1838, the 35 ft wooden tower was replaced by the current 65 ft brownstone tower. This superior stone work had this lighthouse listed in the National Register of Historic Places in 1990. To date, Lynde Point is still an active lighthouse having been fully automated in 1978. Before automation, the lighthouse used whale oil followed by kerosene then electricity.
2. Falkner Island Light - 1802
It is situated on the crescent shaped Falkner Island which is affiliated to Guilford town in Connecticut. It consists of a lantern and a balcony and generally, it is octagonal in shape. Upon completion of its construction in the year 1802, The Falkner Island Light was commissioned by Thomas Jefferson, the then president of the United States of America. This is a monumental lighthouse, having been a target of the British forces in 1812 war and is among the historic places outlined in the National Register of Historic Places. There is restricted entry between May and August as that is the nesting period of Roseate tern, birds believed to reside in the lighthouse.
1. New London Harbor Light - 1760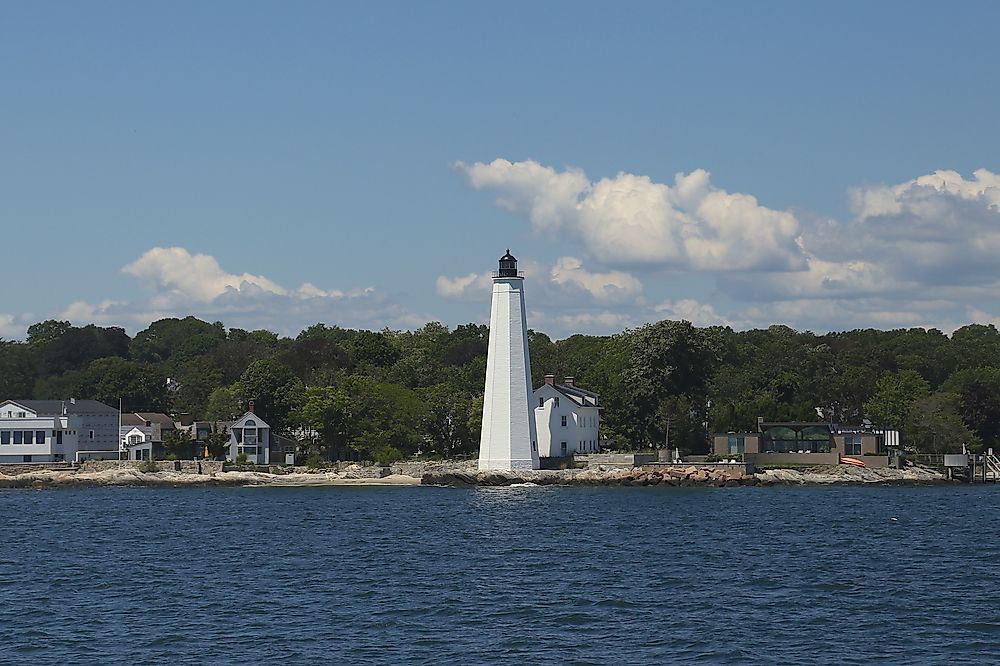 The New London Harbor Light was constructed in 1760, which made it the first and oldest to be erected in Connecticut State. It was built on the west side of the new London harbor. The original structure was rebuilt in stone in 1801 and automated in 1912. The lighthouse has an octagonal shape in cross section and tapers with increasing tower height. At 27 m, it is the tallest lighthouse in Connecticut. Today, this is a major historical monument and is under the maintenance of New London Maritime Society.