Mackinac Island – Map & Description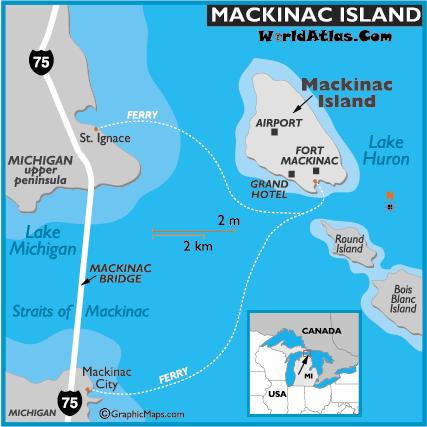 Mackinac Island, a National Historic Landmark, is about 3.8 sq. miles in size, and belongs to the U.S. State of Michigan.
It is located in Lake Huron, at the eastern end of the Straits of Mackinac, between Michigan's Upper and Lower Peninsulas.
This historic island is a popular family tourist attraction and summer colony, with approximately 525 permanent residents. The island has numerous lodging choices, in all price ranges.
The use of personal motorized vehicles is prohibited on Mackinac Island, so visitors can relax and enjoy horse drawn carriage rides, bike riding, or the old standby - walking.
Ferry service is available from the docks in Mackinac City in Michigan's Lower Peninsula or from St. Ignace in Michigan's Upper Peninsula from May through October. Luggage service and parking is available at the ferry docks. Bicycles may be brought over for a fee and dogs ride free.
The island can also be reached by private boat, small aircraft, and in the winter, by snowmobile, as the Straits of Mackinac (in most years) freezes solid.
Note that the Straits of Mackinac is a very busy shipping lane, spring to early winter. With the advent of icebreakers, huge tankers still navigate through it in the dead of winter, even though most of the surrounding waters are frozen solid.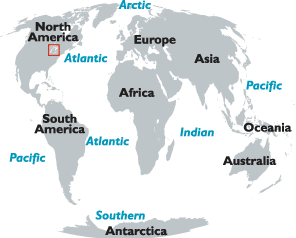 This page was last updated on September 3, 2020.