Lake Victoria Map and Map of Lake Victoria Depth Size History Information Page
Lake Victoria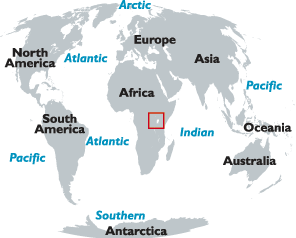 With a surface area of 68,800 sq km (26,600 sq mi), Lake Victoria is Africa's largest lake. In addition, it's the largest tropical lake in the world, and the planet's second largest freshwater lake. Only North America's Lake Superior is larger.
The lake receives most of its water from direct precipitation. Its largest influent is the Kagera River, the mouth of which lies on the lake's western shore. The only river to leave the lake (flowing north) the White Nile (known as the "Victoria Nile"), leaves at Jinja, Uganda, on the lake's north shore
Lake Victoria is relatively shallow. It has a maximum depth of 84 metres (276 ft) and an average depth of 20 meters (66 ft).
This page was last updated on September 3, 2020.