Isle Royale Map and General Information Page
Isle Royale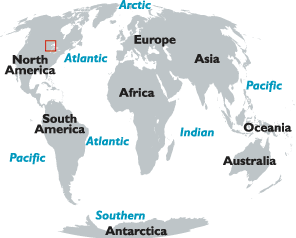 Isle Royale, at 45 miles long and 9 miles wide, has a total area of about 206 sq. miles. Although close to the Canadian coastline, the island is U.S. territory, and a part of the U.S. State of Michigan.
Located in Lake Superior, the island and the surrounding smaller islands are all a part of Isle Royale National Park.
This pristine, remote and uninhabited island is a mecca for outdoor activities. About 26,000 people visited here in 2010, and most come to boat, camp, fish and hike through the primitive wilderness trails. Ecologists use the island as a classroom for animal study, especially the predatory relationship between moose and wolves.
Isle Royale is accessible by private boat, seaplane, and by the U.S. National Park Service ferries from Copper Harbor, Michigan, Houghton, Michigan, and from Grand Portage, Minnesota. Note: Lake Superior weather often changes ferry schedules.
Ferries arrive at only two points; Rock Harbor on the northeastern edge, and at Windigo, a smaller facility on the southwestern end of the island. Both have basic amenities, including food, medical supplies and showers.
Isle Royale National Park is one of the few national parks to close during the winter. The Island closes on November 1 and reopens on April 16. The closure is due to the extreme winter weather conditions, for the protection of wildlife, and for the safety and protection of visitors.
This page was last updated on September 3, 2020.