NORFOLK

Located in the metro area called Hampton Roads in the state of
Virginia
, Norfolk is home to the Norfolk U.S. Naval Base, the largest in the world. A Navy town with a long strategic military and transportation history, Norfolk is bordered to the west by the Elizabeth River and to the north by
Chesapeake Bay
.
One of the oldest of the Seven Cities of Hampton Roads, this
Virginia
town is also considered to be the historic, cultural and financial center of the area.
A diverse and vibrant city with beautiful warm summers, Norfolk has gone through a major renaissance in recent decades. It boasts world class museums, fine restaurants and a botanical garden that comes to life with springtime azaleas.
Town Point Park, a waterfront park area located downtown, is a green oasis for cultural events, concerts, and recreation. The Virginia State Symphony, Opera and Stage Company adds even more to the level of culture and history this mid-
Atlantic
city has to offer.
ADDITIONAL VIRGINIA CITY PAGES:
The movies Navy Seals, Rollercoaster, and Mission Impossible III were all filmed in the Norfolk, VA area.
Norfolk's new cruise, terminal built in 2007, has made the city one of the top cruise ports in the U.S.
Joseph Jenkins Roberts, born and raised in Norfolk, became the first President of Liberia.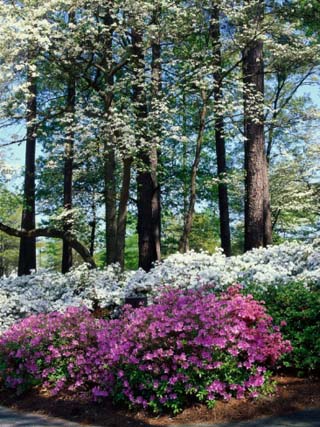 Norfolk Botanical Gardens...
by Barry Winiker
Buy This at Allposters.com