HONOLULU

Positioned along the edge of the
Pacific Ocean
on the island of
Oahu,
Honolulu is the largest city in the
Hawaiian Islands,
and its vibrant capital city.
Honolulu which means "sheltered bay" in Hawaiian, is a bustling, lively place and the epicenter for most
Hawaiian travel,
as from here it's an easy springboard to the outer islands.
Travelers from around the world journey to Honolulu to enjoy sparkling beaches, outstanding weather, and the Aloha Spirit of the Hawaiian people. During their journey they often visit its major attractions of Pearl Harbor, Diamond Head and the breathtaking views along Waikiki Beach.
ADDITIONAL HAWAIIAN ISLAND PAGES:
Located in Honolulu's City Center, Iolani Palace is the only royal palace in the United States, and the traditional seat of the Hawaiian monarchy. The palace was illuminated with electric lights several years before the White House had them!
Parts, or all, of hundreds of movies and television shows were filmed in Honolulu. The popular 70's police drama, Hawaii Five-0, was one of the most memorable.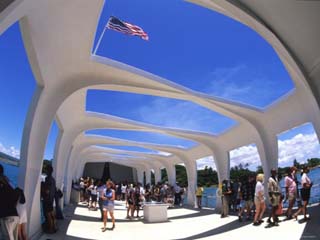 Visitors Inside...
by Ann Cecil
Buy This at Allposters.com